It is so SUNNY, I had to buy 2 layers of clothing against the sun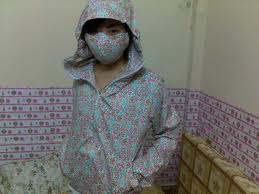 Vietnam
July 18, 2012 12:23am CST
OMG, recently it is so so sunny in here and the temperature is very high. When i drive a motorbike, i feel that my skin is burning even though i wear one more a shirt that is 1 layer of clothing against the sun. I decided to buy a shirt that is 2 layers of clothing against the sun, it is thicker but i feel good when i go out under sunshine with that shirt. At least i don't feel my skin is burning more. Additionally wearing glasses, i look like a ninja when i go out and for sure no one recognize me

...but it doesn't matter as long as it helps me avoid the sun...

5 responses

• Australia
18 Jul 12
The sun could be quite scorching here too. It is always advisable to protect yourself from the blazing sun. Some suggestions are: stay under a shade as much as possible, wear hats, wear sunglasses, wear long sleeves, and cover any exposed skins with sun protective lotions if you have to stay under the sun for any time.




• China
18 Jul 12
Hi dear ryanong,do you think it will be very hot while wearing 2 layers of clothing? But you have no choice cause you have to go out under the hot sun,so I think you had better cut your time under the sun cause the UV rays will do harm to your skin.

• Philippines
18 Jul 12
It's rainy season now in my country but for the past two months, it was also very hot. I wore jacket when I go to work since taking the public transportation is also not good. And I don't like other people's skin touching mine (they are sweating). I don't like that sticky feeling.