Sticky BBQ ribs!

Canada
July 23, 2012 8:54am CST
I bought these ribs on sale a few weeks back. I decided since I have tonight off work, I'll use them up. I do have to make some runs, but later in the evening I have to pick up some cat food, and litter for the brats. I found this deliious recipe, and I hope it turns out. But I don't know what to have on the side?.
5 responses

• Philippines
26 Jul 12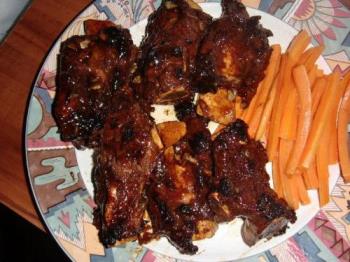 Ribs on sale! Wow, that is a good deal and a nice way to make your day off quite busy. I myself would love to be busy in the kitchen. I so love cooking actually. No for your side dish? Well how about some french fries? Or you may opt for carrot strips. Or some potato salad maybe or some other fresh vegetable salad if you want something healthy.

• United States
25 Jul 12
This sounds like something that I would really like to be able to have to eat for dinner. I love ribs, but it has been a long time since I've been able to eat some ribs. There are so many different sides that go along really well with ribs. Some of the sides that I enjoy having with ribs are corn on the cob, green beans, cornbread, fried okra or anything like that. I always think of ribs as a southern meal and for that reason I like to pair them with traditional southern sides.

• Bulgaria
23 Jul 12
Make some summer salad or potatoes puree. I love ribs but baked in the stove. Once they offered me some made on the BBQ, but to be honest they had so much fats over the bones that I tried only one and left it in the middle, because I understood it's too fatty for me. In the stove they bake and the fats go away of the rib.

• United States
23 Jul 12
If you can eat it, then how about some coleslaw or some grilled corn on the cob? Potato salad, pasta salad as someone already said, or perhaps just some sweet potato fries. It sound yummy to get to have the ribs, enjoy them! Let us know how they turned out and what you made with it.

• United States
23 Jul 12
Pasta salad would be a good side. It is one of those dishes that is great at letting you easily use up the miscellany in the fridge that needs used up. Plus, it is one of those perfect summer dishes.