What Goes Around Comes Around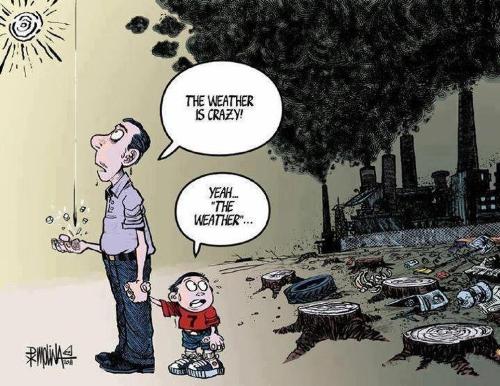 Philippines
August 22, 2012 12:44am CST
What goes around comes around and nothing happens by accident. This not only applies to individuals but to humanity as a whole as well. I saw this image posted by my friend on Path. It reminded me of how shortsighted we can be sometimes. In the past few weeks Manila has been experiencing heavy monsoon rains and then there would be impending typhoons. A lot of places have been flooded and businesses' daily operations have been affected. Amidst all that I would read Facebook statuses updated to mostly about pleading God to stop the rain. There's just something wrong with that mentality, wrong because every time there's a disastrous flood, people are so used to the floods that they neglect the prevention aspect of it. Why is it always about God? I am not an atheist but I know when and where God can butt in in my life. It is sickening to hear that more people project their irresponsibilities to outward factors or situations rather than owning up where they went wrong in the first place. Floods will always happen, heavy rains will always happen because people disregarded discipline in disposing their waste properly. Calling on God in situations where humans have the intelligent capacity to prevent the disaster is just like condoning a pregnant teenager that what happened to her was caused by fate. Oh yeah there's the RH Bill issue too. But that's another topic.
6 responses

• United States
24 Aug 12
While I do think that you are right to say that there is nothing that we are able to do to keep from experiencing natural disasters. I definitely can see why God does come into more focus when we are going through something difficult in our lives. You see, many times we take for granted that things are going to be alright in our lives, but when things are going the way that we are used to it going, then you do realize that there are so many things in the world that are beyond our control.

• Philippines
26 Aug 12
Yes, no one is infallible. It's just sad to see that the same thing happens every time there is flooding and it seems to get worst every year and yet people are slow to own up to their responsibility in the said calamity.

• Boise, Idaho
23 Aug 12
I hear what you are saying and raise ya one. I get aggrivated big time when I hear the phrase " Give it to God!" Like we as a people can't do it ourselves or don't have the capacity to do anything. No back bone, no responsibility for our own actions. No responsibility for what they do. Just give it over to God.

• Philippines
26 Aug 12
Yes, we can't just hand it over to God without doing our part too. If we let Him do everything, what is the point of being in this lifetime in the first place? We would just like be little kids who don't grow up.

• Philippines
22 Aug 12
You are correct there my friend,that the moment there are typhoons coming with heavy monsoon rains many people would just say leave it up to faith in God,which is a wrong notion,because even if we keep on calling His mighty Name,even if we are safely place by His will to save us.Many are not doing their jobs.They keep on throwing their garbage just anywhere they wanted to litter it.You can not scold them because they will be angry by telling you that why are there so many others who does it to pinpoint their mistakes.They are careless,not knowing the real truth even if media was keeping on reminding the public to keep away from throwing the garbage,for it could be coming back in the form of floods.I always do myself as an example to all my neighbors to do something good for the benefit of environment by correct disposal of garbage,and not setting a fire into plastic products,and other things good for the environment.I wish you have a good day.......

• Philippines
26 Aug 12
Thank you for your input, berting600.

As a rule, before we can change our environment or be able to affect change on a larger scale, we must start by changing ourselves and doing what it takes to dispose of garbage properly. I was wondering myself the other day: when will I see the fast food chains here in the Philippines using paper bags instead of the plastic cellophane? As for other grocery stores in Manila, I know Alabang and Taguig has slowly implemented the no-plastic policy for packing stuff. So far that's what I know, I have no idea about the other cities. If you can mention some cities or municipalities who have implemented the same thing, I would appreciate it. In my city, Cagayan de Oro, I haven't seen this no-plastic policy in effect yet. But I think some local groups may already be contacting the mayor's office about this change.

• India
22 Aug 12
I agaree with 100 times and more! I am so happy that there are people thinking how I used to think. I have mentioned the similar fact here for several times. In fact we are in a highly advanced stage and we can do a lot over here as a precaution. People are so upfront to call God, when something happens inappropriate and it become a habit. Two days before here I saw a news article that people are performing special parayers 'pooja' to God of Rains 'Varun' to give more rains as there are short of rains in this year. And last year we had excess of rains and there was no prayers for it. People are so cunning and so mean towards their requirements. First of all, we need to do what we are supposed to do. Insteasd of doing all, and closing our eyes towards the real facts, everyone is running after God to resove the problems. Shame, and the Govts. and people are looting the money, doing nothing to the public, no proper trainage, precautions, plans, actions - nothing and when something happens, they are running after and lamenting for help...

No need to say too much and everyone knows it better and no one is eady to do, all want to improve the size of their own pockets and the result is what we had seen now. So, I don't think the authorities will earn any lessons and the sufferer is the poor inefficient people and the mighty will be there on top and nothing will happen to them. So pitty, what else to say...



• Philippines
26 Aug 12
I agree. In my country's case I think it also has a lot to do with how Catholicism was spread years ago by the Spaniards - the latter basically made the early Filipinos believe in too much dependency on faith and religion as a solution to their problems and putting little emphasis on the universal law that whatever we give, it is what we will get.

• Quezon City, Philippines
22 Aug 12
You may be right about your opinion but I think in crisis like these we can only invoke oh Him because we humans have limited capabilities to stop this natural calamities. I know we are to be blamed from these flooding because of our inability to see things beforehand. That is why when given this crisis we are only awakened by our ignorance and hence we try to pacify things by asking our creator to help us. But you are right in saying we are to be blamed humanity has learned so many lessons in life but I think history repeats itself and we never learn from it until it comes back to us teaching us another lesson in some ways.

• Philippines
25 Aug 12
Prevention and readiness is the key. If you observe our culture still has a fatalistic attitude about calamities. We can't always keep saying, "Bahala na." The only wake up call for Filipinos is to be realistic in dealing with calamities and see the huge part that humans play when it comes to taking care of the environment. We can't always keep asking for miracles when most of the cause was because we were negligent. I don't know why people don't get tired of repeating history.

• United States
22 Aug 12
I believe that rains come from God; but floods are due to our own doing. Unless we learn the principle behind the above-mentioned quote, and unless we start taking responsibilities for our actions and correcting it, this vicious cycle will never end. Years have passed but it seems we have never learned since Ondoy. And about that rh bill thing, oh please. What is this, the middle ages? "Quick, there's an eclipse, God is angry let's sacrifice a virgin!" That's just so sick, clearly indicates that some people's way of thinking still refuses to progress.