I have 3 squash!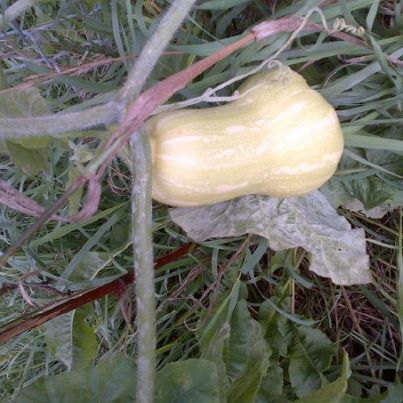 Canada
September 21, 2012 3:32pm CST
Nothing turned out in my garden as I think the weather we have been having. The squash took over the garden I had, I currently have 3 squash. One was eatten by something or rotten, the other is tiny but still growing, and the other was a decent size I picked the one outside the other side of the fence. I walked around the toher side of the fence, and the vine was all broken and the squash why lying on the ground. A couple people told me to pick it, so I did. I came in and looked it up online. It says it wont rippen much after its picked, so im hoping it can still be used.
6 responses

• Garden Grove, California
21 Sep 12
hi ricki its ripe enough to bake and I think youwill like it as I know I like them so much baked with butter on them mymom used to put a slice of cooked bacon on it which is good but i liked it plain too with butter on it. when they get to that size they can be baked and the bigger ones sometimes are not as good as that size.




• United States
21 Sep 12
I am sorry to hear your garden didnt produce much this year. Its been hard for farmers around the country this year as well. I only grew potatoes in my garden this year which I guess is probably just as well if everything I tried to grow wouldnt have done well anyway. No sense doing all that work for nothing. Some day I would love to have a nice big garden full of corn and cucumbers and potatoes. Would be nice to eat it home grown and it would save me a little money growing it rather then buying it.

• Canada
21 Sep 12
I did so much work, and got nothing so far. I did get some tomatoes, and zucchini but they werent perfect they were very small in size. I hope the squash turned out, but next year I want to plant one even bigger with more variety. I think the weather we have been having just couldnt keep up with the plants.

• United States
28 Sep 12
You can trick the squash into ripening. I've done it with some of mine...in fact it's my favorite trick for ripening mangoes, avocados, cantaloupes, and squash. I put them in a paper bag and place them in a sunny spot in the house where nothing can get to them. I make sure that they have sun for at least four hours a day. It really amazes Bill when he gets his half of a cantaloupe and it is like it just came out of the garden! Give it a try!! It's better to have picked it rather than have it rot on the ground. It doesn't take long for a squash to rot when it's on the ground... around my place it takes about two days before the rot sets in...that is if the ground squirrels haven't attacked it. (They ate my zucchini plants!!! I would love to catch them and shake my plants out of them!!!

I love zucchini and they wiped the plants out!!!) The squirrels also have gotten into the habit of eating my tomatoes when they just reach the point of being ripe enough for the table! What really burns me is that I have two semi feral cats and neither of them has even tried to catch the flaming squirrels!!!

• Portugal
26 Sep 12
The squash is quite beautiful, and they generally don't ripen too much if they are picked too green but at least they don't rot. My mum made some squash and walnut conserve, with a little cinnamon, it is very tasty, and I use it when making pies. My Mum says this year she was able to pick 4 medium sized squash, but it was from 5 vines so basically one each, to take up less space, she wrapped them around the small tree that is nearby as it allowed them to grow without being in the way. That means that if you were able to get 3 squash from a single vine it is pretty good. The weather is one of the main factors in how things grow, for example this year the tomato and courgette were plentiful - I freeze tomatoes now for winter and I am running out of space, some of the courgette's got so big they looked like squash. On the other hand the brinjals look nothing like they are supposed to the same happened to the radishes and beetroot, it was just a small amount one packet of seeds each but still, doing all the work and then it does not seem to grow at all is frustrating. Well have fun making a delicious meal with the squash.

• United States
22 Sep 12
Is that just regular yellow or is it spaghetti squash? I love spaghetti squash the most. I'd say just fry it up or boil it as a side dish. It should be good enough for a small portion.

• Canada
22 Sep 12
that is disappointing. I wouldn't be able to grow anything either. I could never even keep a plant in the house from dying.