not good at Pinoy Henyo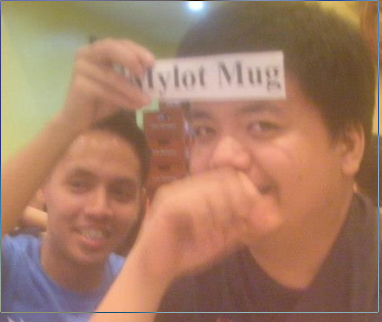 Philippines
October 14, 2012 9:28am CST
or was it Pinoy Henio?

I am glad the game had nothing to do with singing because the truth is that my voice is soar when it comes to that talent. That was the first that I actually did this Pinoy Henyo thing or guessing the word on your forehead. you ask for a clue and they either answer a yes or no. this was my first time participating such popular game. the first question was..eheem..didn't realize that it wasn't part of the site but part of the event dedicating to the members of the site. which was mylot souvenirs MYLOT MUG. the second would have been easy if i was granted that "mylot feature" would have been approved as clue. unfortunately the answer wasn't even my favorite (MYLOT TASK

) I had fun, trouble is i feel akward about the video.i acted weird there

10 responses

• Philippines
14 Oct 12
hi LK, well pinoy henyo is our version of charade (i think) I am not also good on it we done this in our parties before I think jai still had our snaps with pinoy henoy that we played years ago with our online friends. Weird???????everyone can act weird

so don't worry at least you got your mug

happy mylotting


• Philippines
14 Oct 12
So...I can make my own design and have it printed... much better one bwahahaaha



• Philippines
15 Oct 12
Hello Bhabycatch013,

Oh yeah i have forgotten about i should have known. it's been a while since i have actually played this game i thought this was the first time. yeah your right i was right about getting this mug that's for sure. well, maybe this is the first time I've seen myself being recorded on am. have a nice day.



• Davao, Philippines
14 Oct 12
It was my first time to play also that kind of game. As you observe I didn't even know the rules and what I'm going to say during the game played.

It might be a chance that I was very lucky, I won 3 times.

I just watched that game on TV, I'm not a Kapuso that is why, that game so familiar to me. While I worked abroad. I am connected with TFC. In the province, I am a Kapamilya. Here in Manila I mostly watched TV5.


• Philippines
15 Oct 12
Hello julyteen,

that's good to know that you were able to win those first two rounds playing charade. I don't really watch most of the local tv shows because we had cable for the last few years. but when ever i go to my brother's house who only had local networks i would have time to watch the noon time shows. have a nice day.



• Philippines
14 Oct 12
Next time you will be joining a singing contest

I dare you and YOU CAN'T SAY NO


• Philippines
15 Oct 12
I am sorry,

this is one thing i will seriously refused to do so. the problem was that i tried this before and it doesn't really end up good.

just can't afford to do something which i have no talent of. I think i have the right to say No.


• Philippines
15 Oct 12
Hello Ddaguno, Yeah but I have forgotten that it was once called charade, they renamed something and look like pinoy henyo. well, they are use to have this game all time and then. but i don't participate this kind of game thing.




• Philippines
15 Oct 12
i like this game and almost watched it on Eat Bulaga everyday. This game is such a mind boggling game. I have never tried to play this game but for sure it's fun. if ever I will try it I don't want it ti happen in eat bulaga because surely I'm gonna die to nervous. haha

• Philippines
15 Oct 12
Hello mrsuniega,

I like them having fun while doing this game really, most specially if the host are having fun with it. well, nervous has always gotten the way of many many things. your right maybe they don't want to see their nervouse or they just want to have fun simply. have a nice day.



• Philippines
15 Oct 12
I'm not good at that as well. Me and my family played it last new year just for fun during our mini celebration. And me and my partner are on the bottom part because even if you know the game very well ( since my mom always watch it on EB), you still will find it hard when you are already the one guessing it. Anyway, as long as you did have fun, the awkward moments will be forgotten.


• Philippines
15 Oct 12
Hello Gaiza12,

I never wanted to be in the games even with the kind of game. you know the rules but it was actually even easier but if i was a real addict even knowing all the features, then i would have answered the question so easily. the truth is that i have lost addiction with mylot for a very very long time now. well, it doesn't look too akward.



• Quezon City, Philippines
15 Oct 12
Was this the mylot conference that happened last Saturday. Looks like there are many who attended. Well Pinoy Henyo is indeed hard to especially if the word given to you is unfamiliar or unexpected of course. But watching it is really fun since there are times that the participant can really guess the word.

• Philippines
15 Oct 12
Hello Rsa101,

I didn't know why it was hard for me, but i tried to make fun of it a while before i lost the guessing thing. the game is up to three minutes per both player good thing. well, they were at least seven of us there enjoying our time with each other talking. have a nice day.




• Philippines
15 Oct 12
Hello Lady1993,

I usually watch in the Eat Bulaga Shows with the Pinoy Henyo. well, they just want to have fun screaming and then getting loose from the stress they experience everyday. well, during this game, some of the clues should have been considered but wasn't recognized so i never got the right answer. have a nice day..




• Philippines
15 Oct 12
Hello Rog0322,

Well I remember having the charade turns on my other friends there who attended. because when ever they were having on this game, they seemed to have their own talks. right now, am happy that i was able to make them laugh even though some jokes aren't that good. have a nice day.



• Garden Grove, California
14 Oct 12
hi letran thats okay maybe others also felt akward but as long as you had fun who cares lol.You did have fu

n so do not feel werid just be ha ppy it was another s uccessful outing for all you filippinos. hugs from hatley .



• Philippines
15 Oct 12
Hello Hatley,

I had fun but probably i wasn't use to the fact about being video recorded. but part of me was kinda sad because the others who were with me during the 2010 wasn't around so i just covered it up by trying to be humorous. hugs for you as well my friend, Have a nice day.