Is Sehwag's 'Natural Game' theory justified?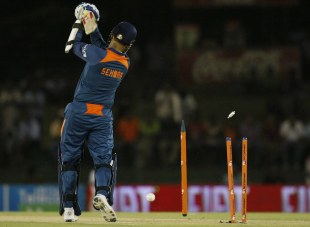 India
October 26, 2012 4:49am CST
Sehwag is no doubt a huge talent probably at the very end of his career. Throughout his career he has been called a MAVERICK. All along people have said that he plays his natural game and that is the best way to bat for him. However I feel that this is grossly wrong. He has been reckless and irresponsible many times. At times he has even managed to throw his wicket when a win was just around the corner and easily achievable. No doubt he has done wonders for the country as well but the question still remains that though his batting style is very attractive, is the 'Natural Game' theory justified?
9 responses

• India
27 Oct 12
I think looking at his currently long drought, the natural game theory is not justified. I think Sehwag now seems to have lost a bit of his eye-sight which used to give him such an advantage as he used to pick the ball early and play those extravagant shots. But with age catching up and Sehwag not having a plan B in his style of play is now exposed. So I would say that now is the time for introspection for Tevez as to whether he has another dimension to his play or not!! Cheers! Ram

• India
1 Nov 12
I think he should try being a little subdued. After all discretion is much better at times. Valor always does not work. Remember, even Tendulkar began in very much the Viru style but he changed his game with the changing times. That probably is the example he needs to follow.

• India
2 Nov 12
Adopting to changed circumstances is a must, and Sehwag should not shy away from that.


• India
1 Nov 12
Yes, I firmly agree. Every person in a team has a responsibility. Sehwag, as a wise man has said, seems to be a 'sophisticated slogger' or an improvised version of what we call a 'pinch hitter'. He has the tendency to bat recklessly. Although his batting is a delight to watch, he needs to take some responsibility for the fact that he is one of the most senior members of the team.

• India
2 Nov 12
I do not think he is a pinch hitter. If that were so, he would not have made triple centuries in tests and against not so bad bowling attacks. May be there is a problem with his defense, or some other technical thing that he needs to sort out with coach.

• India
26 Oct 12
I would, to some extent, say yes to your question. I think it is a justified reply to any query that happens to begin regarding his batting style. And major reason why this reply has worked because all along his career has been surrounded by India's most successful players. So even though he failed in his natural batting the team was saved by effort of others and blame that his naturalness is getting a problem has seldom contributed to the fuel. Few days back I read an article from Greg Chappel on his days with Virendra Sehwag. He said somewhat same as you are saying. He tried to talk to Sehwag regarding what he needs to improve and how correct he would be if he does that, but all was in vain. He loves the way he plays. I think that should make us leave him to do what he loves to do. HITTING.. In an attempt to develop him more we may loose a smashing Indian opener. If he would have been the way we are wishing him to be....perhaps this discussion wouldn't have existed.

• India
1 Nov 12
I am sorry could not able to make out are you appreciating him or criticizing him. I am not a very big fan of him but I support him in the sense that he knows it better what is to be done there and I do not think he needs advises from us. He is good in whatever he does. He should not divert from his individuality, He is known for his extensive power hitting. Would be great if he continues it in the same manner.

• India
30 Oct 12
I think after his shoulder surgery he has not been able to recapture his old magic yet. It is always hard to come back from an injury especially on away tours against good bowling attacks like England and Australia. So he is low on confidence. He simply needs to stay at the wicket long enough, runs will come from his bat. Coming home series against England is right time for him to come back in form.

• Howrah, India
27 Oct 12
Sehwag plays his natural game and I think it's best for him,if he tried to play in different style he may not be able to produce his best to us.Every player has it's own style and they play according to their strong point here sehwag has attacking power so he chose to attack the bowlers...

• India
1 Nov 12
Some wise men have said that with great power comes great responsibility. Unfortunately though, in this case Sehwag seems to have tremendous talent and natural ability not to mention a god-gifted hand eye co-ordination. However on the responsibility front what is his contribution?

• India
26 Oct 12
I think Sehwag played in one style throughout his career. However, it seemed a bit strange that he excelled more in Test matches than in ODIs. May be, he should leave one form out of T-20s and ODIs. I would say leave T-20s, because we have many youngsters more appropriate for this stuff, and Sehwag should focus more on ODIs and Test matches. That would be much better for him.

• India
26 Oct 12
Virender Sehwag is no doubt one of the best players of Indian cricket team who has impressed all of his fans with his natural talent of hitting the ball. However, his recent performance has not lived up to expectations but I still believe that every player sees an up and down in his career and its Sehwag's bad time which will be over soon. We will see our hero back to form very soon.

• India
3 Nov 12
I think two years ago, Sehwag said he is playing this kind of cricket only to give entertainment to his fans and audience. I enjoy a lot his game rather than sachin's. He is the all time best attacking player of india.

• India
2 Nov 12
In my opinion whther Sehwag's stroke play is justified or not I don't think he will change his style of play. I am thinking like this because he is a natural stroke player and anything other than that will obviously have an impact on him. It won't be that much good for him. The best way I should suggest is let him play his game and let him be the 'unpredictable'.