Yarn and crochet hooks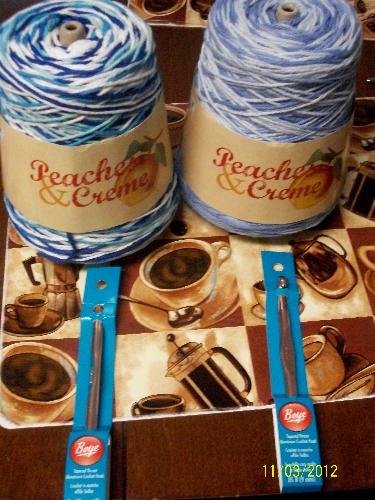 Onaway, Michigan
5 responses


• Onaway, Michigan
6 Nov 12
I can't wait to get these started. My daughter is really looking forward to learning to crochet and make things. I know I keep forgetting some people from the other site are here also.

• United States
6 Nov 12
The yarn that your daughter and you have chosen is beautiful and I hope that the two of you have a wonderful time making dishcloths from the yarn. For me, the only thing that I've ever made is afghans and I like to make those for friends and family members when they are expecting a new addition to their families. Now my daughter wants to learn to crochet but I'm not able to teach her because I'm left-handed and I do it backwards from the way that a right handed person crochets.

• Onaway, Michigan
6 Nov 12
I am like you also I am left-handed and can't teach my daughter.I have only one person that can teach me and since we moved I don't live by her anymore. I am hoping to find somebody here that can teach me. My daughter tried teaching me to knit I could do it for a while then when I mess up I gave up it was just to confusing for me.

• Malaysia
3 Nov 12
The yarns look really pretty, I am sure you and your daughter will make lovely dishcloths! I am not good at crochet, I tried to make small flowers and dragonflies once, I still prefer to use knitting needles, as I find knitting is easier. But there are many little toys are good with crochet, I suppose I should learn it and make some toys for my son with crocheting. Happy crocheting!


• Onaway, Michigan
3 Nov 12
Thanks we are looking forward to getting started on them.I use to crochet then stopped so I don't remember nothing I learned from it.I think it would be fun for you to learn it and I am sure your son would like the toys you make him.


• Onaway, Michigan
3 Nov 12
I have not started yet we are hoping to soon. Since my daughter has no school Tuesday I am going to see if the lady that is going to teach us can come over and do it that day it would be something fun to do on her day off of school.

• United States
3 Nov 12
The yarn looks very pretty. I hope you enjoy making these with your daughter. Do both of you know how to knit or are you doing this as a beginner? I can crochet a little but I cannot knit at all. Be sure to post pictures when you finish these. Where did you buy the yarn and hooks? Are you starting them soon?

• Onaway, Michigan
3 Nov 12
My daughter knows how to knit I can only do little bit of it. We will be crocheting these and we will both be beginners at it.I will sure post when we get some done. We got the yarns and hooks at Walmart.I am hoping to start this soon my daughter does not have school Tuesday I am hoping to see if the lady that is going to teach us will be available to do it then I think it would be something fun to do together on her day off.