Grabbing a few items tomorrow for Christmas

Canada
December 1, 2012 5:17pm CST
Marco is almost out of pellets, he has enough for probably a week. But I like to have it beforehand, as for some reason, sometimes they dont have the same brand and type (I like making sure he stays on the same ones so I buy it a little earlier). I was going to grab Max and Gizmoe little litter pans. I am still on this mission to litter train them, Marco's old one is a little too big. So in their stockings I will put the tiny ones in. Also, this fluff cotton that they love laying on, so I will grab the last few bags at work. I will put it on my credit card, and pay it in 2 weeks when I get paid. I am hoping to get to PetSmart and finish all my shopping this week, get it over and done with.
7 responses

• Legaspi, Philippines
2 Dec 12
Hi ricki! Can I just stay with you during Christmas? I also want to hang some stockings. I really appreciate you for love of these little creatures. I also wanted to have a pet but with my present job I'm sure I can't do it. It would just be a pity if I would get one and could not able to take care of it. Merry Christmas! To Marco and the rest of the gang too.

• United States
1 Dec 12
Good idea to get things early that you know you will need, Ricki. If I had funds I would also stock up on things needed. I love reading how devoted you are to your fur babies.

• Canada
2 Dec 12
I hate running around making sure I have this or that, plus Christmas coming up people are going crazy which I want avoid. Once I have run out of food, and that was me working so much I just missed my mind. I know my parents are always running out of cat food, and then running around like idiots.

• United States
1 Dec 12
My 5 year old and I were discussing what to get the kitten for Christmas. She wants to get her a stocking and fill it up with treats and toys. There is this toy at work that is a toy mouse that you can shoot across the room to get them to chase after it. I was thinking about adding one of those.

• Canada
2 Dec 12
I know the Dollarama here sells those mice, they are really cool but break easily. Mine usually jump on them while it's moving and they break. I bought my stockings for all mine at the Dollarama as well, for $2.00 each, they do have cat and dog ones that you can slip their pictures into it.

• United States
1 Dec 12
That's cool I'm sure they'll enjoy whatever you end up getting them. I like getting things before hand before I run out too so I know I have enough and not stuck when I need it. I need to do more Christmas shopping as well but I can't until I get paid this week which isn't until Thursday. I love shopping at our dollar tree too that have alot of neat stuff and for very cheap. But I don't buy Christmas gifts there only like wrapping paper and things like that. Good luck shopping.

• Canada
1 Dec 12
I buy my wrapping paper there as well, and little things for myself such as hair elastics, and tooth floss. The animals don't care where their presents come from, so it saves me money. I will grab a few items from work tomorrow, then buy the rest from PetSmart. I wont be buying them as much as I usually do but enough. I get paid Thursday as well, but I want to get it done before the rushes, I hate shopping in crowds. I will charge it to my credit card and pay for it the following pay in 2 weeks (as my other goes towards my VISA and bills right now).

• Mexico
1 Dec 12
They will have a great xmas. I bought my little dog some things today for her stocking. Dog treats, and bones. I need a few more things as its a big stocking for aittle dog. Have a great day there.

• Canada
1 Dec 12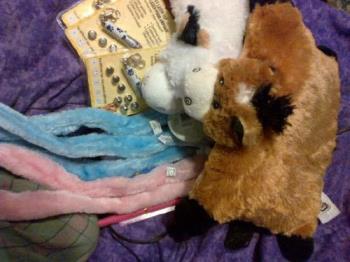 Mine are the same as well, these giant stockings. I;ve attached an image of what I got them so far. The cats got each a lazar light, and a toy (they lve these toys). The guinea pigs, and rabbit got a pillow which can be used as a bed (I hope they like it and not eat it). I plan tomorrow to get the guinea pigs their litter pans, and cotton fluff tomorrow from work. Then have an idea of everything else I need to get. I will grab a few more toys, and treats. But I wont be buying as much as I normally do. If I have the money in a few pay periods I will get them an interactive toy to play with while I;m at work.

• United States
4 Dec 12
While I do think it is a great thing to get your Christmas shopping done early, I don't really think that it is a good idea to use credit cards. Now I can tell that you are being responsible in that you are planning on paying the credit card off very soon. However, I now shy away from using credit cards because of the fact that you can easily end up in a lot of trouble if something happens and you aren't able to pay the credit card off in a very short period of time.