Commute bottleneck hazard.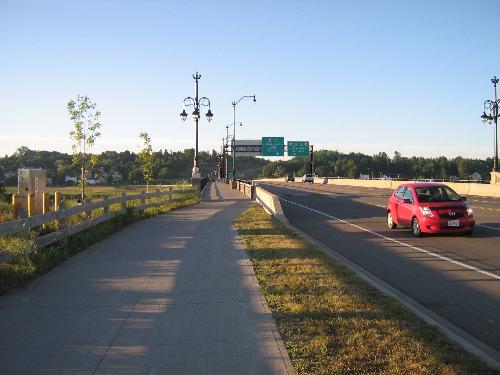 Canada
December 20, 2012 11:10am CST
On my way to and from work each day I need to cross the Gunningsville bridge across the Petitcodiac river. Cyclist are expected to use the very wide pedestrian walkway. I don't have any problem with this except after every major snowstorm. The city first plows out the roadway. The plow dumps all the snow on the walkway rendering it virtually impassable. I hiked it once last year determined to ride where I am supposed to. I had to carry my bike and it took me fifteen to twenty minutes to cross the bridge. They do clear the walk later in the day but I can't always wait that long. I have a work schedule to follow. This year I when the walk is buried I go with the cars. Not everyone likes it but there is room and the cars are travelling at city street speed. The only other crossing point is the causeway. There is less room and the speed is very high by comparison. Had to do this yesterday. Someone blew their horn at me enthusiastically but I don't really care. They just have to take a look at the walkway to understand my point of view.
3 responses

• Canada
21 Dec 12
I think you should write to the city or town to get it cleared a little sooner. We have the same problem when the trucks come and clear our streets. Guess where the snow lands? In front of our sidewalks and so we have to either climb over an embankment of dirty ice blocks, or take a good sharp shovel and remove the stuff because a simple snow shovel will not do it, bit at least that is just a little problem. Whereas with yours, trucks, cars, buses, etc. use the bridge and I bet some of them are delivering essential goods and products, so the bridge has to be clear at all times.

• Canada
22 Dec 12
If it becomes more of a problem than it has already I will definitely speak up. They can't expect to block the only route for pedestrians and bicycles to cross the river. There are too many people here who can't afford cars or public transit.

• Canada
23 Dec 12
Our public transport fare is getting higher all the time and they wonder why they do not get any more passengers. I hope you are successful. I was wondering whether getting a petition and everyone signing it might help.

• Canada
23 Dec 12
Our public transit system just recently went back to work. They were locked out over contract dispute with the city for most of the year. Until January first they are let everyone ride free as a kind of compensation. I cycle to work because it is faster and cheaper than taking the bus.



• Canada
20 Dec 12
I think they are making the effort. It is an issue because there is no other reasonable option for crossing the river. It's only an issue right during or after a heavy snowstorm. Yesterday on my way home the walkway was cleared. Early in the morning there isn't very much traffic so crossing the bridge with the cars is not a huge problem. Last winter I only ran into the problem once. I will make noise if it comes up more often this winter. I've got a big enough mouth to let people know what I think.

• India
20 Dec 12
Thanks a ton for sharing this discussion. Well i can understand your situation and i think if the communication around the bridge is improved then as u have mentioned then the commutation will improve. Although i have no idea about no idea about this bridge, i would like to mention that generally while commuting via a bridge it should be taken care of that too much of vehicles do not cross at the same time. So if every thing is done quickly then it would be goo for the commuters. What say?

• Canada
20 Dec 12
Thanks a ton for responding to this discussion. I try to avoid crossing when there is heavy traffic or the walkway hasn't been cleared. My schedule doesn't always allow me to be that flexible.