Messy eater!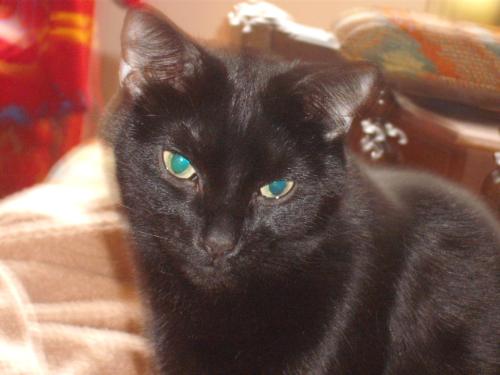 United States
December 29, 2012 6:29am CST
I have 2 cats. I put their food bowls on a place mat on the floor. They have a dish for water, one for dry food and I give them each half a can of wet food twice a day in a different dish also on the place mat. One of my cats is very neat when he eats and I can tell because they each take a side of the mat. My other cat is messy and no matter if he is eating canned or dry food there is always food all around his bowls. I put the wet food dish on a paper plate and he still even manages to get food all over the place! Are you are your cats/cat messy eaters? Have you come up with a solution to keep it off your floor?
6 responses

• United States
29 Dec 12
I have had several cats throughout my life, and some are messy eaters, while others are neat. I have one cat (a female) who likes to take a nugget of dry food out of her bowl and hunt it before she eats it, batting it around all over the floor. Sometimes she will do this with the whole bowl until all of the food is eaten--or knocked under the refrigerator!

And yet she is a very neat eater otherwise and never makes a mess with canned food. Another cat likes to splash his paws in the water bowl and then lick the water off his paws--you can imagine what kind of mess this makes! And my favorite cat of all, who passed away last year, was the messiest eater I have even seen--he would get food EVERYWHERE around his bowl. But he was still a great cat, nonetheless. I have found no solution except a dustpan and a brush....or a towl, to clean up the puddles.

Hopefully someone will post a solution that we both can use!


• Kingston, New York
29 Dec 12
Hi maybe i should start reading all the post first befor I post after the topic, I though my lady friend cat was the only cat that bat her food all over the kitchen floor. ok have a good day.

• United States
30 Dec 12
A tablecloth would work...but you'd have to wash it often! Eagle--no worries, at least you should feel relieved that your friend's car is not alone in her craziness...



• Canada
29 Dec 12
I can say my three cats are pretty neat, my one has trouble chewing dry food. So he will pick it up eat a piece but then piece fall. But he always eats it up off the floor. What type of dish do you use? I use to have a plate style one and found it would be all over the place. But I got ones with high sides and havent had a problem since.

• Canada
31 Dec 12
I find I had similar bowls and found they couldn't get at it so they would fling the food around. With the plate style dishes they would slide off the side. I bought these stainless steel bowls (which are actually better for them as bacteria doesn't cling to them), they are deep enough, but they can still get the food out. They were only $1.99 each, for the cat size.

• United States
29 Dec 12
Our three cats share one large bowl and will go nibble dry kibble when they see fit. If one of them drops a piece of kibble outside the bowl, I think that one of the others will generally come through and clean it up before we humans ever notice it. So, over all, the trio is fairly neat. Now, let's not talk about the amount of litter they kick out of the box...

• United States
29 Dec 12
lol...my cats share a bowl with the dry food in it and my not so messy cat doesn't pick it up from the floor. I actually wish he would so there wouldn't be a mess. As for litter....I bought something that you put just outside the box on the floor that they step on before they hit my carpet and I also have one of those square pieces of carpet right after that so they really don't kick anything off the box. Of course the box has raised edges that curl inward so it catches all the kicked up litter.

• United States
29 Dec 12
Oh, the box has raised edges, and we also have a small rug on which they may wipe their paws on the way to or from the box. However, they still manage to fling an inordinate amount of litter out onto either that rug or off onto the carpet. I'm thinking that we need to also add one of those plastic mats as well; it won't look as nice, but it should help to decrease the mess those fuzzies produce.


• India
30 Dec 12
Well most cats are messy eaters. i would just say try to feed them outside house in backyard maybe. Not sure though. Well if you have pets you have to deal with such a problem. Well i suggest you try to contact other pet breeders as it might help you more than here. Hope this helps. Good luck to ya!

• Kingston, New York
29 Dec 12
Hi my lady friend has cats one a messy eater, the other cat is a nut. this what she does with her dry food, she take bit out with her paw the bat her food on the kitchen floor then chase it,then she eat it , but some time she lose it,and the cat going nut looking for that 1 piece of food when her whole bowel is full of dry food. any sloution my friend try to do does not work. the cat do as they please. they are very cute. ok have a good day.

• United Kingdom
4 Jan 13
My partners cats, they had 4 were all messy eats and Edward was the greediest, he would finish his feed then start on the others, Hera would take the food out of her bowl and carry it away from the bowls to eat, thus making even more mess! We did put a mat down but it didn't make much of a difference to be honest, they were set in their little ways. We even had a neighbour say that Edward would actually go into their house and start eating their kitties food and making a mess as a did! Not sure who were were most annoyed with Edward for being greedy or them for encouraging him and letting him in! Table manners were definitely not their forte, any of them!