Michael J. Fox and son....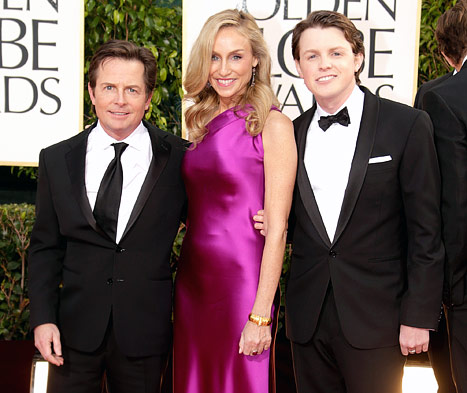 United States
January 18, 2013 7:12am CST
Michael has always been a favorite of mine even after he got sick and seldom appeared anywhere. He's made some awesome movies and is involved in helping to find a cure for Parkinsons disease which he has. Now he's in the news because his son is dating Taylor Swift and he's not happy about it because of her reputation of dating a lot of guys and then breaking up with them. I think his son is old enough to take care of himself and his father shouldn't tell him who to date. If he doesn't try dating her he will never know if it would have worked out for the good or not! Do you think Michael should tell his adult son who to date and who not to date? Shouldn't they get a chance to see how it works? If it means he ends up with a broken heart he should be able to deal with it...in my opinion!
6 responses

• United States
18 Jan 13
If it were your child, would you really want for him to date someone who will publicize all of the details of the relationship and subsequent break-up? Fox's objections are well-founded. He does not want to see his son hurt, and he is guaranteed to be hurt if he is involved with someone with such a track record. Not only will he have a broken heart, he will be publicly dragged through the mud by someone who has built her career on break-up songs--damaging his reputation. There are silly reasons to object to someone that one's adult child is dating. However, this is not one of them.

• Bulgaria
18 Jan 13
Michael J. Fox's concern as a father is understandable, especially if Taylor Swift really does have such negative reputation. I believe he is trying somehow to protect his son, because Michael himself is a celebrity and is very well aware of all the negative sides of being famous, your entire life is wide in the open. Of course his son is old enough to make mistakes of his own and then learn from them, that's true, but let's not forget that this is the world of celebrities, where almost nothing remains hidden. Michael is protective and I understand him. Eventually he will have to leave his son alone, that's clear, but so far his father feelings prevail.

• United States
20 Jan 13
I don't see how a fathers feelings prevail when we are talking about an adult son here. I never got into my kids love life and none of them had a problem. I knew any decisions they made were going to be good ones. We have to be able to know that we brought them up right and could decide things on their own..

• Bulgaria
20 Jan 13
By "prevail" I meant that I am sure Michael J. Fox did not want to deliberately interfere with his son's life, after all, his son is an adult. Bu as you know, our children will always remain "our babies" in our mind, no matter how old they are, so on a subconscious level those parent feelings prevailed, and Mr. Fox obviously could not control them. But yes, you're right, he must control his actions on this matter and let his son live the way he wants. If he makes a mistake, he will learn from it. If he doesn't, he will built his own happiness. There is a point where we, as parents, just must stop and not cross the line.

• United States
19 Jan 13
I totally understand why he is upset about it. Not only is she known for dating quite a few guys and then breaking up with them, she then writes songs about them! In my opinion, the reason she can't find love has nothing to do with the guys, but with herself! I really don't care for her and I think Michael J Fox is well within his rights as a parent to tell his son what he thinks of who he is dating. He can't stop his son from dating her, but at least his son will know how his actually feels, and if he respects his father, will take that into consideration if he gets to a point where it comes down to breaking up with her or not.

• United Kingdom
18 Jan 13
Usually the case is the more the parent objects, the more the attraction in the person they are trying desperately hard to stop them seeing! We all have to learn our own way, and make our own mistakes. What if Taylor Swift suddenly decides her dating days are over and truly wants to settle down with him? People change, and it's kinda judgmental of MJ Fox senior! I certainly wouldn't want my parents telling me who I can and cannot date, sure they are trying to protect me but they can't wrap me up in cotton wool for the rest of my life, they've got to let me stand on my own feet, and that's what MJFox senior needs to do for his son!

• Puerto Rico
18 Jan 13
Well I love Michael J Fox and I truly understand as a mom where he is coming from. He does not what problems in their relationship to end up in one of Taylor's songs. We also know she has been dating alot of different guys in the past and who is to say this is going to work out. However, he is just looking out for his son but at the end its the son's decision if he is an adult. By the way your picture show Michael J Fox, his wife and their son not Taylor Swift.

• Philippines
19 Jan 13
The parents can be at their children's side no matter what. The final decision will always be with the son of Michael. The free will to know what is right for him. I am sure it is not having a poor advice, but the happiness should always be in priority, He must be freaking out if his son will going to marry her. But that is love, there is no way that you will feel clouded of being madly in love.