Designer wear? No thanks.

India
January 20, 2013 10:48pm CST
Once designers establish themselves and earn a name that's the end of their creativity. Anything and everything that they offer is grabbed at the asking price. I for one will never get fooled. I have a tailor close by who sits in a 8'x8' shop which he has taken on rent.He as no assistants. He stitches my clothes and gives me a perfect fit. He works on the patterns that I suggest and I am never disappointed. His rates are reasonable too. Are you a designer addict? Who are your designers and what prompts you to wear those clothes. Some want to be a part of the 'in' crowd, or may be even compete with the neighbours. What's your view? Let's discuss.
11 responses

• Philippines
21 Jan 13
I have never cared for such brand names! One reason is that I grew up poor. Also, my family was religious and growing up we were taught not to want too much. As an adult my purchases are practical and my goals in life are realistic and achievable. Whenever I see something that is outrageously expensive, I squirm inside. I don't even like fancy coffee from places like Starbucks, and I only go to those places whenever I have a gift certificate, which my company often gives away as prizes for some little achievements. I have never bought a designer item, although I have a few pieces in my closet which I got from thrift stores for, usually, less than five dollars. I didn't buy those items because of the designer label, I just happened to like them and they just happened to fit me. And they just happened to be designer label clothes someone else had thrown away while still in good condition. As a teenager I did envy my classmates who had clothes, bags, and shoes from well-known brands. Because I was often different, I got comfortable with the idea of not conforming! An officemate sells some expensive bags and almost all the ladies in the office buy some for themselves. I politely say no, thanks, and continue using my old handbag bought from the department store for about $6,and have been using for two years. Why would I want a 100-dollar bag? Because of difficulties while growing up, I have learned to put things into perspective. I very rarely go over what I actually need. I am very sure I look great in the 2-doller thrift store dress I am wearing to work today.

• India
21 Jan 13
I enjoyed reading your post. You are like the Rock of Gibraltar knowing what you want and sticking to it. I am no different from you. Even when it comes to following fashions I have my views on that. I never went in for short dresses as I did not have legs to show but there are many who will wear them just because they would be in fashion. I was particularly liked what you said about how you stood your ground when you were at an age where one could get swayed.


• India
21 Jan 13
Please read as 'I particularly liked.....'

• South Africa
21 Jan 13
Throughout my school years my mom used to make our clothes, because we also were very poor. But let me tell you, when my sister and I would walk out on the street, the heads would turn. My mom would get interesting patterns and even in being poor, we looked like rich girls wearing 'mom's own'.


• Philippines
21 Jan 13
I appreciate designer clothes but sadly, I do not have the means to buy them most especially now that i am out of work. But even before, I am not very particular with brand names. I am all for the style and comfort.

• India
21 Jan 13
What attracts you to it jenny when those clothes cost a bomb compared to same type of clothes stitched by an ordinary tailor may be with a better fit? I know people would be willing to sell their house just to go for these fashion statements. Dresses costing over 5000 dollars and for a complete ensemble that would run into not less than 50,000 dollars may be. There will be shoes, handbags, perfumes, lingerie - may as well go for the total package.Right? One cannot have just one set but half a dozen of them! I just surfed for Christian Dior one among the top ten. I fainted looking at the prices. The only thing I owned was a perfume and that too it was gifted to me!

Somehow these things did not appeal to me even when I was teenager.

• Philippines
21 Jan 13
I am just fascinated with them. But never really wanted to buy them coz , of course it costs a lot. I just looking at them most especially if they are worn by celebrities. Even if I did have money to splurge on them when I had a job, it didn't cross my mind to buy them. My hard-earned money is mainly for the family's needs.

• South Africa
21 Jan 13
I am not into brand names, as with jenny1015, but if I had a good paid job right now, I would have loved getting my 'very own clothes made to fit!' Oh, and you know what, the label would have my name on it... haha!


• Romania
21 Jan 13
I grew up with my grandmother a dressmaker so I am not a designer fanatic. I usually help my granny sketching the patterns, listing down the costumers measurements and sometimes I even suggest some designs using a brochure. Everyone can design their clothes if they want.

• India
21 Jan 13
Will you take over from your grandmother and carry on with her business. Are you naturally inclined towards fashion designing. Nowadays the entire ensemble is worked on including even the lingerie.

• Romania
21 Jan 13
If only I was given a chance but other things happened. Although I'm not a dressmaker but the experience I had with my granny helped me become a wise shopper when it comes to clothes. This is why I'm also more addicted with clothes rather than gadgets.


• India
21 Jan 13
i am not a designer person and I would love to design my own clothes. But I do not know how to stitch and that is the reason , as of now I do not design my clothes . I also get my clothes stitched with a tailor near my house and as you said, my tailor also does the designs and patterns I suggest and I am totally satisfied with the outcome of my clothes . I do not need any designer to cost me my fortune in the long run just for the sake of a brand name. I am planning to learn to stitch and once I learn to do so, I will be my own designer one day and I will brand my clothes with my name only for myself. That would give me more happiness than to wear something designed by someone else. I don't want to live on somebody else's creativity is what I feel.I want to be an artist for myself.

• India
21 Jan 13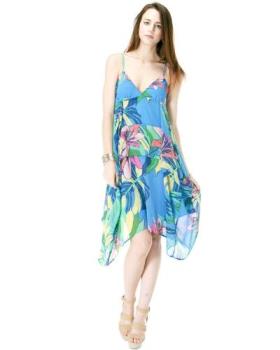 If you have the aptitude you could churn out good clothes. As for me I hated stitching and could not even get my hem right but looking at the uneven hems that are in fashion these days may be I could give it a try!

Just because their tailors cannot produce an even hem these designers make it as a fashion!


• India
21 Jan 13
Once these designers are recongnised they exploit the situation and get away doing things such as you have highlighted!



• India
21 Jan 13
I have a kind of figure that designers would be terrified...it is because they cannot create anything that would make me look good..lol. So...it is tailor for me...even if it is not really very good, I am fine with it because I havent much choice...its too hot to be wearing sarees, and cotton is what I need 24/7, 365 days.

• India
21 Jan 13
What's wrong with cottons vandana. You are indeed wise. I simply do not approve of those clinging outfits that some wear here. They are most unsuitable for the kind of weather that we have to face. It is alright for countries where the tighter the clothes the warmer they will keep them!

• India
21 Jan 13
Nothing is wrong with cottons..lol Few designers would restrict themselves to cottons..lol If it is cotton kurta then the slacks would be knitted and I would feel when can I slip into something normal..lol Sarees have me sweating so profusely that you could fill a tank..lol I guess it is because of the stage of my life...but nevertheless, I prefer cotton nowadays...they let me breath and my skin too...traditional prints are charming.

• India
21 Jan 13
I wear only sarees and though I have a passion for them and indulge myself I do not go in for only designer wear.I do buy them when I see one or two in a regular shop[when it looks pretty exclusive] but they would be for a special occasion. As far as blouses go, I will get them stitched by a tailor[would certainly check prices, give trial blouses and then get them] or get them in Naidu Hall, where the fitting as well as price is good. I do anything for my own sake and doing something for the sake of competition with anyone is something that has never taken place in my life. I am not too impressed by many boutiques that charge exhorbitant prices ; I do buy expensive sarees and buy plenty but I will think hard ,look at the fabric whether it suits me and whether t is worth the price etc..,

• India
21 Jan 13
You are absolutely right. It is only nowadays we hear of designer sarees although textures were the main concern in the past. The cost of these designer sarees must be beyond the reach of ordinary mortals. I always feel clothes that are unique do not look good if they are worn often and so one needs to have several of them and so only the very rich can afford them.

• Philippines
21 Jan 13
I only appreciate those clothes that looks for me. I know we have different taste in everything (clothes in particular) But having a designer clothes for the sake of having one is No thanks for me. Though there are designer clothes that really looks great (that I knew I can wear)


• Philippines
22 Jan 13

I only appreciate those clothes that looks
GOOD



• United States
22 Jan 13
No, I do not buy designer clothing. I am more likely to buy off the rack usually items on sale. I used to sew and fit for myself and may do so again in the future. I do not care for designer clothes as I do not want to look like everyone else, and I like creative and new ideas.

• India
22 Jan 13
Wearing a label, kind of puts me off too. What's so grand about having a Christian Dior when one can give vent to one's own creativity and wear something that fits like a glove so to say. I do go for labels but only hand bags as they have a good finish and genuine leather. I have a Prada and have had it since many years. Here in our country we have Khadi that is pure leather again. Commander too is genuine and one can go for it with eyes closed. When it comes to shoes I used to go in search of those Chinese who made them for you. That was a long time ago. Now I cannot were heels but just wedge or flats. We have this company Bata who have quality footwear.

• Hungary
22 Jan 13
I am into fashion, and I love watching runway shows and editorials, campaigns. But buying stuff from a couture brand? Noooo, noooo. They are too expensive, and most of them aren't even that amazing artistically so that I could justify spending the money on it. And also, if someone has style, they are stylish, too, if they dress from H&M or the thrift store, too.

• India
22 Jan 13
I too occasionally watch on tv these fashion shows and wonder whether those weird clothes are marketed at all. Who would want to wear those funny clothes anyway!

. When it comes to designer wear I assume there would be just one item per design as these rich and famous would not want to see another one wearing the same kind of outfit

It could be also that these celebrities would select a designer rather than an outfit? May be spend hours or even days for the outfit to be ready

• Philippines
22 Jan 13
I also don't buy designer clothes as they are that expensive, there are ones whose clothes are pretty nice and with wonderful cloth but the thing is the price is too high. I don't know why their high is like as high as the sky..so unreachable well for me that is.

• India
22 Jan 13
I get the feeling celebrities and the rich want them to be expensive so that the ordinary mortals are not seen around them!

Even if they would say 'grapes are sour' I still would not want to own any of those clothes as I prefer to design my own clothes thus adding a personal touch.

• Garden Grove, California
21 Jan 13
Hi allknowing I used to have a dry cleaners who would alter my skirts for me and do a great job as I am short and a little overweight so that larger sizes that fit me were way too long. she wsas a Korean lady and I guess had been a seamstress for years.I really cannot even begin to afford designer clothes and anyway I clothes sho pat Walmart and get a brand called Just my size as they are good quality and do fit nicely plus I can afford them. In J.C,Pennys iI did always bu y St,Johns Bay as they were very good quality and good style for a price I could afford.,I could care less about the in crowd or what wealthy people wear., I shop to suit me and o

nly me.



• India
22 Jan 13
It looks like designer wear is exclusive to celebrities, and the rich and famous. I am told these people auction their clothes and the not so rich go for them. I would not!