A Good Enough Life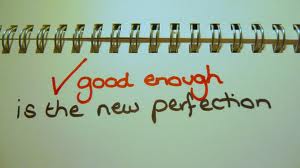 Philippines
February 19, 2013 1:06am CST
A good enough life. What does it really mean to have a good enough life? Is it having a big house, a car, a high-paid job, and getting on a trip with your wife every once in a while? Could it be being a broadway actor, the fulfillment of your long-awaited dream? Or just being the son of a multimillionaire and just letting all things be done by your parents' money? We make our own history. And we somehow define what is good enough for us. But in the end, I believe a good enough life is a life where we are living our dreams. A life where dreams are no longer fantasy but the reality we are living in. It is the life where we could always have the reason to smile and be grateful. To pursue our dreams, we must not fear the unknown. We must know how to take risks. We must do our best to get to the goals our hearts desire. So that in the end of the road, we could honestly say that we had a good enough life. The life we desired and worked hard to achieve. The life that brought true contenment. The life that made everything make sense. I think that is a good enough life.
2 responses

• United States
20 Feb 13
I think it means having a job you like, having a spouse, some kids, and an opportunity to give back. As long as you have enough money to get by, money is not that vital.

• Philippines
20 Feb 13
Well yeah. It really depends on what you really want in life. But sometimes what we really want are not necessarily the things that make us happy and contented. So we really need to listen to our hearts so we end up having a good enough life.


• India
19 Feb 13
A good enough life is our dream life for sure, we are living for a dream and a dream give us purpose of life. I agree with you that we should make our dreams to come true becuase that is happiness and joy of life. that is meaning of life to be happy and when we are happy that our dream comes true.

• Philippines
20 Feb 13
Yes, living our dream would be a good enough life. And if the dream is what your heart really desires, and if that dream really bring true contentment to you, then work out to make that dream come true so you can say your life is a good enough life.