California or bust!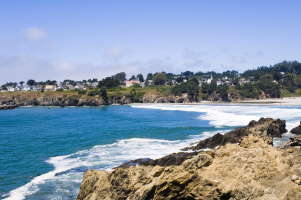 United States
February 25, 2013 6:35am CST
I have a daughter and grandson who live in California and don't intend to ever come back to MA. My daughter lives in a studio apartment and her son lives with his father in Hollywood. She is constantly changing jobs and always having financial problems. I also have a daughter, granddaughter and grandson here in MA that I seldom see. My son visited CA once and of course fell in love with it. Now he wants me and him and his family to move there! Neither of us is financially able to make such a big move but he's always determined to do what he wants to do. My daughter has 3 cats, I have 2 and my son has one! I'm having some medical issues that I need to take care of. So, I told him as much as I would love to move to California and get out of this snow..lol....it's not going to happen in my lifetime. Do you agree that just for the financial part of it alone it wouldn't work for us to move over 2,000 miles away and start all over again? Maybe it would be easy for him but definately not for me. I live in a nice Sr. Citizens building that I waited years to get into. I'm just too old to be starting all over again.
5 responses

• United States
25 Feb 13
I think if my whole family were going to pack it up and leave for California, I'd do it in a heartbeat. It would be much harder for them to start over than me. I have nothing to lose and to me, it wouldn't be much different than finding a new place to rent here. But, oh the sun, that wonderful sun, warm weather, and beautiful flowers all year, would sure make me happy as long as I was near my kids and grandkids.


• United States
25 Feb 13
I lived in San Diego for ten years and yes, I miss the weather, my son and my grandson who live there. I left friends behind to come home because I also had my son and another daughter with her kids here! It just wouldn't be a good thing for me to do. He can go if he wants to but they can't just up and go with no money behind them...they have a 1 year old to worry about.

• United States
25 Feb 13
Your reasons are valid enough to stay just where you are. It takes more than the beauty of the place to warrant uprooting your family. And besides, this is something that should be decided by all members of the family. You need a consensus but of course if one of the members chose to stay, that decision must be respected. I have something to share that is similar to this. The husband of my sister in law is not really that much when it comes to landing good jobs or finding work. He gets into trouble every now and then and expects his brother to bail him out whenever he needs some money for his bills. He soon gets the message that he will not get money every time he asks because they have 2 kids and my sister in law's husband have high overhead in his business. He always tell us that he's sick and tired of this town and that his daughter needs a new environment (because her cousins are getting in trouble). So without further ado he moved to NC. And he invited my sister in law's family over for some weekend getaway and to boast that his life there is very good, the food is awesome, the place is so pretty and not so dull unlike here. (Didn't even bother to pay them back). So anyway, he managed to convince my 19-year old niece to stay with him and his daughter. Now, my niece got pregnant and have moved back here in her parents' place. Now, we heard that he is moving back here this April because he cannot get anymore work there. Turns out that the beauty of the place isn't enough indication of the sustainability of livelihood. He never listens though, but we'll see.


• United States
26 Feb 13
I don't see a problem with packing up and moving to another area--provided that one has some source of income and knows something about the area to which (s)he is moving. You have good reasons for not wanting to move. Your son may have good reasons for wanting to move. Of course, it doesn't sound like he has planned this out very well. He has no savings, no job lined up for either himself or his wife, no social network there beyond his sister... nothing. He needs a better plan before he commits himself, his wife and child to moving to the other side of the country.

• United Kingdom
25 Feb 13
At the end of the day you have to do what's right for YOU my friend, sounds an awful lot of upheaval to be honest, isn't it a big climate change too going from one extreme to the other, I have heard California can be pretty hot and humid? And as you said the financial implications, sounds like too much strain and pain for too little gain. You are settled where you are, what if you can't get settled there, what if you can't find the right place for you? Then you really are stuck, having forked out all that money, you can't then change your mind and move back again if it doesn't work out?