Steak n Shake

February 25, 2013 9:59pm CST
Steak n Shake has introduced a 7 layer patty burger to their menu. It contains 7 layers of meat and seven slices of cheese. I believe it is available only from 12:00 a.m. to 6:00 a.m. I truly believe people who go to this restaurant to order this burger will do so with friends and family. That burger is enough to share. I can see myself splitting the patties in a four for me 3 for you deal and doing the same with the slices of cheese and sharing half the bun. Maybe, I could eat it with a fork like a stack of pancakes. This burger will cost you $7.00. Don't eat too many or else it could be like a stake in your heart.
2 responses

• Cambridge, England
26 Feb 13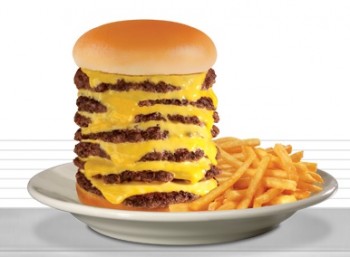 This is just GROSS! 1,330 calories (and I don't think that counts the fries) is enough to keep one person going for a day. It also is claimed to have 98 grams of fat, 290 mg of cholesterol, 34 grams of carbohydrates and 4,490 mg of sodium. Quite apart from the exorbitant amounts of everything unhealthy with nothing to mitigate it - not even one leaf of lettuce - how the hell are you supposed to eat the thing? At $7.77, it's worth about an hour's work at minimum wages, so I suppose that, if you eat nothing else, it can be said to be a reasonably cheap way of getting your daily calories ... but at what a cost in real health! In fact, it is not quite the largest burger available. Apparently, Jake's Wayback Burgers introduced the nine-patty Triple Triple Burger recently: http://www.burgerbusiness.com/?p=13200

•
26 Feb 13
I am not the biggest fan of burgers. Food like this only tests how much you can eat at one setting. No one necessarily needs to see just how much bad food he or she can have on the table for his or her consumption. A buffet would have the same effect, but usually with variety. It sounds scary to me, but I am sure plenty of people will go for it. Eating such a burger would involve unstacking. No one's mouth is big enough to take it all in...is it?

• Cambridge, England
26 Feb 13
I think that only a medium to large sized snake could open it's mouth wide enough to eat that monstrosity whole! The other thing I don't like about burgers is something that very few people even think about - what it is actually made of. You have to have worked in an abbatoir, a butchery or a meat factory to know the real story. All the good cuts of meat sell for good prices. Burger manufacturers can grind the rest and recover 'pink slime' from the carcases to add to it. The result is something which most self-respecting cats won't touch. Of course, to make it 'fit for human consumption', it has also been 'sanitized' almost beyond recognition with various chemicals and heat-treatment. If you want a good beef burger, visit a real butcher who can tell you exactly where his meat comes from, see the meat you are buying as fresh cuts and then ask him to grind it for you into burger meat. You will then know how much a genuine beef burger should cost. I guarantee that you will expect to pay more than $1 per burger! (And then don't forget that a burger bar has to pay its overheads, staff and so on and make a profit when it sets its prices! If they are actually buying the burgers at more than a dime a patty, I would be very surprised!)

•
26 Feb 13
I don't like the way I feel after I eat a burger. I know it is not good for me for that reason. If I were to think about what goes into burger making, it may make me throw up my most recent meal, and that was meatless. Pink slime is not an edible option in my life. I am more prone to leaving burgers off my list of sandwiches.

• Philippines
26 Feb 13
When you said the time when it could be ordered, I gasped! hehehehe.. Who'd eat that much early in the morning? I mean, dawn! hehehehe.. But I guess there's a lot of people waiting for a heart attack any time soon. I think this should only be eaten once every few months but daily? Whew! Heart attack waiting to happen. Have a great mylot experience ahead!