Things in your room that you are keen on

United Kingdom
April 13, 2013 6:52am CST
In my lounge or living room I am keen on my Mexican style wooden furniture and my fluffy blue mat. I also like my seaside style cushions and my bamboo plant. I love my costume doll collection and my travel photo collection. I love my arm chair because it is really comfortable. I like the decorate mirror above my electric fireplace I think the sofa looks a bit scruffy however I can't afford to buy another one. I don't like the damaged window sill or the wall below this. I think I will be able to repaint the window sill however I will have to ask a handyman how to repair the wall. Which things in your room are you keen on? Can you think of anythings which you don't like but can't afford to replace?
8 responses

• India
13 Apr 13
I have kept only those things in my lounge that I need. I have a sofa set, a couch, a dining table with 6 chairs, a centre table, a small table for my pc, a chest of drawers for crockery/cutlery, tv is mounted in the wall cabinet, a trolley, a buffet table, that divides the kitchen and dining area. My favourite is my cuckoo clock which I bought from Germany. It misbehaves at times but after a bit of spanking it behaves well again.

There is ofcourse a carpet, and a few artifacts thrown in to fill up the space which is rather large. I have a few photographs taken of my garden, mounted on the wall.

• India
13 Apr 13
All the items are new bought right from the time we were married. The latest addition is an artifact - image attached. I picked this up from the roadside.

• United Kingdom
24 Apr 13
I have a wonderful portrait of the current Doctor in Doctor Who, none other than Matt Smith, he is my favourite Doctor of them all and is such a talented actor, the picture is done completely in pencil, a friend of mine knew I liked him and bought the picture for me, it's on my wall in my bedroom. I am not really a materialistic person to be honest. I have mostly clothes in my bedroom, and don't have ornaments or collections.

•
14 Apr 13
Mainly I hate my kitchen at the minute. I could really do with replacing the cupboard doors and giving the whole room a lick of paint but, I cannot really afford to do that so it shall have to wait whcih is really annoying!

•
13 Apr 13
I'm sat I my 'lounge' at the moment, which is actually what will be the stair well when the house is completed. I'm sitting on a hideous sofa which was someone else's throw out. It's knackered to be honest, lower at one end than the other and you can feel the wooden struts under your bum. On the other hand, it's better than the seat out of my van which we used before this. Looking about me, I can't see a single thing I couldn't live without and wouldn't gladly replace, with the exception of my laptop and some books.

• Jacksonville, Florida
13 Apr 13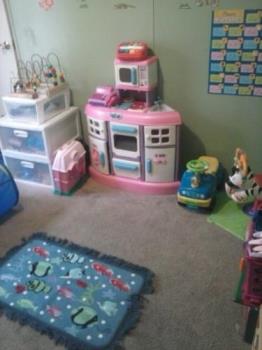 I really like my fake tree in my living room, I like my red couch and my shaggy red carpet to match, I like the picture on my wall, and I like my fake plant by my TV. In my kitchen I like the wall that we just re-painted and I like my kitchen table. The things I don't like is my living room is pretty small so I don't have enough decor in here for my taste. In my kitchen, half the wall has wall paper on it which I hate! But we cannot afford to have that re-done since it is a LOT! Nor do we have the time to do it ourselves. With time and money this place could look a whole lot better than what it looks like right now! I do LOVE the kid's playroom though, I will upload a picture so you can see that too. =)I did all of the work in that room so it might be why I like it so much, it was a lot of work but the finished product looks good.

• Denmark
13 Apr 13
In our living room the furniture came from many different places. We have two couches, a table and some chairs that we got from my parents when they got new furniture. A table we got from my brother, a dresser that my grandfather made, some book shelves we bought, a table my husband has made and a lamp and a painting that I have inherited from my grandmother. The lamp and the painting are some of my favourite things because they used to belong to my grandmother. I also love my collection of photoalbums and the colourful rabbit I bought in Laos because those things bring back a lot of happy memories. The floor in our living room is very old and very ugly. The previous owner of our house didn't buy a new floor. She just covered the worst spots with some rugs. We also have some rugs and we are able hide part of the floor that way, but there are still places where you can see the very old floor and it is not a pretty sight. We would like to buy a new floor, but we can't afford that at the moment.

• Philippines
13 Apr 13
I'm really keen on organizing not much of the styling. I like seeing things organized and looking neat. I also like re-structuring the image of the room. Putting things in different places for different ambiance and neatness. But I do want to change furniture too. My apts really small but hubby's father donated a set of bulky tables, chairs and wooden sofa. Can't replace them yet because it hasn't been very long time since papa-in-law "gifted" it. I hope I can be as fashionable as your room looks (or sounds) like.

• United States
13 Apr 13
When my Mom passed away I took a lot of her stuffed bears. Most of them are small and I hung them on my bedroom wall. I also took her crucifixes and rosary beads that I have hung over my bed. Every time I look at them I think of her. As for furniture....my couch needs to go desperately but I can't afford a new one. I have a barrel chair sitting in my hallway waiting for a big dumpster to come to our building.