Picture of a Bicol Express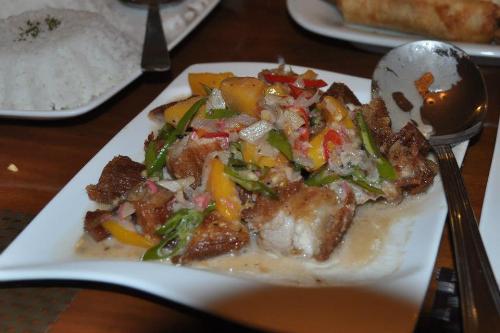 Philippines
April 18, 2013 10:52pm CST
For the sake of all those who commented on my post early on about Bicol Express, i have attached herewith the picture of it with mango slices. I tell you it's so delicious. But honestly, pineapple chunks is so much tastier when added to a Bicol Express.
3 responses

• Canada
22 Apr 13
It looks so good! It looks like the pork chunks have been grilled (
or fried?
). I think if it was crunchy, then it would go well with the sauce (
however spicy it is
). And I bet the mango slices are a good compliment to the taste.
My mouth is just watering right now.


• Philippines
23 Apr 13
Actually the pork was fried until the skin is so crispy. It's called lechon kawali. The ripe mango slices added a new taste to the salty & spicy dish, because it is sweet. So delicious! Makes me hungry at this time again.

• India
19 Apr 13
Mangos in Philippines tastes great, 2 years ago Ann had sent mango slices marketed by some reputed company, all in my family liked it; i told her to send more; she did along with some tea packets; but unfortunately all were seized by customs dept. Tell me what is Bicol Express, wish you can send me some.



• Philippines
20 Apr 13
This was one of the dish we ordered when my high school batchmates and i had dinner in Daraga, Albay. They do have that also in Manila, specially in those that cooks local foods.