In case of accident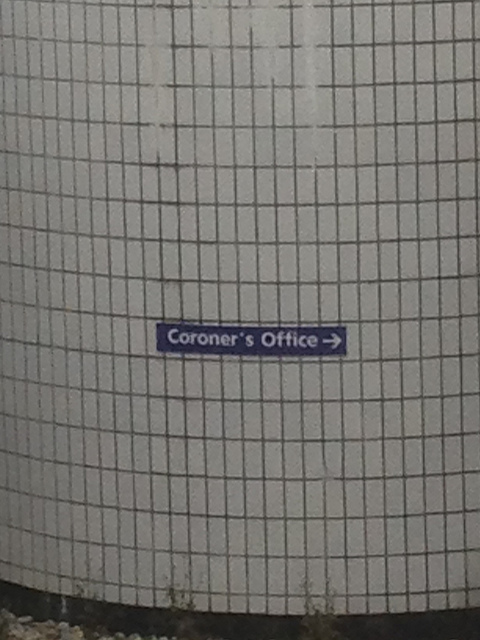 August 29, 2015 2:27pm CST
My mother has broken her hip and having had an operation to repair it is now spending some time in hospital. She's 91and these things take a little longer to repair than in some younger people apparently. I went to see her today; she's cheerful and looking forward to being discharged, although it probably won't be to her home as she still needs a lot of physiotherapy. As I left this afternoon I saw the sign in the attached photograph - it says' 'Coroner's Office'. I hope that's not prophetic!
10 responses

•
29 Aug 15
When I had my stroke and they admitted me to a hospital, they asked about what to do if my heart stopped or I had another stroke and vegetated. I had them put a DNR band on me. Not that I wanna die, just not looking forward to being old...it's rough enough right now.


• Philippines
30 Aug 15
@phredwreck
did they ask because you had no family with you? and you wore the DNR band throughout your hospital stay?

•
30 Aug 15
@hereandthere
It had nothing to do with family, only my own wishes. Yes, I wore it until I was released 5 days later.

• Philippines
30 Aug 15
@PhredWreck
so whether or not someone was there, it is the patient who is asked, decides and will be followed

• Shingle Springs, California
29 Aug 15
Broken hips can be scary, but many people recover from them just fine.

• Shingle Springs, California
29 Aug 15
@p1kef1sh
I know 4 people personally who broke their hips, 3 of them survived, and the two who did were over 75.


• San Marcos, Texas
29 Aug 15
Bless your Mama's heart..I know you have been going through a lot dealing with this and i agree as we are younger bones mend faster.my SIL broke his hip early this year and was up and walking with my extra walker i kept just in case about weeks later..he does walk with a limp like i do with my badly not cared for broken ankles i had..but at least i can walk.. Your mom may take longer to walk again but a wheelchair is fine..she is 91 and will take longer to heal.. Horrible sign

• Jamaica
29 Aug 15
No it isn't. They have to have their offices somewhere! At 86 my mother was knocked down whilst crossing using a pedestrian crossing.She didn't press charges or sue as the driver had a kind face and cried! She recovered well enough to keep going to the Irish Club!

• Cambridge, England
29 Aug 15
Sorry to hear about your mum. I knew she was in hospital but hadn't caught up with exactly why. My grandmother (at 92 or 93) slipped while gardening and broke her hip which put her cataract operation back a year. When she finally had her sight restored, she was overjoyed that she could read small print again and see the freckles on her grandchildren's faces. She had a wonderful memory to the very last for all of her huge family (she only had four children but they multiplied greatly and were spread all over the world) and knew and thirsted for all the details of all of them. I feel honoured to have known her and I'm sure that you feel the same about your parents, too.

• United States
29 Aug 15
so sorry to hear this accident that your mom had.Hope that things will turn out fine for her. buena swerta

• United States
30 Aug 15
Eek - what a sign! A bit strange standing out in the middle of a wall like that, but as
@cynthiann
pointed out, that office has to be somewhere! Hoping your mom has a speedy recovery - it's good she sounds like she has a positive attitude!!

• Gloucester City, New Jersey
20 Sep 15
Oh, P1key, I didn't know she'd broken her hip. I know I saw that you had to go up there because some neighbors found her (I think I remember seeing that), but never did see what was discovered. It really isn't easy as you get older at all since you don't produce the new bone cells at the same rate you did when you were young. But, if she's in good spirits, that will help her go a long way because once it heals, it will be stronger than ever!

• United States
30 Aug 15
Oh let us hope that your mother will only be going to a nursing home where she will receive therapy to help her to heal more quickly and be able to do things for herself again. At her age falling and breaking a hip is quite common unfortunately.

My best to your mom.