Prisoners' handicraft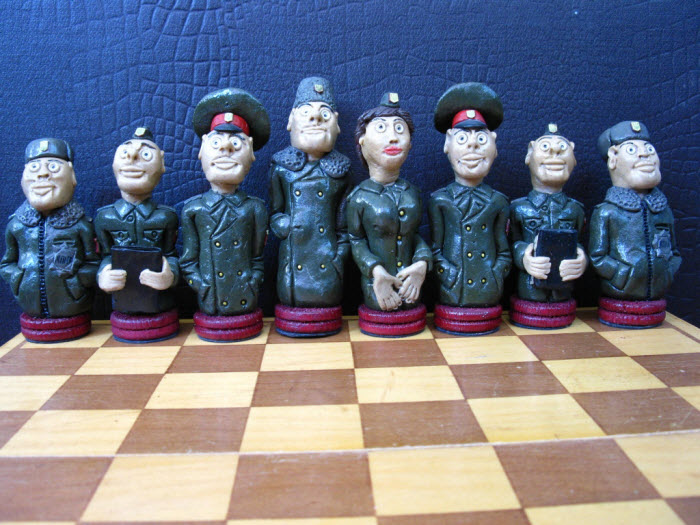 Budennovsk, Russian Federation
October 25, 2015 4:31am CST
Prisoners have its own subculture, language and moral rules of behaviour. People in prison have plenty of time to think over their deeds and reform their characters. Some of them think of escape plan, some cheat users of social network through mobile phones, others think of craft or hobby. We have a broadcast radio show on Radio Russia radiostation, where prisoners sing songs or write letters to their relatives, regretting about their criminal actions. But prisoners' handicraft is special. Sometimes their works are even sold along highways, that are near some prison. Many people in jail can make figures from bread, carve wood, draw pictures on a bedsheet. They find the use of some items very original. On the picture you can see chess figures from bread.
2 responses

• Cambridge, England
25 Oct 15
During the Napoleonic wars we had several thousand French prisoners stationed not far from Cambridge at a place called Norman Cross in the first purpose-built prisoner-of-war camp in the world. Many of these prisoners were very skilful and produced some most beautiful and intricate artwork. They were allowed to sell it at local markets and some of them became quite rich (one is quoted as earning 100 guineas in a year, which was a considerable fortune at the time). Many of these art works survive in local museums and some of them are really beautiful and ingenious works made from bone, wood and straw (whatever materials were available to them) and often with the only tools they had or could make - ordinary pocket knives or scrap metal made into gravers and chisels and saws. Some of the works can be seen pictured here:
Showcasing objects from Peterborough Museum & Art Gallery collections

• Budennovsk, Russian Federation
25 Oct 15
Thank you. Quite interesting items are depicted there

• Garden Grove, California
4 Jun 16
Those chess figures made from bread are fantastic they do help; the prisoners to thinkbetter of themselves and ,m,aybe tuirm their likvedff

• United States
28 Oct 15
I think having some creative outlet helps them move away from trouble. I like the chess set.