This is what i call total madness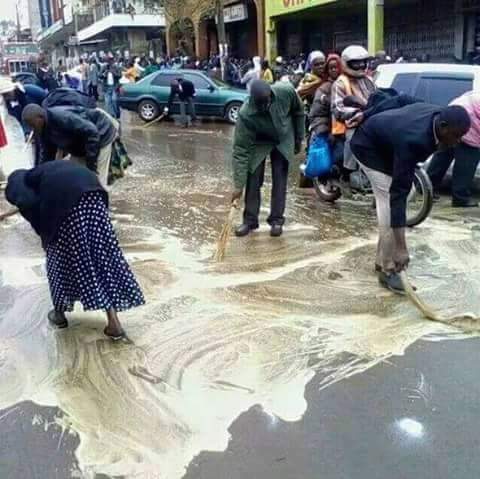 Nairobi, Kenya
December 30, 2015 6:02am CST
Have you ever heard a famous prophet call prophet Owour? If not you can Google to know more about him. I have no issue with him being a prophet and what he preaches. I respect everybody's religious believes. Here is my issue however. Whenever he has to go somewhere for crusade,his followers take to the roads and guess what they do. They literary scrub and wash the roads with water and detergents. Roads that he will not even step on but just pass with his long motorcade. What do you think of this? The picture can tell you
6 responses

• United States
31 Dec 15

• Canada
30 Dec 15
It always amazes me what people will do in the name of religion

• Nairobi, Kenya
30 Dec 15
Ha haa ooh yeah and how much they fail to honour the God we all claim to love and serve

• Northampton, England
30 Dec 15
Sounds like a good way to get volunteer street cleaners!

• Nairobi, Kenya
30 Dec 15
Ha haa there is always waste around town and slums they should clean it instead of washing roads

• Canada
2 Jan 16
I think they are misled but that is only my opinion. They did not even do that for Jesus and if they had he would have told them to stop, but again that is only my opinion.

• Nairobi, Kenya
2 Jan 16
I agree with your opinion. I wonder if it was the time of Jesus they would have done it

• Canada
2 Jan 16
@Missmwngi
There was one time when they put their mantles and olive branches to cover the ground as he was riding on a donkey, coming to Jerusalem as a king, and shortly after they killed him. Go figure?

• Nairobi, Kenya
2 Jan 16

• Preston, England
2 Jan 16
A little crazy but they are saving the government some money on street cleaning services - maybe they should start a branch of this sect in Manchester

• Nairobi, Kenya
2 Jan 16
Ha haa as if the government care to keep those streets clean. We have waste lay around and they pick it when they feel like

• Garden Grove, California
25 Jun 16
that is sthe height of ignorance or plain stupidity as he will not benefit so why make that goshawful mess?