Pulling a lawn mower while riding a bike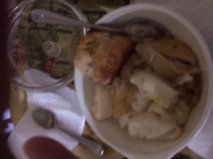 Holiday, Florida
July 18, 2016 1:43pm CST
That's right. A guy came to the door that I have seen many times riding his bike up and down the road while pulling a lawn mower ! I can't tell you how much I admire his dedication to work for extra money in this unbelievable hot weather. You don't see that often any more. I have mentioned it to daughter many times concerning her man that lives here and only mowed one time since the months we have been here plus, he just will not look for a job. or even help much around here. nothing I can do though, since last time he left she went bonkers about it. We both pay the rent and she pays for everything for him, and I end up paying for things she can't and I can't do without. That poor guy was pouring sweat and asking if he could mow for 15 bucks. I told him come back next week and I would give him an answer. should have asked for his number. sometimes I am lacking in right responses to things.

The nurse came by. one Coco loves. because she walks her and is so sweet to her. I asked her about what temp to keep the thermostat to try and keep down the bill. she lived here most her life. she said about 77 degrees. anyone else live in a hot humid area like Florida and have any tips about that? Don't you love to see a few people that still will do the extra for money to pay their own way? Daughter fixed chicken and mashed potatoes, corn , stuffing, etc. for dinner last night. the photo is left overs for my lunch, I was eating. I do keep telling her we need to eat more cold summer type meals but do they listen? NO

anyway it was good.
10 responses

• United States
20 Jul 16
Maybe it is none of my business, but why is this man living in your house and not helping out? That isn't right, he should take a hint from the guy with the mower and bike.


• United States
21 Jul 16
@bunnybon7
Oh, it isn't your home? I'm sorry.


• Holiday, Florida
21 Jul 16

• United States
21 Jul 16
@bunnybon7
Who pays for most of the bills? Or do you and your daughter split it?


• Boise, Idaho
19 Jul 16
Men like your daughter's boyfriend can tell the type of women they can get away with this behavior with. As long as she permits it it will go on. In a perfect world she would have the strength to kick him to the curb and you two could live there in harmony. I feel so lucky when my daughter is not manic and we live here together. It is good to see people who have some fortitude and gumption to get up and after it. Summer meals are nice but food is food.

• Holiday, Florida
20 Jul 16
all of that is true. he did leave for a month and I thought, great now she can get over him and go on, but no she acted like she just wanted to die and talking crazy stuff. sometimes I don't what is up with her

• Boise, Idaho
21 Jul 16
@bunnybon7
.....That's a shame. Too bad she didn't get some help and lose the guy.

• Holiday, Florida
21 Jul 16
@celticeagle
true. I wonder about she likely needs therapy herself


• United States
20 Jul 16
There was a kid who came by every time it snowed and shoveled the walks for ten dollars, no matter how much snow or how cold. He moved away and no one else wants to do it. There are kids and young adults around here, but they're not out looking for a way to make extra money. It's sad that kind of ambition is disappearing everywhere.

• Holiday, Florida
20 Jul 16
yes in young folks for sure. this guy was/is about late 30's early 40's I would say

• United States
20 Jul 16
@bunnybon7
In any age, it seems. Of course, to me "30s and 40s" are young.


• Holiday, Florida
21 Jul 16
@peavey
me too. I thought you meant like younger



• Holiday, Florida
22 Jul 16
yes but do they ever listen? even when grown

• Atlanta, Georgia
23 Jul 16
@bunnybon7
Maybe she will eventually get tired of having a leach. We can hope

• Elberton, Georgia
20 Jul 16
I like a person with a good week ethic. I've always think I found winners, but they were losers. I can do bad all by myself without any outside health.

• Garden Grove, California
19 Jul 16
yes they have that habit here too bunny of hot food on hot days I like cool salads and sandwiches on very hot days

• United States
19 Jul 16
i admire that fella's well. heck, the last person that knocked'n momma's door told her he'd mow her front yard ('bout the size'f a postage stamp...) with her mower fer $40! she didn't ask what he'd charge fer the back (large) 'n sent him packin'. shame that'cher daughter refuses to see the light, hon.

• Holiday, Florida
21 Jul 16
yes and not sure she will in my lifetime



• Holiday, Florida
21 Jul 16
I do also. I told daughter and she keeps saying her bf will do it but I think not. I should have asked for his phone number

• United States
18 Jul 16
77-degrees sounds reasonable to me to keep things comfortable. Ours it set a bit lower due to our pup having that double-coat of fur. Some people have a good work ethic, and others live off others. It seems to me the boyfriend needs to get a job, but not much you can do to make that happen. Hopefully, he will try to help out since he lives there.

• Holiday, Florida
18 Jul 16
yes I am doing what I can to get that but it seems a losing battle. when someone has not even any shame, nothing works,

• United States
18 Jul 16
I think you can easily survive on the 77 and even as high as 80 degrees. That is what we leave our house in Florida at.

• Holiday, Florida
18 Jul 16
sounds good. this hot weather and humidity is so hard on me. before I got this COPD so bad it was not such a big deal.