These work boots just retired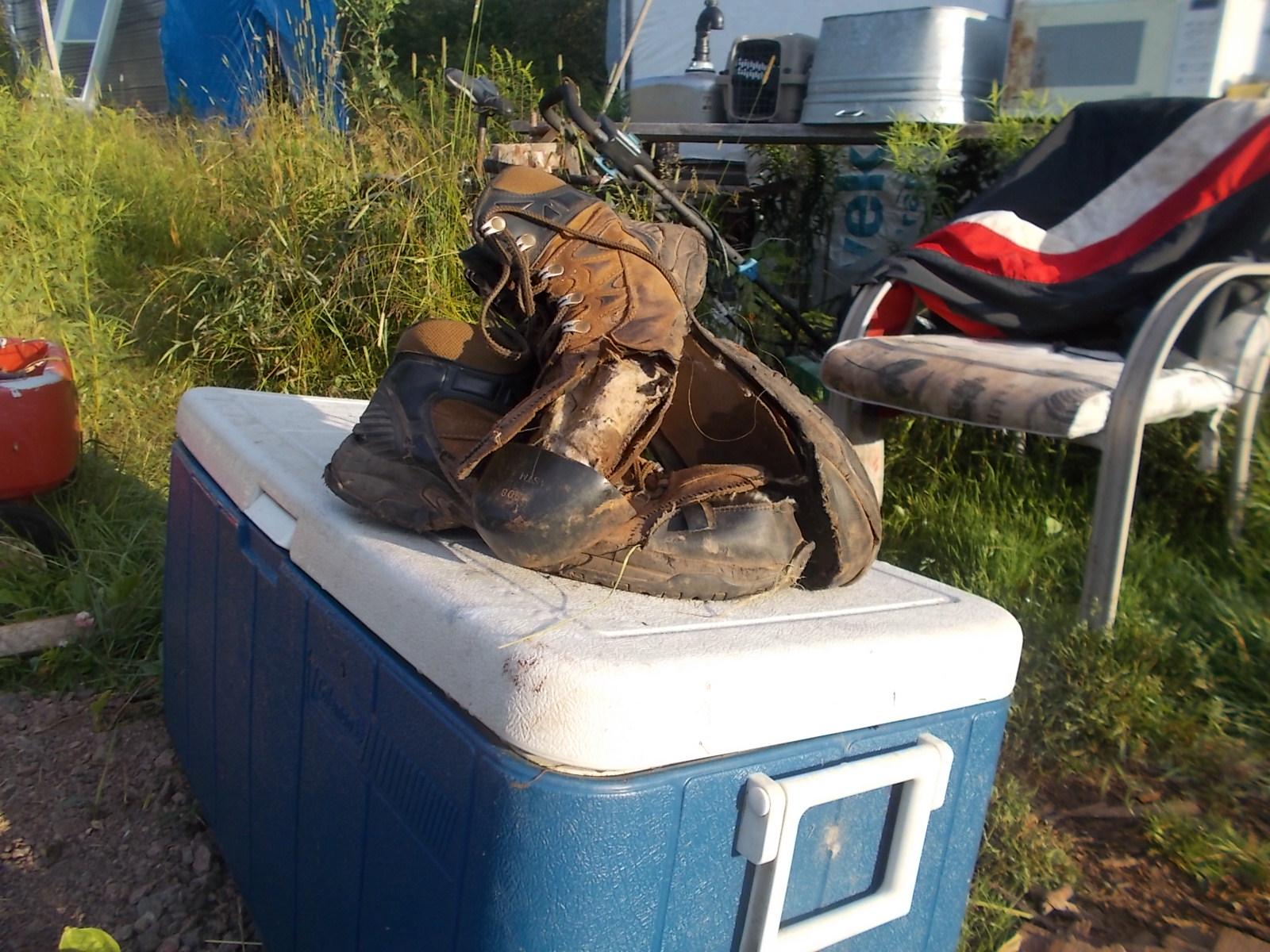 Canada
July 21, 2016 5:21am CST
I don't think any amount of duct tape is going to make these usable even for a short period of time. The one on the top caught a root while hauling logs yesterday and ripped it wide open. The boot that looks better lost its steel toe the day before. It's laying somewhere between the birch stump and our hunt camp. Daisy gets to pick up replacements on the weekly shopping trip. Has to be done. My non-slip shoes for work are on their last legs as well. For my outdoor work I'm down to my old winter boots which aren't very waterproof. Thankfully the weather is dry right now. How long do you wait to replace your footwear?
9 responses

• Bunbury, Australia
21 Jul 16
Some 20 years ago our neighbour was given a new pair of workboots every day by the company he worked for. He didn't need a pair every year and he had small feet so I still have two nice sturdy pairs of boots with steel-cap toes. If I wear two pairs of socks they are just right.

• Canada
22 Jul 16
My dad used to get his work boot from the company he worked for the same way. I was the lucky winner there because I was the only one of his boys with exactly the same size feet. He didn't even wear the last pair he got just before retirement.

• Bunbury, Australia
22 Jul 16
@koopharper
Was he able to keep you in boots for a while? Our friend drove a truck so his boots didn't wear out like a tradesman's would.

• Canada
22 Jul 16
@JudyEv
He didn't work for long after I graduated from college but I was good for at least a couple years. They were usually in good shape when I got them and the last pair were brand new.


• Preston, England
21 Jul 16
keep mine until they get in a similar state to the ones in your picture - been known to wear disintegrating shoes to the shoe shop, buy new ones, put them on there and then, dumping the old ones in the nearest bin on the way out

• Canada
21 Jul 16
I have to save the laces off of these. They're still in good shape and I usually wear them out first.

• Preston, England
21 Jul 16

• Canada
21 Jul 16
@arthurchappell
It's poverty not just thriftiness.




• Philippines
21 Jul 16
Looks like your boots is beyond repair, and it showed it had "experienced" so much heavy work!

• Canada
21 Jul 16
I definitely got my money's worth out of them.

• Redlands, California
21 Jul 16
Until they get like that or one of my dogs decides I did not feed them enough. lol

• Canada
21 Jul 16
Don't have a dog yet. I'm sure that'll finish things off a little earlier next time.



• Canada
24 Jul 16
I'm running out of back ups. I just got replacements for my non slip work shoes. The old ones still have a bit of life in them. They'll be for kicking around here until they self destruct.

• United States
24 Jul 16
@koopharper
That would be what I would do if I had to work outside of home. It just makes sense.

• Canada
22 Jul 16
Wait the sole is still there. It's just mostly detached from the rest of the boot.

• Canada
21 Jul 16
I try to wait as long as possible. Currently, my beloved flipflops are thin as paper on the heals. I really shouldn't be wearing them though, because of the lack of support.

• Canada
22 Jul 16
I was hoping to get a little more life out of these but when they started to go they went fast.

• Roseburg, Oregon
21 Jul 16
You need a new pair of boots to wear. Those got a lot of wear out of them.

• Canada
22 Jul 16
These were supposed to be comfortable foot protection on job sites. No longer comfortable and they don't protect my feet from anything anymore.