Isn't It Enough to Just Follow Jesus? Or Must You Also "Disciple"? (Is ?This? the Difference?)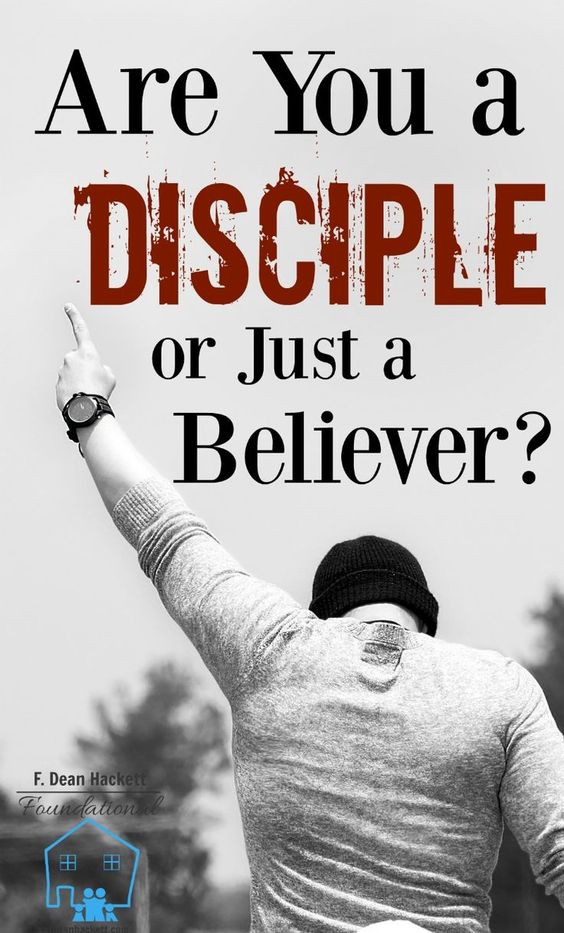 Oklahoma City, Oklahoma
January 20, 2017 6:42am CST
I see the image on Pinterest. It leads to http://fdeanhackett.com/2016/03/are-you-a-disciple-or-just-a-believer.html F. Dean Hackett's "Foundational"-blog, discussing a Gospel-passage that seems a bit more confusing to me ... but first the question, 'Isn't "following Jesus" enough?' I think of 'who He forgave' in the Gospels---
the people who falsely executed Him
(many of whom were His "followers" - innocent lambs in a flock taken from The Good Shepherd by a pack of wolves). 'The difference' between "Disciples" and "followers" ... it's right there in the word!
Discipl
in
e

a 'Disciple'
is
a 'follower'---a 'follower' who changes his
behavior
as well as his
course
! What do you think?
3 responses

• Canada
22 Jan 17
Unfortunately there is a great amount of linguistic confusion and fuzzy theological thinking, even among pastors, as pop Christianity is often reduced to short pitch phrases. The Hebrew and Greek terms for disciple (talmid/mathetes), mean student. To say one is a follower of Christ, implies that they are following the person in that teaching, as in the Gospels Jesus says "Follow me", that is, it is the same concept with different terms. But when ppl ask the question, a disciple, or just a believer, they mean the difference between someone who is active in their faith and commitment, as opposed to one who conceptually believes yet does not actively follow. If that question is sincere...then it's valid and, in fact, wisely asked-the question can be inspiring, challenging us to become more sincere, better, more serious in our love for one another and that is honestly, really great but... In the church, and in particular among the industry to which church life is sometimes reduced to, I have sometimes noticed that sometimes the issues raised like that are kinda akin to ppl setting themselves up as distinct from the rest, ie, the "true" believers as opposed to those less then perfect ones...along with their ministries or their church (that is, their brand, their product)-and I am saying that as a minister, ordained, who has worked in vocational ministry in a mainline denomination... That is, many say it in a way which...actually...kinda mimics the self righteous religious who in the Gospel Jesus was often at odds with for their hypocrisy. The test, the sign, which Jesus gave by which ppl would know we are His disciples, is if we loved one another. And...we don't really collectively have the greatest track record for that.

• Oklahoma City, Oklahoma
25 Jan 17
What was it when Jesus said, "They will look for a sign, and no sign will be given but The Sign of Jonah"?

• Canada
26 Jan 17
@mythociate
this was in regard to the Pharisees seeking a "sign from Heaven" regarding Jesus identity, if He was Messiah, and referred to Jonah being in the Dag Gdola for 3 days, ie, a statement regarding the Resurrection.

• Oklahoma City, Oklahoma
26 Jan 17
@HebrewGreekStudies
Yeah; but sometimes 'Bible-discussion-leaders' sometimes take sayings 'totally out of context' on account of things like 'God being Omni-Everywhere-All-the-Time' etc. (they might call themselves 'Bible-teachers,' and maybe that's what they start out as; but we're all really just 'trying to make sense out of things we see'

)


• Cambridge, England
20 Jan 17
The word 'disciple' comes from the Latin root 'discere' meaning to learn. A disciple is one who doesn't merely follow like a sheep but seeks to learn as well. The whole point of being a Christian (or the disciple of any great teacher) is to learn the principles and ethos being taught and then to follow them.

• Oklahoma City, Oklahoma
25 Jan 17
So making disciples wasn't even really a 'plot-point' in the Great Commission (except as some of the people you were "preaching & teaching"-to would BECOME disciples)?

• Cambridge, England
26 Jan 17
@mythociate
Absolutely! Jesus' mission (as he saw it) was primarily to the Jews. He was quite happy, of course, to minister to non-Jews but even when his words have been interpreted in more general terms, he was addressing those who already worshipped the God of the Jews, Jahweh.

• Oklahoma City, Oklahoma
26 Jan 17
@owlwings
... makes me think of The Good Samaritan (the guy who was 'more good' than a Jewish lay-person OR a Jewish holy-man), but I find out that 'that parable' is only in one-of-the-Four Gospels Maybe Luke's gospel was more about 'including all humans in the covenant' than 'just disciples' or 'just Jews.'

From Wikipedia, the free encyclopedia Jump to: navigation, search "Good Samaritan" redirects here. For other uses, see The Good Samaritan (disambiguation). This article's use of external links may not follow Wikipedia's policies or guidelines. Please impro

•
20 Jan 17
There is difference surely!

• Oklahoma City, Oklahoma
26 Jan 17
But aren't they both "Saved"?