You! With the knowledge on things! (erm crafty question)

United States
February 18, 2017 11:13pm CST
So you've seen those redneck erm... what do I call them? Hmm... Those redneck... uh.. curtain things that you make that resemble the curtains some (lucky) people have on their beds? No I don't mean the bed ruffle / skirt. I'm talking about the canopy! Yes that's the word I am looking for! Canopy!

Anyway, I thought about doing that with a hula hoop, ya know? But my question is how would I hang it from the ceiling? Any ideas? Would it be better for me to buy those hooks that you can put into the ceiling, use that and then tie string onto and the string onto the hula hoop itself? Or is there something better than the hoops? I dont' want the hula hoop on the ceiling itself but hanging from it. So yeah.. little help?
8 responses

• United States
19 Feb 17
I have seen them at Ikea but it's already done for you.. you just put a hook in the wall and hang it.


• United States
19 Feb 17
aw, but then what's the fun in that? haha, thanks. I might just get one of these instead? Not quite sure yet. Not a bad price.

• United States
19 Feb 17
@ScribbledAdNauseum
Lol, being crafty is fun too! But for some things I just buy them out of the package since it'll be cheaper than making it myself, hehe I think they're cute but my boyfriend says they're too girly for his liking (doH) haha

• United States
19 Feb 17
@infatuatedbby
well yeah, of course they are girly! But you could always get a dark maroon or a black curtain instead! haha. I saw one that this girl on youtube made. She used a hoopla and put pretty lights on hers! Even hung a dream catcher!


• Switzerland
19 Feb 17
The best is to buy one ready made, I bought one at Ikea and it's so inexpensive. I see that
@infatuatedbby
gave you the link.

• United States
19 Feb 17
Yes, I did not think they'd be so inexpensive. I might have to just forgo my original plan and buy one. I just don't know that I like the white.

• Switzerland
19 Feb 17

• United States
19 Feb 17
Yes it's pretty and much more inexpensive to make :)


• United States
19 Feb 17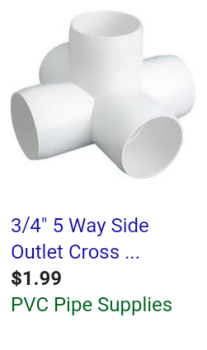 If you don't want to, or can't put holes in your ceiling, get 4 8 foot long skinny pvc pipes. (Ask the person at the store to recommed the right sized pvc pipe.) You can paint them, if you want or let the canopy cover them. You can securely tie one pipe onto each bedpost and bend them in the middle. You could attach them with a four sided (looks like a plus sign) joint. You could also choose four six foot pvc pipes and then attach 90° joints and then cut to pvc pipes to the width of your bed and two for the length. Attache those length and width pieces to the poles, also tied to your bed posts and make a square canopy. This is just off the top of my head.

• United States
19 Feb 17
wow all that information, and good too... but I can't use that at all. That's a good idea though, but my doesn't have posts.

• United States
19 Feb 17


• United States
19 Feb 17
Actually there are curved curtain rods that you could mount to the wall above the head of your bed. Put your curtains on the rod, split them over the bed. If you do go with the hula hoop, you would be smart to get a toggle hook for the ceiling, Put it out far enough from the wall that the hoop will not touch the wall. How will you secure your curtains to a hula hoop? You will want an odd number of strings from the hook to the hoop to make it secure and balance.. I imagine 3 would be best.

• United States
19 Feb 17
I was going to look for the tutorial again, but using a hula hoop would require cutting the hula hoop so that I could string the curtains on it. I will have to look up all of these things. I didn't even think about curved rods. I can find those at places like home depot surely?

• United States
19 Feb 17
@ScribbledAdNauseum
I imagine cutting the hoop and trying to fit it back together again would be difficult. Probably best to just sew the material around the hoop.. but then you have to get fabric and not actual curtains.

• United States
20 Feb 17
@katsmeow1213
As well as beg my aunt to make it for me as I can't sew! haha. Yes it would require strong glue and perhaps a lot of clear adhesive tape.

• Canada
19 Feb 17
Sounds like you've been given some good advice. I'm not going to confuse you by adding more.

• United States
20 Feb 17
I am greatly appreciative of that. Lord knows I don't need any help getting confused as is! haha!

• United States
19 Feb 17
I would suspend the hula hoop and use cafe rod hooks to attach the curtains to the hoop. There are some fancy hooks as well that could be used.

• United States
20 Feb 17
I've been looking at everyone's suggestions. I've even some ready made. Not very expensive and they are pretty but I do wonder if it would "suit" me. I imagine quite a lot of my queen size bed covered. I'd want it to serve as a sun blocking mechanism as well.

• United States
20 Feb 17
@ScribbledAdNauseum
I personally wouldn't like a canopy as it would make me feel blocked in. LOL.

• United States
20 Feb 17
@ElusiveButterfly
Well, as you know I work the night shift. During the summer months the trees block the majority of the sun that will shine in. My blinds are white though, and so it doesn't block all of it. During the winter months I don't have to worry as much because the sun isn't as bright but... The idea of a canopy intrigues me because it gives me just that little extra bit of resistance from the sun. Of course I wear a sleep mask but perhaps the canopy will make that un-necessary. My only other qualm might be how I will get air circulating within as I do need my fan but I'll worry about that later. Oh but you made me think of something I hadn't seen since I was a child. My cousin had one of those tens that go over your bed. It blocked any light from coming in and could be a bit suffocating but I remember long hours of playing in his room and on his bed because of it's "tent' like quality.


• Philippines
19 Feb 17
Stick with the hook or what everyone else wrote - go buy a ready made one already.

• United States
20 Feb 17
Yes, I'm of two minds about it right now! Do I want to get one ready made or make one myself? I think I like GG (gardengerty) suggestions the most though.

• United Kingdom
19 Feb 17
Are you talking about a mosquito net or something. Have a look at a travellers store on line??? But what do I know!

• United States
20 Feb 17
Probably just as much as I do on this subject! No, mosquito net seems to be just the thing. I've done some searches and even the ready made canopies use mosquito netting, even for indoor use!