Those Were The Days

United States
March 6, 2017 7:15pm CST
As a member of Mylot before the change,i miss certain features that are no longer an option .such as the group subjects, where you could choose the category's that interested and you would find all discussions in that category.IMO it was much easier than having to look through a bunch of discussions trying to find the subjects that interest you. i also miss the friends request list , you would click on a persons avatar and they would receive your request and you would decide whether to accept or reject their request. Now that someone mentioned it in my comments(forgot all about it) i also liked the best response category, You would choose your favorite comment in a discussion, it was kinda fun, but a little difficult if there were many really good comments. so if you were a former member here, is there anything you miss about the "old Mylot"? that you wish were brought back and for the newcomers, is there anything you would like to see featured here that isn't currently available?
11 responses


• United States
7 Mar 17
You can post gifs, I've seen it several times lately

• United States
7 Mar 17

Films. Many genres, some you like, some you don't. Others? Well, meh! This ad caught my eye on YouTube™, and I thought it looked promising. Then I watched it....


• Garden Grove, California
7 Mar 17
I have been here 9 years and actually I like this new version in a lot pf ways as some of the perks caused more pain and jealousy because they were actually abused just some few got the perks this way is kinder and more gracious

• United States
7 Mar 17
Hi Patsie nice to see you here again. i also like the new version of Mylot but i do miss the category feature it just made it easier to find interesting discussions What i don't miss was the "star rating" feature where you would rate your fellow Mylotters discussions, IMO that did cause a lot of jealousy and arguments as well.

• United States
7 Mar 17
@jujunme
I never could keep a 'blue' star back then


• United States
7 Mar 17
@JolietJake
There were loads of discussions regarding those stars people going into a panic whenever their star would turn red , it was crazy.


• Philippines
7 Mar 17
The only thing that I missed in the old version is referral link and we can something from those people being referred. I also missed the comments who can make it to two paragraphs. Unlike today, most of the comments are too short and some point feel dismayed that some of the contents didn't match to the main topic of discussions.

• United States
7 Mar 17
I agree about the comments being too short, i don't know why people can't take the time to post more than a couple of words , why bother to comment at all i liked the referral links mainly because you earned from every person you referred

• United States
7 Mar 17
While I too preferred 'categories' to what is used now (tags and tag searches) I couldn't care less about 'friends' or 'followers'...

• United States
7 Mar 17
but JJ, without the friends request option, what would you do about all your loyal subjects who request the honor of calling you their friend?


• United States
7 Mar 17
@jujunme
I just don't really see the point to it. I don't want people to respond to anything I post just because I post it, I want people to respond because it interests them.


• Philippines
7 Mar 17
I also the miss the categories for discussions and choosing the best response for answers

• United States
7 Mar 17
I liked the br as well but as i mentioned to Ambie Pam , sometimes it was hard to choose a favorite when there were lots of comments it's the categories i miss the most , i would like to see it brought back

• Canada
13 Mar 17
I would like to see a counter for total number of views as I am curious as to how many views a post actually gets in total.

• United States
13 Mar 17
Wow! that's a new one, i don't know how that would work though . You mean people that don't necessarily comment but merely visit the webpage? which means everyone would need to have a counter on their page right? Difficult to do, but interesting

• Canada
15 Mar 17
@jujunme
I don't think it's that difficult as many sites had it like ExpertColumn. That way we would know if people outside of the Mylotters are reading it.

•
7 Mar 17
I think it would be even more interesting if everything was divided into categories.


• United States
7 Mar 17
it would be so much easier to find a subject you're interested in as well instead of going through loads of discussions. in fact i read a discussion from one of the new members who said she would like to see the subjects categorized some of the people who responded agreed with her.

•
7 Mar 17
@jujunme
It would be very useful.


• United States
23 Apr 17
I miss the best response and don't miss the stars even though I had a top star rating several of my friends worked to hard trying to get a high star rating and weren't able to manage to get one.

• United States
23 Apr 17
i don't miss the stars at all, the arguments, the trolling it really caused a lot of problems. as i mentioned here, people would go into a panic when their star rating went down. i also miss the best response , even though it was hard to pick a favorite when there were so many comments

• Charlotte, North Carolina
7 Mar 17
Not familiar with the former myLot at all. The site is fine as is for me from what experience I have here.

• India
8 Mar 17
I miss tasks which was good for those who liked to write articles. There was 'ganging' back then which I do not see it here which is a good thing.

• United States
8 Mar 17
What's ganging? i don't think i ever heard of that before. Tasks were ok, but if i remember they really didn't pay much right?

• India
8 Mar 17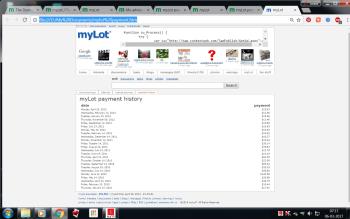 @jujunme
Tasks paid me good. In one month my total earnings were 140 dollars Ganging is the act of hanging out with your gang - that's what the dictionary says (lol)