Would you like to get a DNA test done?

United States
March 21, 2017 9:57pm CST
I always see those commercials for Ancestry.com where people find out their ancestry is something different than they thought. I am pretty confident about my genetics, but I guess there could be a surprise. I always was hoping to have native american blood somewhere in the family tree, but since most of my ancestors were blue eyed blondes. that probably isn't going to happen. I don't think there is a brown eyed one in the bunch!
11 responses

• Worcester, England
22 Mar
last dna test was free by the police

with regards to ancestry maybe talk to
@ScribbledAdNauseum

• United States
22 Mar
Ohh, hmmm haven't had the pleasure


• United States
22 Mar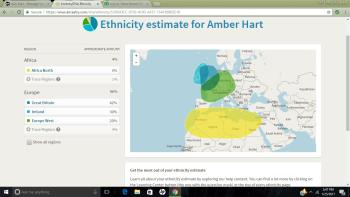 @snowy22315
Haven't had the pleasure of which? Talking to me or having a DNA swab done by the police?

I would not recommend doing a DNA Test just to see if you have Native American genes. It isn't likely to show up, no matter how close your supposed ancestry is. My father (to look at him) appears very much Native American. His great grandfather (or something to that effect, I'm never quite certain) was supposedly mostly Native American. No trace in my DNA. Of course we get 50 / 50 from our parents. Even that 50 / 50 isn't a guarantee. This might help you understand it all a bit more ... https://youtu.be/geE7zsehccY I've also included my DNA breakdown from ancestry so you can sort of get an idea of how it will look.

• Worcester, England
22 Mar
@snowy22315
it's great...they try to connect you with crimes from the past...it's so interesting and it is free



•
22 Mar
I don't like to look at the past so no.

• United States
22 Mar
I think it would be interesting, especially if something you were unaware of came up. I don't know for sure about Irish or French blood, but it wouldn't surprise me.

• Houston, Texas
22 Mar
Me too, I don't want to get DNA test .

• United States
22 Mar
Something in me says don't let someone make a world DNA bank......

• United States
23 Mar
ummm I think you would be unlikely to suffer repercussions...but who knows?

• United States
24 Mar
@snowy22315
-- not me, specifically, but you never know what evil lurks in the heart of man (but the Shadow knows!

). I worry about that because I can't name you a thing that started out admirably that didn't get corrupted or scammed.

• United States
22 Mar
I assume mine would be pretty straightforward (I'm of Japanese descent) although I know the Japanese are comprised of various Asian groups from way back when. But it would be interesting to know Hubby's side . . . we only know what his parents told him - and even they did not know a whole lot about their family tree.

• United States
22 Mar
Some Americans get really Americanized luike most of my family if the relatives have been in the country along time some neither no nor care what their lineage was. My one grandfather didn't even know what the heritage was on his dads side.

• United States
22 Mar
@snowy22315
That sounds like Hubby's side of the family. They know generally about their heritage, but not much. Yah, I guess it gets "lost" with further generations.

• United States
23 Mar
@much2say
Personally, I would want to know, but I guess not everybody puts a value on it.


• United States
22 Mar
I've thought about it, but as far back as my family was ever able to trace, everyone in my background seems to be from Italy. I'd hate to pay the money and then be told what I already know! lol

• United States
22 Mar
You might find some other blood mixed in. Ciao!

• United States
23 Mar
@snowy22315
Yes, I know that's possible. Just not sure what difference it would make to my life, you know? lol

• United States
23 Mar
@CRK109
Probably not much, just a conversation piece.

• Japan
22 Mar
I saw this video where the participants were really sure of their lineage only to get the shock of their life.

• United States
22 Mar
Yeah it would be interesting. A good TV show is finding your roots on pbs that goes thru historical records tobfindf celebrities heritage.

• Bunbury, Australia
22 Mar
This would be a very interesting thing to have done. There could always be a surprise somewhere along the way.

• United States
22 Mar
You never know! My aunt does genealogy and knows out family background.. according to her anyways. But ive always wanted to do the dna testing and find out for sure.

• United States
22 Mar
My son's would be really interesting, as he is a true Heinz 57. His dad has Eastern European,,Czech, Romanian and Russian Jewish ancestry.


• United States
22 Mar
It would be fun to see what your heritage is. My grandmother knew family names from way back, and I checked some of them when I was in England..some were Norman names. She liked to do family tree research and traced my grandfathers heritage back to Central Germany, and my dad's side is Swedish and German.

• United States
22 Mar
I would love to get my DNA tested


• Los Angeles, California
22 Mar
I really don't like the idea of adding my DNA to some sort of data base where who knows will have access.