Bubbles Sense of Smell Saves Their House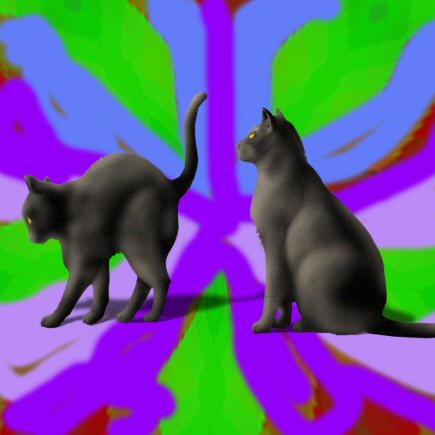 Garden Grove, California
October 5, 2017 2:28pm CST
Mistress was painting a portrait for the mayor Bubbles was watching her from his nest on the table Gradually Bubbles nose smelled an acvrid scent He jumped down and raan tol were tje scetn was coming from Tje kitchen cpimterthere was a shorting electril cord Akitchen towel was burning. Bu ffles leaped on the table There was a vase jhe upset and tje wate did stp[ the f;re B\bb;les kknew that the sparks needed Mistreess Bubblestrotted to the den y owling lkoudly Misstress got up slowly he r an into the h all Still howling loudly sjhe hesitatedthen followe She sawtje sparking electric cors Mistress yanked the cord to the toaster from the wall The sparling stp[[ed/ She cleamed up tje vase and burnt towel "Bubbles you are one really s,mart cat.quoc thnking./ They went back to the den slowl "come on Bubbles my lad I needd a break They sat diown i n the old rocker together. Bubbles sat beside her every inch prpud of himself She petted him and re;axed/"Need a new toaster.: One original poem and grapjc by P Hatley copyrilghted 2017
5 responses

• East Tawas, Michigan
5 Oct 17
Bubbles is remarkable, even better than a fire alarm! I'm glad that shorted cord didn't set their house on fire:(

• Garden Grove, California
5 Oct 17
me too I have more fun wilth bubbles lol lol

• East Tawas, Michigan
5 Oct 17
@Hatley
Bubbles is quite a cat and a wonderful friend, too:)



• Garden Grove, California
5 Oct 17
yes lin filctionoine has soe leewayu lol lol

• Boise, Idaho
6 Oct 17
@Hatley
.......Didn't understand any of that.

• United States
5 Oct 17
Bubbles to the rescue! Perfect little guardian.

• Garden Grove, California
5 Oct 17
yue[ I av e more fun wi th that cat lol

• United States
6 Oct 17
@Hatley
when he learns to do windows let me know. I'll have him over to teach my cat. LOL.

• Moses Lake, Washington
5 Oct 17
That's quite a tale. It reminds me of my Will Tweedy kitty. He woke me one afternoon; I'd been napping. Will meowed in my ear until I got up, ready to smack him. I found that I'd left a burner on the stove and it was busy smoking and burning dry. Of course I petted Will instead of smacking him.

• Garden Grove, California
5 Oct 17
cats aresmart amd bibnbles is re allysmart lo