Have You ever traveled to Mexico?

United States
November 29, 2006 7:59pm CST
We had a wonderful time in Cancun and PLaya Del Carmen, Mexico. We stayed at the Grand Xcaret and spent a day at the Grand Xcaret Park which was really wonderful. We went swimming through the caves and even though it was cold, we really had a great time.
5 responses

• Anderson, Indiana
3 Dec 06
I've been to the bordertowns on several occasions and down to the end of the Baja Peninsula once. However, the most extensively I've been through Mexico was on a road-trip with my folks, aunt, and uncle when I was 13 1/2 (between seventh and eighth grades) back in the summer of 1966. It was wonderful! Not only did we visit several of the well-known places but we also got to experience traveling through the countryside and into small villages and towns where the average tourist doesn't go. One advantage we had was that Aunt Marce was a Tex-Mex. Her parents were from Mexico, but they came over to El Paso to visit relatives when she was about to be born so that she would be born an American Citizen--and, on January 30, 1920, she was! She spoke very fluent Spanish, so she served as our translator. I loved flirting with the various native sons--and fell really hard for one of them: a 17 year old Acapulco cliff-diver named Ignacio Sanchez. Here's our story... http://www.epinions.com/content_3297616004 Would you believe that--here in his latter-middle-fifties--he still dives occasionally!?!

• United States
2 Dec 06
I go to Mexico at least once a year. My husband is from there and we go to visit his family. It is a small town and not much to see but it is peaceful and from every side the background is mountains. I would love to go to one of the well known vacation spots, such as Cancun but hubby is more happy being able to just go home.



• United States
30 Nov 06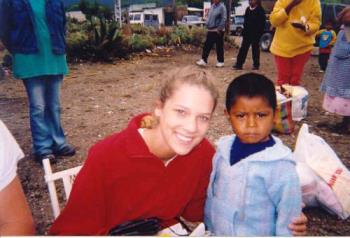 I went to Mexico a couple of years ago, but it wasn't a tourist town. It was more like, the "real" Mexico. Into small villages, things like that..for a mission trip.