Jeff Thomas

United States
January 7, 2007 2:12am CST
Have any of you seen his art work? They are soo cute! He's poping up everywhere! Well his art is...I got his site linked on my profile, and some of his art work in the pics...Is anyone a fan? or just like his art work?
5 responses


• United States
8 Jan 07
Have you seen the one asking if you swallow a sword...? I can't post it right now, because I am on my laptop and it is on my computer downstairs... :(

• United States
8 Jan 07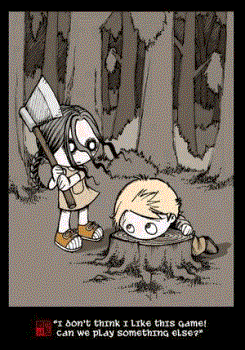 I am a fan!!!! I love his work!!!! My favorite is the one that says, I made you a cookie but I eated it. I found his myspace website just looking around. And from that time on, I have loved his work. I canb't wait to see his new pieces! Even the one of a little girl about to chop a little boy's head off and he is staying, I don't think I like this game anymore. hahahahahahaha A little morbid, yes. Not all of it is for kids....but I do love his work!! I so wish he would market his stuff so I could have some t-shirts with his work. I would so totally buy it!!!

• United States
14 Jan 07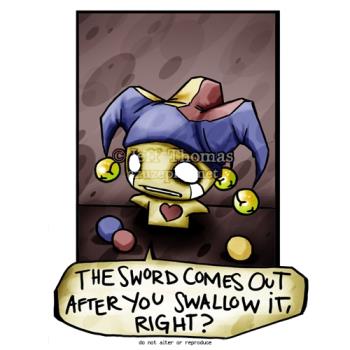 Same here. I saw hos work on myspace and then search him. I wish he would add his work on his myspace page...but I haven't been there in a while. Here is the pic with the sword comment I was talking about.

• Canada
7 Jan 07
I haven't seen it yet, but I'm sure I will, one day. Thanks for the tip.


• United States
10 Jan 07
I love it! My daughter is a huge fan. She loves the one where he says he got you a cookie but he eated it! lol! It is sooo cute! She wants to be an artist and is planning to go to college for art. My favorite is the one where he shares the heart on his chest.