Cat biting question

United States
9 responses

• Philippines
18 Jan 07
Cat won't bite if you have a special relationship with them. They nip and do playful bites but not the one you describe as clamping on your arm. Cats are different than dogs coz we don't exactly know how they would react not like dogs. If you're cat has been with you since he was still a kitten, most probably it would listen to your commands.

• United States
18 Jan 07
I have two cats. One is an angel. But this other one, wow, he does a bite clamp for no reason at all and is 9 years old now. He has always done this.

• United States
18 Jan 07
I have two cats. One is an angel. But this other one, wow, he does a bite clamp for no reason at all and is 9 years old now. He has always done this. I rescued both 9 years apart. I spoil and love them. I don't know why he is like this.

• United States
18 Jan 07
Part of it is that cats are still animals. They still have the aggressive urges to hunt and kill like their ancestors, the big cats, do. I would dare say I have the closest bond with my cat that one can have, and he still bites me like that - grinding in with his teeth and refusing to back off. He'll even follow me and keep trying to bite my legs, etc. I know he loves me to pieces, but his animal instincts still win out. :-)

• United States
18 Jan 07
My cat "Jackie The Ripper" passed away a few years back. She was relly agressive towards other animals and strangers, and would bite out of frustration because she had no front claws... When she made attack moves I quickly responded with a blast of baking soda room deodoriser in her direction and she would go into hiding for a while and come back with a "I'm sorry that I misbehaved, I'll be nice!" posture... I miss her clever tricks like running straight up a wall to kill some unlucky bug, hopping in the dishwater for a swim... Ya know, after she passed away at 15 years old, I went out to the shedporch work area and I though I could hear hear her "victory" yowl in the air...


• United States
18 Jan 07
Losing a familiar is momentarily painful, but I am happy that she and my Gizmo (the dog is passed,too), got to share their very full lives with me on this Earth... I only look back in happiness! :) Thanks so much for your warm comment.

• United States
18 Jan 07
Hi! How do you play with your cat? One thing that encourages biting is if you play with the cats using your hand. If they are dodging and trying to get your hand, it will make the cats think it's okay to attack and bite. If you use your hands, perhaps switching to a wand-type toy or a string (something you could drag) would be better and help save your hands! I know what you're going through. I have a male cat and he can be quite aggressive. Once he starts biting, he doesn't want to back off. But when he bites me now, it's because he hurts. Sometimes I wake up in the night and he is biting my arm and he's angry. He is 16 years old, arthritic, and he's had cancer for over two years, so he's entitled to get a little cranky! LOL

• United States
18 Jan 07
My male cat will be sitting and I may get a chance to pet him a little, he isn't fond of being bothered in anyway. But all of a sudden, he will just sink his teeth into my hand and not let go. He will grind his teeth into me, and it is so painful I cry. He leaves deep teeth marks with blood spots. I'm sorry that your cat has pain, poor thing. Thanks for helping me the best you can.

• United States
18 Jan 07
I'm sorry! My cat really got me a good one the other night, too. Stung for a long time. Could your cat be a bit on the feral side? Sounds like he might be. Another idea - there's been a lot of talk lately about cats and anxiety. Perhaps you could talk to your vet about a medication like Prozac that might just "mellow" him out a bit. My mom's vet is fond of saying, "Cats exist to make vets look stupid." LOL With most cats, it's very hard to tell what's wrong because they just deal with whatever they are going through and don't make a big deal out of it. Perhaps a medication to treat anxiety might help your cat feel better and make him easier to live with. Like with my cat, sometimes the biting is a cry for help. :-)

• United States
18 Jan 07
How old is your cat that bites? My kitten bit a lot at about 6 months because like any baby, she was teething. Now, she only bites at my nails, when she is trying to groom me. (apparently, she thinks my nails are flaws in my fur and should be removed.) Because we started ith her when she was young, we now can just tell her to "be gentle" and she'll stop nibbling. She still bites when she is wrestling with my husband, but they both know it's okay then. I would try just letting them know how it hurts you...that's usually enough for my cat. If not, then spray her in the face with a water bottle. That should be enough.

• United States
18 Jan 07
He is 9 years old. I tried everything, and the water bottle. When he bites, he will not let go. He has been doing this forever.

• United States
20 Jan 07
Did you get him as a kitten or did someone else ahve him first? I have friends who had one cat who was just mean and scratched at all women becuase his former owner was awoman and hurt him.

• Philippines
18 Jan 07
well, im not a professional, but i could at least share on this topic. we have a cat named "oishi" ( actually we do have 5 cats at home) but his one has the most biting habits. sometimes he surprised me on such attacks specially during the times i play with him.. the last time he bit me, i screamed an "ouch" (eventhough im not trully hurt) and backed out playing and started ignoring him. the next day, i also ignored him. the day after that, i played with him again, he was excited and then i saw he's attacking moves again, what i did is that, i start to make a step to back out again, then i turned to him and saw him stop. the next move i did was i bent down and made a light tap on his little nose and scratched the back of his ears..just maybe he learned tru my "back out and ignoring tactic" . we're still on that kind of routine till now and i think he might as well get used to it. i wouldnt say this will work to everyone. but i guess it worth giving a try.

• United States
18 Jan 07
Thanks for sharing that. I saved two cats. This biting one is 9 years old. He was rescued from the streets around 3 or 4 months old. He has always done this. He may be too old to train now. The second cat was 6 or 7 months old, and she is such a doll, she never bites, just loves. But the other one, he doesn't like to be loved, pet, or held. I don't know why he gets like that. We spoil our cats with as much love as they want.

• United States
9 Jan 07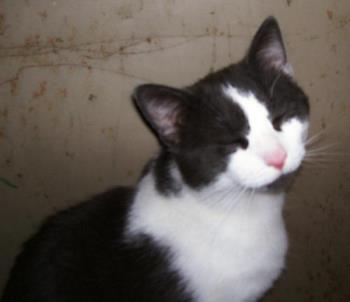 When they are small it is easier however when larger you hope to have a relationship built on their pick of you. You have to voice displeasure at the feel of the claws or teeth. They can learn that is hurts you and refrain. However, some cats are mouthy and you will have to learn to work around it. Try a light tap on the nose when they go to bite you, it might work to deter them.

• United States
9 Jan 07
One cat bites so hard, and won't let go. He grinds his teeth into you. It hurts and nothing will stop him. The other one just opens her mouth, but doesn't bite down. I tried the tap on the nose, saying no harshly, and trying to pull him off, and he won't let go. It hurts so much. + rating so far again. Thank you.

• United States
18 Jan 07
WOW, I find what you say fascinating margieanneart!!! I thought I was the only one to have this happen to. One of my cats did that when he hit "puberty" and he would only do it to me!! And I am talking about chomping down like a dang pitt bull or something and it only takes an act of God to take him off!! Sometimes I had to wake up my fiance because the cat would run away if he was near!! I would even go as far as to thump him really hard on the nose, but after a while it made it worse and he would latch on harder. I talked to my mom about it, and she told me that it sounded like he had "Alpha male" syndrome and that I needed to get him neutered. He wasn't even a year old, so I took her advice and had him chopped. After that he was so sweet!! But I never will forget that experience because to this day he still bites, but now it is only when he wants some lovin's...and if I am not expecting it, it scares the crap out of me!! Brings me back to the old days...Ahhhhh!!

• United States
19 Jan 07
I also have an older cat that I got from the shelter who bites. This is a bad habit he got from his first owners. It was very surprising to me at first. I thought he might not want to be petted but he did still want petting. He just didn't realize this was NOT the way to behave. It took a little while to break him of biting me so hard (he still will "nip" a little but just to get my attention now not really hard). I got a small squirt bottle and filled it with plain water and set it to a "mist", then slipped it into my pocket. I was petting him and he bit me - I said NO and gave him one quick squirt in his face and he let go. I then put the bottle back in my pocket and said "good boy" and resumed petting him. It took a several times but he got the idea that biting hard got him a wet face so he stopped.

• United States
19 Jan 07
Thank you for sharing that with me. I have never had a cat bite me, especially the way this guy does. He is 9 years old now. Maybe it is too late to train him. Should I try with the water? I adopted another cat a few months ago, and she is such a love. Just wants to eat constantly and be loved. Thanks again.

• United States
18 Jan 07
My kitten bites when she is playing. If she gets carried away, I firmly tell her NO. If she continues, I give her a squirt with the spray bottle.

• United States
18 Jan 07
Mine isn't playing. And nothing works with him. He is 9 and ornery. My new one is as sweet, and never bites.

•
18 Jan 07
When Polly used to try and nibble me when she was a kitten I would pull away and say ouch loudly, she soon got the idea, and is careful not to put herr teeth in to lick now. If it had become a problem I would have got a water pistol or a plant spray and given her a little squirt. He'll probably grow out of it, just dont withdraw love and cuddles whn he is being good. I wish you the best with this!

• United States
18 Jan 07
He is 9 years old, and has been doing this forever. He does not like to be held or pet. I rescued him when he was about 3 or 4 months old from the streets. I have another kitty that I rescued at 6 or 7 months, and she never bites and wants to be loved.