If your kids balk at broccoli, try this salad instead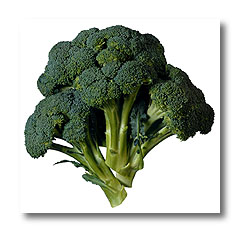 Canada
January 23, 2007 8:27pm CST
It's hard to convince people that broccoli actually tastes good. I love it myself and will eat it prepared just about any way. This salad has other ingredients that are typically well-liked and it has a sweetness to it that would probably appeal to kids... Who knows? They might actually like it, even if they'd never admit it lol ;) Festive Broccoli Salad 4 cups broccoli, cut into small pieces 1/2 cup halved seedless grapes (red or green) 1/3 cup sunflower seeds 1/2 cup shredded cheddar cheese 1/4 cup dried cranberries 4 slices cooked and crumbled bacon Dressing: 2 tbsp sugar 1/2 cup reduced fat mayonnaise 1 tbsp apple cider vinegar Mix salad ingredients. Combine dressing ingredients, add to the salad and mix well. Chill for at least 1 hour. Makes 6-8 servings
7 responses

• United States
24 Jan 07
I've had a salad very similar to this before (just no cranberries), and I really, really like it! Trying to get my 2yr old to eat something like that does not go over well, but my teens are coming into their own and now also enjoy broccoli. Thanks for posting this recipe! I'll have to try it with them.

• Canada
24 Jan 07
I had a hard time convincing my HUSBAND to eat broccoli LOL! When I first met him "vegetables" were defined as: potatoes, green beans, corn and maybe carrots. Nothing else LOL My teens are both like a variety, including broccoli, and we eat it steamed the majority of the time. They like it in their lunches, raw with a bit of dip on the side, too. You're welcome (on the recipe)... hope they like it! :)

• United States
24 Jan 07
Very different indeed! My kids, however, LOVE broccoli! I'm lucky, I have 3 big veggie eaters!

• Canada
24 Jan 07
Isn't it GREAT when you don't have to fight with them about it all the time? No veggies hiding in the milk glasses at our house either LOL ;)

• United States
24 Jan 07
I went through a whole thread of salad recipes the other day and couldn't find any I though were that inventive but this sounds interesting. Think I'll copy it down. Thank you, Thinkingoutloud.

• Canada
24 Jan 07
Hi there irisheyes! I'm glad the recipe interests you and I hope you'll enjoy it! I've really been trying to find "different" kinds of salads lately... the family gets bored, you know? ;) Not to mention that lettuce is an atrocious price here right now! I have a spinach strawberry salad recipe that I was thinking about sharing in another discussion ... I wonder why I go for all the veggies people typically don't like? broccoli, spinach... I better find one for cauliflower next LOL Hope you have a wonderful day! :)

• United States
24 Jan 07
I love Broccoli! This recipe sounds wonderful. Thanks.

• Canada
24 Jan 07
I love it too! When my mom had cancer, I learned an awful lot about how truly amazing broccoli is from a health perspective... her doctor even had her on an herbal medication that was broccoli-based to try to help slow down the recurrence of tumors. Not to mention that, compared side by side, it has as much calcium as a glass of milk and more vitamin C than an orange! For people who hate broccoli itself, broccoli sprouts are also beneficial (we use those on sandwiches or in salads and they're really good!). I found this CNN article a really interesting read... makes me feel like I'm giving my family something good! :) http://archives.cnn.com/2000/FOOD/news/04/13/broccoli.benefits.wmd/

• United States
24 Jan 07
That sounds delicious! I will definately be writing that down so I can use it sometime. Personally I love broccoli (which is why your post caught my eye). I like it raw with ranch dressing, or steamed with cheese poured over it. Mmm Mmm. I haven't had it in a long time and now I'm starting to really want some.

• Canada
24 Jan 07
You just reminded me that I haven't made it with cheese sauce in a VERY long time :) We usually just steam it and eat it plain or with a small dab of butter. Hubby will be happy if he gets it with cheese... he puts cheese on EVERYTHING LOL!

• Spain
26 Jan 07
I actually love the taste of broccoli, but my daughter doesn´t appreciate it too much. She really likes cranberries and grapes though, so I think she´s going to love this original salad and I´m sure I will. Thanks for the recipe. A salad lover.