Following that Dream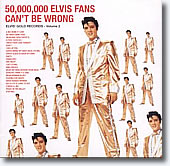 March 19, 2007 7:19pm CST
Follow That Dream is RCA\BMGs Elvis Official collectors label. 2 x cds are released 4 times a year and spans Elvis's career. Releases are studio, concert and reherseal and highlights previously unrelased material. For the last 4/5 years I have been buying them from the Elvis Australia site http:\\www.elvis.com.au. Releases can be very expensive but if you love the King (and I do) they are great. Thee have been some great releases, my favs being The Jugle Room Sessions (early 76 sessions), Let Yourself Go (contains '68 comeback outtakes with a brilliant version of Memories), Southern Nights (a 1975 concert containing Jambalaya). Also released side by side are special releases that look like a 7" record. This is the classic album series which uses the original cover art of the old record. Releases in this series are (so far) mostly soundtracks such as Viva Las Vegas and Tickle Me. However there has been fanastic double cd reworkings of albums such as Elvis is Back, Elvis Today, Something For everybody. These contains the original masters of the songs, any singles from the sesions and other outtakes. Not all takes are on the double set but no one really wants 20 versions of a song (however there are 6 versions of Surrender on the Hand in Mine sessions.) Do any other fans have these? What do you think?
8 responses

• Australia
20 Mar 07
Hi Ross, Yes I love Elvis Presley I have many of his collector tapes, releases are very expensive that is true, I have so many of Elvis's songs I love them all and have photo's of him as well,. I am happy that you love his music as well.

•
20 Mar 07
As you know Elvis has been King in this house for many a yer pal first your dad then your brother Jim and then you , even your grandparents love him, and hey , I like to sing along to him in the car , even if you do tell me I am singing the wrong words lol , good discussion pal xx

• Australia
30 Mar 07
I'm one of the original Elvis fans from Oz, and back in the fifties even convinced my mother how great the man was. Now I have so many CDs and tapes I can play them for days. However there is one song that was never a hit, but I liked it, and had it on a tape which has been misplaced. If any Elvis fan out there has a copy of "My Baby Went Walkin'" I love to have it emailed to me. I haven't heard of these releases, but will check the site. Thanks.

•
30 Mar 07
sorry my address is rossdcurran
@aol
.com

• Australia
10 Apr 07
follow that dream is on right now on movie greats on foxtel. i had 28 4 foot by 2.5 foot wooden backed posters. bought over a period of 8 years, i sold them to a fanatic. i have still got 400+ elvis collector cards and i am looking for someone to make me the blue peacock jumpsuit. know anyone?

• United Kingdom
24 Mar 07
Aaah you definitely take after Mum, I know she's Elvis's numero uno fan! I'm not an Elvis fan myself but recognize his talent and his big fan club across the world. There are so many Elvis impersonators too. I can see you are definitely a fan too!


•
20 Mar 07
im not much of a elvis fan but i do like wooden heart and old shep,my older sister loved him,everytime he was in a film and he was kissing someone she would just smile and go of in a daydream,it was so funny well done on your 10 star

• United States
12 Apr 07
Hi Ross, I promised you mom I would look you up and OMG I find you love Elvis too. No one has ever matched his voice. He is sooo great. I fell for him when I was 9 years old. That was the first time I seen him on TV. I do not remeber if it was a movie or a tv show but I remembered that voice. At one time I knew all the words to many of his songs but had no idea what the capitals of the States were. My teacher was not impressed. I do not have the collector albums you are speaking of, boo hoo!. Glad to meet you and I will be watching for your discussions.