Do you Support Guide Dogs for the Blind?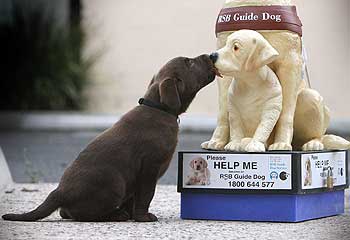 Australia
March 21, 2007 1:05am CST
I have always been very impressed with the work Guide Dogs for the blind do. Their training is extensive & expensive. Mostly Labrodors are used in South australia. Blind people find them invaluable & great company as well. Part of the proces of training guide dogs, is to have Puppy trainers. In our state, these are in short supply. Labrodor puppies are often sponsored by individuals or organisations. The Royal Society for the Blind is currently looking for more puppy educators, as they are in very short supply. They are desperate for puppy educators because the organisation is growing faster than originally planned. "There's a lot of positive stuff in that but getting puppy educators is our biggest problem at the moment."The organisation encourages groups such as retirement village residents to take a puppy on board. What does your Stare/ Cpuntry for the training of Guide Dogs? Has anyone here ever been a puppy walker/ trainer?
6 responses

• Australia
21 Mar 07
Many years ago I used to work as a trainer for "Pets as therapy", which is an arm off Guide dogs, they are trained in very much the same way, but not as intense. They are used for less unfortunate people as a helper/companion . They are very smart dogs and it was so uplifting when it was time to home the dog (what a joyful experience).But sad at the same time, because you saw this dog everyday growing up.

• United States
21 Mar 07
Yes i do suppor the guide dogs for the blind. Also in my part of ohio they have a group of people who have working dogs for kids that are impaired. We have done a few fun raisers with them including the puppy kissing booth.

• India
21 Mar 07
ya that a great thing that makes us proud of our best friends....

• United States
21 Mar 07
I've always thought that guide dogs are a wonderful help to the blind. I know they use Labs a lot. I have a yellow lab and he's extremely smart and easily trainable. I used to work a home therapist for autistic children around 2000-02. One of the kids I worked with had a mom who trained these dogs. She loved doing it. It took a lot of work and dedication and she's get really attached to the dogs. She said that it was always a sad and very happy occassion when her training was done. She's be sad to ee the animal go but was happy to know it was trained well and would be such ahuge and helpful part of someones life.

• United States
21 Mar 07
We do not since it is not a thing that many are of aware of in this area in which I live. I had a discussion about a guide dog that was asked to leave Walmart. So we have not participated in pre training a puppy or done anything else with the association that does this wonderful service for the benefit of the physically challenged. I hope that organization gets the people that they need to keep it going.