Barn cats or pure bred cats?

United States
April 2, 2007 6:29pm CST
Which is better? I've never had a pure bred cat because all the ones I've been in contact with were not very charming. Among tons of barn cats (aka any mixed breed type cat) all have been gems, so different in personality yet all very intelligent and very trainable (as far as cats go, at least).
5 responses

• United States
2 Apr 07
I think it's really a matter of their personality more then their breed for the most part. The pure bred ones are so beautiful to look at but can often be high maintenence. I have all mixed or strays, etc. and they're just fine for me. My one tiger cat is the sweetest thing on earth and I wouldn't trade him for any pure bred. I will say that as beautiful as Siamese cats are.. they are evil! LOL

• Philippines
11 Apr 07
Hi CatNPK! I think that pure bred cat is the same as barn cats cause they are still called cats. Cats have different personalities and they have different abilities. As long as you love your cat any cat would do.

• United States
3 Apr 07
I think that a cat is a cat, it doesn't matter if its pure bred or just a mangy old cat. Its a cat, and it loves you.

• Australia
3 Apr 07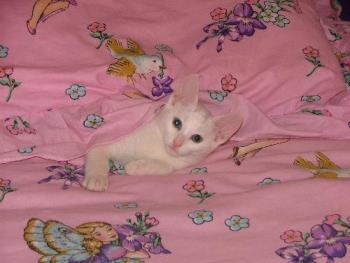 Cats are cats are cats really. It all depends on what you want. I only have purebreeds at the moment because I knew what I wanted at the time and I would not give them back for anything. But on the other hand I have had many ordinary cats over the years too, and they too were beautiful.