Do you have a profitable hobby?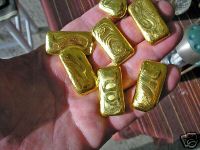 United States
April 8, 2007 5:36pm CST
I was just curious if anyone has any profitable hobbies they enjoy doing that dont only consume money but can generate money. I have many hobbies one i really enjoy is gold recovery and refining. I takes a little money top get started but once you find great sources and methods it really pays off and its cool holding your own gold bars, who knows when they could come in handy. I used to get some from ebay untill i learned how much i was over paying and sometimes losing money so i got set up with a few scrap companies and get stuff from them for free or next to nothing. I get to travel a little bit and do something i think is kinda fun, (although can be dangerous) and end up with nice gold bars. Do you have anything you like to due that pays off in the end?
9 responses

•
12 Apr 07
I have tried lots of hobbies but they usually end up costing me money. Either I am not very good or very lucky. I sold some things on eBay but would never buy the right things first from a boot sale. I also entered competitions - I did win a washing machine once and lots of little things but still think it would have been cheaper to buy them the amount I spent entering. I am going to make my fortune on the internet. I will let you know how it goes. Do you mean panning for gold? Or do you get other people's scraps melted down?

• United States
12 Apr 07
I take in eitehr solid jewelry of electronics, i used to think ebay was a good place but its not anymore, to many novices who dont know squat run up all the auctions, things wind up being more than the gold will be recovered from it. Stupid. Im working on relashonships with out of state scrap dealer right now. Its very promising. I esectianlly strip it down using acids and refine and smelt it. Ending up with pure gold. mmmmmm. I started with the intent on selling it but the way gold is going up i cant part with it just yet.

• United States
22 Oct 07
You have your own smelter or do you know someone who does? This sounds very intersting. Take care

• United States
22 Oct 07
We don't use a "smelting kiln" Most of the melt down my man and i do is done with an acetylene torch and bone ash cupels. Its quite effective actually. We have molds that we can pour the molten metals into once they are torch. Smelters pretty much do the same thing but cost much more.

• United Kingdom
8 Apr 07
That is very unusual, to be honest I have never heard of that hobby before, thanks for enlightening me, you learn something new every day. For me my hobby is entering online competitions which are free on the net, I have been quite fortunate and successful and I have won dvds, clothes, money and the best prize was a colour television, the stuff I win I don't want I sell on Ebay.

• Canada
13 Apr 07
Graphic design is more of a hobby for me, but I have designed and sold some personal photo collages.

• United States
13 Apr 07
I have profitable hobby like painting,sketching etc. but I haven't get any good result yet.

• United States
8 Apr 07
I like to go to garage sales and I combine that hobby with ebay. I keep the things I want to keep and than I make the money on ebay for the rest. This way, I alwasy end up either breaking even or even a little ahead when I go garage saling. I also raise ALPACAS and although a fun hobby, they are very profitable as well.

• United States
9 Apr 07
Yea i think garage sales and flea markets are fun to shop at for all kinds of odd stuff. Some is very valuable and can be sold at excellent prices. I read a while ago about a guy some guy found one of the actual authentic copies of the orginal bill of rights, bought it for about 2$ and wound up selling it on ebay for over 250 thousand. WOW


• South Africa
15 Sep 09
Join a legal lottery syndicate. Promote the offer. Learn internet marketing and SEO (Search Engine Optimization). Earn commissions. Go to http://www.v-w-d.com/223076RK. Good luck!

• United States
19 Feb 09
Do you mind being asked the details of this hobby, I am very interested in getting involved in this? If you don't want to, I understand, but could you at least point me in the right direction for resources to find out how to get started? Thanks for starting this interesting discussion, it is worth its weight in gold!