Juanita finished her work. I have to hang my clothes. The aztec sun stone.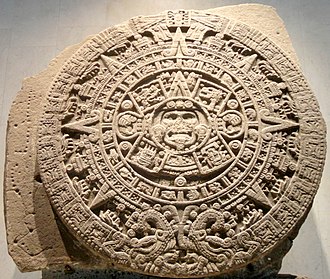 Chile
September 25, 2020 4:01pm CST
Juanita, my washing machine, just called me. I have to run to hang the clothes I have there as I don´t want them to get wrickled. I do not iron. Now I can take a long bath and wash my hair. I think it will be better if I do it now. I put a new tablecloth over the table. It is the same model I have been having for over 20 years. It is made with agave, a natural fiber, and depicts the aztec sun. The original is made of stone.
10 responses


• Chile
25 Sep
@marlina
I wanted everything clen tomorrow.


• Chile
26 Sep
I laundry is hanging out. I hope the sun shines.

• Indonesia
29 Sep


• Marion, Ohio
26 Sep
Sounds like a pretty tablecloth.

• Daytona Beach, Florida
26 Sep
That is a very lovely sunstone.


• Chile
25 Sep
Now that I´m a widow, I take care not to buy anything that needs ironing.


• Chile
26 Sep
Juanita needed a rean name. She works very hard.


• Philippines
29 Sep
@marguicha
I also named my desktop, Juan. It works hard for me.


• Chile
29 Sep
@Shavkat
It seems a common name for working stuff




• Chile
26 Sep
I have had 9 identical ones ever since I bought the first over 20 years ago. This last trip to Mexico I bought 2 as I did not know if that would be my last trip there. Now it is even more difficut.

• Chile
26 Sep
@LadyDuck
Me too. I don´t like the table bare although my table is very beautiful.

• Switzerland
27 Sep
@marguicha
Our table is beautiful, but I would never eat on a bare table, we also risk to damage the wood not protecting the surface.


• United States
27 Sep
The tablecloth sounds beautiful.


• United States
26 Sep
I like your tablecloth. I don't use them often anymore but I have a few that I treasure.