Now we're ready!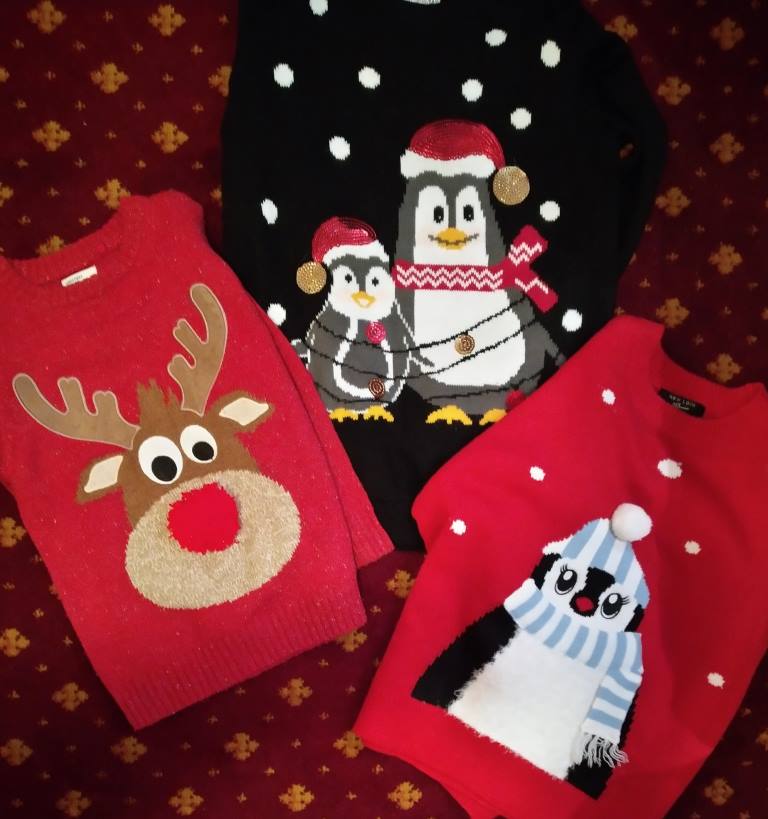 United Kingdom
November 23, 2022 4:42pm CST
I don't know when Christmas jumpers became a 'thing'. Certainly we never had such things when I was growing up. I guess they are a product of the 'throw-away society' because before that no-one would buy something that would only be worn for such a short period. Even more so for children of course as they outgrow them each year! But in the past few years they have become more and more common, and most of them are truly awful. And many people have embraced the awfulness (if that's even a word) and actively seek out the worst examples so it's a real race to the bottom. None of this should matter to us except that now they are so ubiquitous that everyone is automatically expected to have one. When the schools have a Christmas dinner – 'Wear your Christmas jumpers!' Volunteering at the theatre for the panto - 'Wear your Christmas jumpers!' Planning the amateur dramatics group Christmas party - 'Wear your Christmas jumpers!' Playing in the village band charity concert - 'Wear your Christmas jumpers!' The girls always had to make do with the cheeriest jumper they had, maybe with a bit of tinsel draped around it or something. But yesterday when I happened to be near the shops I popped into a charity shop to drop off a few things we don't need, and naturally while I was there I had a look around, just in case… and then I saw that they had a few Christmas jumpers. And I thought maybe I would see if they had something suitable for the girls, since they never have one. They didn't have anything very nice, but now I had thought of it I decided to keep looking (there were 5 or 6 charity shops to visit) and I ended up finding a nice bright red jumper with a cute penguin on the front (he even has a pom-pom hat and a fluffy scarf!) for Big One and a sort-of rusty-red colour jumper with a reindeer on the front for Little One. This one obviously had something missing from his nose, but I figured we could fix that… I brought him home and Little One herself made him a nice bright sparkly red pom-pom for a nose which I stitched on for her. Then today errands took me to a different place, and there I found a smart black jumper with sequinned penguins on it for me! So that is all we need (my partner avoids any kind of Christmas 'do' – or in fact any social event if possible – like the plague, so he doesn't really need one!) The three of us are now decked out in festive jumpers for the grand total of £10, all of which went to various good causes, so that wasn't too bad. And when they are outgrown or we need a change they can go back again for someone else to have some fun with! Do you have a Christmas jumper? All rights reserved. © Text and image copyright Fleur 2022.
10 responses

• Switzerland
24 Nov
NO, we do not want (and we do not need) Christmas jumpers. I remember laughing with friends a few years ago, we were talking about Christmas present, I said I had no idea what to buy for my husband, she said "why not a Christmas jumper with a big reindeer on it", you had to see the face of my husband. I know he would have brought it back.



• Rockingham, Australia
24 Nov
How great is that? You'll all three be sparkly and festive now! I've always avoided Christmas jumpers but with living in the village and the various Christmas functions, I'm wondering if I should succumb and get one. Maybe I'll check out the op shops first.

• United Kingdom
24 Nov
@JudyEv
I don't have pierced ears either but for dangly earrings I have discovered that it's easy to buy a bag of clips and swap them over. Like these ones (I don't have silver ones but this was the best picture I could find in a hurry; the cheap silver-plated ones are just a few pence each). And if you find the clips too tight it's easy to tweak them a little with pliers so that they don't close completely and are comfortable to wear without falling off!
https://www.etsy.com/uk/listing/270656634/sterling-silver-clip-on-earring

• Rockingham, Australia
24 Nov
@Fleura
I've seen some Christmassy earrings too but I don't have pierced ears so they're out for me. Maybe I'll just have a Rudolph red nose. That should confuse people.



• St. Catharines, Ontario
24 Nov
It's interesting that they're called jumpers on your side of the pond... On this side, a jumper is a sleeveless tunic-like dress. Neither one of which suggest jumping.

We call them sweaters, which makes more sense (to me at least) because they keep you warm, sometimes too warm, in which case you'll possibly start sweating.

And further to your point, there are "ugly Christmas sweater" contests. But I don't have one, and don't even wear T-shirts with slogans.

• United Kingdom
24 Nov
Names are strange aren't they. I find the name 'sweater' rather off-putting (in the same vein, I am not tempted to buy my clothes from the brand 'Sweaty Betty'

) I found out about the jumper being a dress-type garment years ago when I bought a sewing pattern to make a dress for my friends young daughter. It definitely didn't make a jumper! Luckily it had pictures

There are lots of other examples. Here, a vest is a sleeveless undergarment, and suspenders are what ladies use to hold up their stockings


• Lake Charles, Louisiana
23 Nov
Not that I know is anyone in my neighborhood does anyone celebrate Christmas jumping.

• Lake Charles, Louisiana
24 Nov
@Fleura
They are called sweaters in my region.




• China
24 Nov
You have a good eye for choosing Christmas jumper ! It is said that there is a Christmas jumper Day over there ,when people raise money for children.

• United States
24 Nov
I've never heard of such a thing and wouldn't buy or wear it if it was a "thing" here. I'm glad you're happy with your purchases.


• United States
24 Nov
@Fleura
It sounds like an odd "fashion statement" that's only happening in your country. I wonder how it got started?

• United Kingdom
24 Nov
@DaddyEvil
according to this article the trend really started to take off in the 1980s and 90s but then Bridget Jones' Diary may have been responsible for popularising the 'ugly Christmas jumper' trend
https://www.goodto.com/family/family-news/where-did-christmas-jumper-tradition-originate-from-568073


• Marion, Ohio
24 Nov
I dont have one. But those are cute.

• Daytona Beach, Florida
24 Nov
I have never seen any Christmas jumpers, They look very nice, Enjoy the Christmas jumpers,