What is a normal Thanksgiving?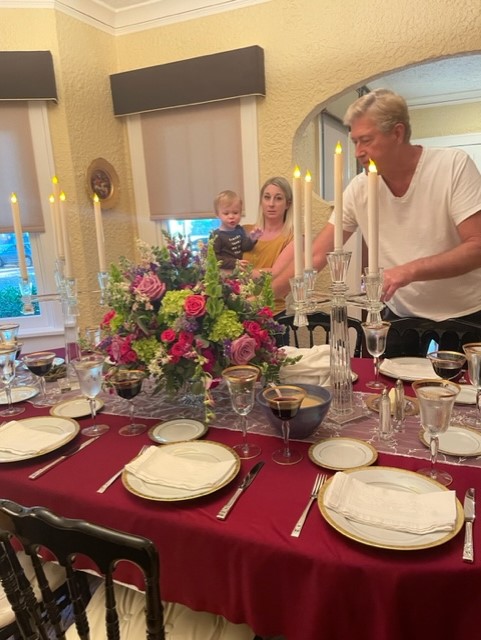 November 24, 2022 9:47pm CST
I thought about this a lot today, as our Thanksgivings and Christmas meals are not what anyone would have used to call normal. Just what is normal for these holidays? Big dinners at parents or grandparents' homes, the clan gathers, maybe some friends...there is way, way too much food. I have fixed many of these meals for family in my past. The whole deal, china and crystal, in the dining room, everything beautiful and nice and ...um, incredibly stressful and a ton of work for the host and/or hostess. Don't get me wrong, nice things and beautiful settings are wonderful. They can also be stressful. I truly do prefer a more casual setting. I have been spending some time this week with my daughter and her family in Florida. Their little guys are 1 and 5 now, and a lot of fun. My ex lives here, and his parents are not far away as well. Yes, I'm divorced, and yes, I have been for quite a while now. We have all remained family as that's what we are. The ex has a significant other and has had for a long time. It sounds odd, but we all get along just fine. His parents came. They are very good to me, in all honestly, I have known them and been close to them for a longer time than I ever had my own parents. His mom was so excited to have me there. So, I was elected to cook 2 turkeys. My daughter made the potatoes. We took that over there, the rest they took care of. The ex brought the turkey over to house for me to fix and kept saying how much he appreciated it because they were swamped at work. The ex has always been about THINGS. His tastes run to the extremely expensive to the ridiculous and they always have. The house was decorated to the extreme, fresh flowers, we ate off of gold-plated china and used Waterford crystal, and so forth. He gave a one-year-old and a 5-year-old Waterford crystal to drink out of. Um...we had 4 kids, and he didn't do that then. Of course, all of the china and the crystal have to be hand washed, as does the silver utensils. Was all the food good? It was excellent. Was it all beautiful? It truly was. But with small children and tired out adults, it just wasn't really necessary to be that fancy. Yes, I have some beautiful china at my own home. I used to use it often, but now i really don't very often. This all started me thinking about what normal is for holidays. None of us are paper plate people, we always cooked a huge, nice meal, but...it would be nice to just get together on a holiday and keep it simple. The little guys were very well behaved and ate like troopers. It truly was wonderful food, and everyone got leftovers to take home. Ex's parents, my former in laws that I love dearly, are very frail. She is 89 and he is 90. We all do cherish our time with them. I am glad my own children have no desire to make things this fancy, especially when there are little children to serve. It just makes so much work that the food fixers and the hosts are exhausted. Other than all of that over-analyzation of the holiday, we did have a good day. But tomorrow, we will happily eat at the kitchen table with ordinary dishes and no crystal. Funny, I bet the food will taste just as good, too. Picture is mine. As the ex's grandmother used to say about him, ''he has gone beyond his raising.'' she may have been correct.
10 responses

• Moses Lake, Washington
25 Nov
Each to their own? The last time I was at a large family and friends gathering I was a teenager. I was left with all the dishes and on that farm there was no dishwasher and barely any water pressure from the well. I kind of miss more ruckus going on in my house though the animals do their best to make up for it. I suppose some folks think I'm a bit stuffy when they come over and find I've hauled out the English and Bavarian china for a simple snack and chat. Especially in the winter, I crave the gold rimmed floral china.

•
25 Nov
Yes, each to their own is true. In the case of the ex, he was the vice president of a bank for years and years, in line to be the president. He can manage money for other people, but can't manage his own. He went bankrupt once before, but you can bet he went to the legal proceedings for it in a new car and a Prada suit. He isn't broke now, but he doesn't have much. He just spends it all. But it's his choice. I like nice things, But I do not want everything to be fancy all the time like he does.




• India
26 Nov
That pain and stress is fine I suppose that does not happen every day. No doubt it all depends on one's ability as not all have that kind of energy to have spreads that take hours or even days to prepare not to talk of the work that piles up after the event. Finally to each their own


• India
26 Nov
@MarieCoyle
More power to your Ex !!


•
26 Nov
The ex loves to entertain. The good stuff is used all the time.

•
26 Nov
@allknowing
The funny thing about it all is that he never, ever fails to complain about all the work it is to do all of that. He worries more about the setting than he doe about what food they are going to have. He didn't used to be as bad as he is now...it's all about how everything ''looks''...

• Roseburg, Oregon
25 Nov
After all the fancy dishes and glasses a great time was had by all. I am so glad you had a good time. We had two friends over and divided everything in half with them before they went home. A fun day for sure. We will have enough left overs for a few days.

•
25 Nov
Yes, we did all have a great visit and the food was wonderful. Everyone took food home. His mom, (I've always called her mom, too) got teary eyed and hugged me several times, saying yes, she would see me again soon, as frail as she is, I hope that happens. She is a lovely woman with a big heart.

• Walnut Creek, California
26 Nov


•
25 Nov
In all honesty, no I dont. He is the father of my children. We don't see each other that often, but we parented together for years. We share family.

• United Kingdom
25 Nov
That's a tricky question isn't it. If you have nice things, you may as well use them. My parents always saved the nice things for 'best', which basically meant they got used maybe once a year. And it does make the occasion seem extra special. The children will probably remember all the lovely settings too, giving the day that special touch! It's hard to reach a 'happy medium' between making the day special and giving yourselves too much work! Glad you all had a lovely time. I'm still friends with my ex-boyfriend's family. We split up in 1998.

•
25 Nov
We are simply friends and we parent our children together.

• Los Angeles, California
27 Nov
Definitely "normal" is different for everyone. Hubby's parents house used to get out the heirloom gold rimmed dishes and "real" silverware - along with the crystals and such that were usually displayed in their windowed hutch (oh and the fancy linens too). My family has always used to throwaways . . . clean up was a snap . . . food was great!

•
30 Nov
I never use throwaway plates or utensils unless it's a picnic. But homemade food tastes good no matter what it's served on.

• Switzerland
25 Nov
Beautiful table, I like to use nice things, particularly when I have guests. Of course it is a pain to have to wash everything manually as the crystal and the china do not do well in the washing machine. I put on a nice table for the two of us now when we have a celebration. As we have those things, why not to use them?


• Switzerland
26 Nov
@MarieCoyle
- Holidays are no more a pleasure when you have to spend all your day in the kitchen. Before the meal to cook and after the meal to clean. I do not want that stress anymore.

•
25 Nov
They were so stressed out and exhausted from working too much.




• Walnut Creek, California
26 Nov
@MarieCoyle
I find any collaborative activity to be fun and satisfying.


•
30 Nov
It was like out of a magazine. Incredible. The flowers were absolutely breathtaking.