Slowly But Surely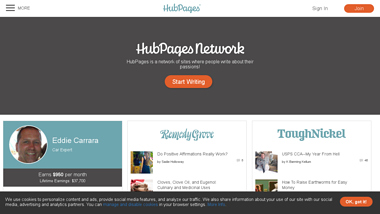 United States
January 23, 2023 8:38am CST
I enjoy writing longer pieces, and while sometimes I do write longer pieces here (to the chagrin of some I would suspect), this site is still not suitable to the kind of writing that I really enjoy doing. Read.cash is a place I have ventured into a bit for some of that. But even though it is a writing site, it's not a writing site. The thing is, I don't write for interactions. I don't write to be forced to interact. I write because there is something I want to write about that I write geared to people who want to actually read something. Enter, HubPages. It's a place I used to write on more but left due to a variety of things happening there that I did not like. One of them was that the site had no organic presence that was worthwhile. If I did not go to your page and someone else's page, no one would bother to come to mine. And did anyone really read what was written? Did anyone actually care about the content? That's not writing to an audience of active readers. That's writing just to gain a form of simple reciprocation. When it's like that, I think, "Why bother?" You could just type a series of letters onto a page and that would be enough to get someone coming in so long as you interacted. I prefer real people interested in real reading reading what I write because they enjoy my content and my style of writing, and are truly interested in the topic. HubPages has mostly turned comments off, and are more selective in what gets "featured," so content on the site is more meaningful and more "regulated." Which gives the site a higher level of credibility among people who find things to read there. And there are numerous sister sites as well—this just makes the traffic there more genuine and real. And frankly, more profitable. Because when you can spend more time focusing on the content rather than the interaction, everything you do is for more purpose and done better. It is more meaningful, and therefore, more rewarding. So, I have been there a bit more, seeing some results that interests me, and as such, slowly but surely am working my way back to spending much more time plying my wares there and enjoying real people coming by to see what I have to say. Sidebar: This commentary is not regarding myLot, which is also not technically, in my opinion, a writing site. I consider myLot similar to Twitter and Facebook. It is a social media site, and therefore interaction IS the point, but is also not dependent upon reciprocation. Here we interact because we generally appreciate each other's company.
Sign up for the HubPages Network to discover, create and connect with topics you're passionate about.
10 responses

• Staten Island, New York
23 Jan
I haven't written anything new for HubPages in a long time. And a lot of my stuff has been unfeatured due to low traffic from search engines.

That baffles me. If a hub is unfeatured it doesn't appear in search engine results, so how is it supposed to get search engine traffic?

• United States
23 Jan
I think an unfeatured post will still show up in search results, but I am not sure about that. But it does get less attention on the site itself being front and center. From what I understand, if you edit the article it goes back through the review process and has an opportunity to be featured again. Perhaps that's a course to take? You can also try to share them somehow in order to boost traffic.

• Staten Island, New York
24 Jan
@porwest
That's true. If you edit a hub it will go back to being featured. Most likely anyway.

• Cagayan De Oro, Philippines
23 Jan
I think a few here write for bub pages too. What is your genre. Any favorite topic that you want to write? A friend of mine who used to be here now enjoys writing at wordpres


• Wheat Ridge, Colorado
23 Jan
I will stick with this site. Glad you have others that you like Jim.


• Staten Island, New York
24 Jan
@porwest
I wonder if people can still comment on stuff published there. I've not received comments in a long time.

• United States
24 Jan
@lovebuglena
I think they mostly shut comments off. I actually like it better that way. Readers can still contact authors via email and many often do. I'd rather have the email than the comments.


• Philippines
23 Jan
I also write in HubPages and write whatever topic I want.

• Philippines
24 Jan
@porwest
Some people suggest following a niche but I can't help but write different articles. I followed your profile.


• Gainesville, Florida
24 Jan
I've never tried HubPages. I actually enjoy writing, but unfortunately my busy schedule does not allow me to spend the necessary time to write longer pieces. Hell, I struggle to find time to write short discussions here on myLot, and then also interact. So for now, myLot is about as much as I can handle.


• Gainesville, Florida
26 Jan
@porwest
If you like to write (and clearly you do), it does seem like a good site to be on, even if you have to follow lots of rules.

• United States
26 Jan
It does take more time, that's for sure. And the only complaint I have with HubPages is the way they make you structure an article, which makes it actually take longer to do—and I tend to want to have a bit more control over the way my content is laid out. But I enjoy writing and almost feel a NEED to write, and so having a place to share it and even make a little money from it is a plus.


• Green Bay, Wisconsin
23 Jan
I have an account with HubPages, or I did at one time. I tried to find out how a person got paid and couldn't find anything on it, so I never wrote anything for the site.


• Green Bay, Wisconsin
24 Jan

• Staten Island, New York
24 Jan
@just4him
at one point when I had more traffic to my hubs I'd get there in a few months. Now takes a long time.

• Staten Island, New York
24 Jan
You get paid through PayPal when you reach $50 in earnings.


• United States
24 Jan
I haven't written for HubPages in years as you know. You talked about sister sites? Care to share?


• United States
27 Jan
@LindaOHio
I also have not heard of any of these sites. /

• United States
27 Jan
@porwest
Thanks. I've never heard of any of those.



• United States
27 Jan
How do you get paid on Hub Pages? I was interested in writing on Medium and Vocal but they use Stripe for payment. I did some research on Stripe and I don't really want to use it, just my feeling. Don't writing sites get paid by Paypal anymore? Are there other methods that I most likely don't know about?

• United States
27 Jan
I did not get into Hub Pages much. I got messages that I broke the terms of service. I don't know how I could do that when I was not on it. There were also some rules that I did not understand. I wonder if I should take a new look at it as this happened maybe five years or so ago.