I'm a Student of Philosophy at age 60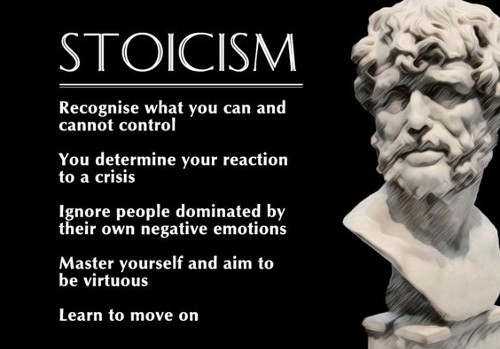 United States
January 24, 2023 7:37pm CST
I've always believed that one is never too old to grow, change and learn. I'll be 60 next month. I've always loved learning new information on all kinds of topics. I can be a silly goofball, but really, I am a deep thinker too. I've been a student of Christianity and the Bible much of my life. Last year I was exploring The Secret and manifesting. My latest interest is the ancient teachings of Stoicism. It's very basic yet fascinating to me. I can learn about spiritual and other topics without necessarily embracing everything I read or hear. My goal is to be very open-minded, but not foolish or gullible. I want to do more than just learn. I want to apply positive beliefs and practices to my everyday life! How about you? Have you ever taken a Philosophy class? I'm interested in your experiences with religious, spiritual and other beliefs. Deep stuff, huh?



photo is from toughnickel.com
10 responses

• Wheat Ridge, Colorado
25 Jan
I have not taken anything like that. I am proud of you for learning too. My 8 years in Catholic school with the nuns and priests was enough grounding for me. I was at peace and learned the spiritual side of things. I feel fortunate that I had that time, as after those years, my life was ruined.

• Chile
25 Jan
I´m sorry that your life was not good.


• Wheat Ridge, Colorado
25 Jan
@marguicha
Well thank you Marguicha. Still, I live



• United States
25 Jan
Thanks for sharing
@RebeccasFarm
. I am so sorry about your difficult life,



• United States
25 Jan
Hi
@Adie04
. Thanks for your comments. Oh that person is judgmental and rude! The way you spend your time is your business! Being a student is a good thing at any age.

• Chile
25 Jan
@BloggerDi
I agree with you. That person WAS rude.

•
28 Jan
I agree with both of you
@marguicha
and
@BloggerDi
. I mean, it is very wrong to study at the age of 30 plus? I don't think so. I even heard that a grandmother goes back to elementary or secondary school to learn. Yeah, I also believe that person is judgemental and rude. It seems my luck to still be able to study at my current age though. Some people who are at my similar age already married, have kids and became full time housewives and complaining all over social media about their fate. And some acquaintances at my similar age already passed....




•
28 Jan
@BloggerDi
When I was in university, I took a course in Philosophy and was fascinated and spent a lot of time in the library reading a number of books on philosophy. Are you aware that the Stoics are mentioned in the Bible?

• United States
30 Jan
@kanuck1
Thank you! No I wasn't aware of that. I'll have to look into it. Fascinating.

• United States
25 Jan
Well said
@kanuck1
! Thank you.





• Switzerland
25 Jan
@BloggerDi
- I have many books and I watch often YouTube videos.

• United States
25 Jan
Thanks
@LadyDuck
. My main source of education these days is YouTube and Ted Talks online.


• Hong Kong
25 Jan
I have taken a course on Philosophy when I was studying in university. That is thought provoking.

• United States
25 Jan
Thank you
@Beestring
. I am just looking into the basics of some different philosophies. The deeper teachings can get confusing!

• Hong Kong
25 Jan
@BloggerDi
Yeah, the course I took in university was also an introductory course.

• Zagreb, Croatia (Hrvatska)
26 Jan
i remember some from the high school but it was too boring, just like the teacher. pardon me


• United States
26 Jan
Hahaaa!

Thanks
@coldplay8
. I would have thought it boring when I was in high school too.

• Zagreb, Croatia (Hrvatska)
29 Jan
@BloggerDi
but now, i would appreciate some wisdom. continue doing your thing



• Chile
25 Jan
Congratulations! I have been learnig all my life too although latery I only learn following small courses or going to conferences.


• Chile
25 Jan

• United States
25 Jan
I've gone to conferences in the past too. There are many good courses online now also. Thank you for your comment!
@marguicha


• Roseburg, Oregon
25 Jan
You are never to old to learn new things.

• United States
25 Jan
I think most people feel as we do
@jstory07
. Thank you. It's easier now than ever thanks to the internet.


• Eugene, Oregon
30 Jan
As an English major in university, I did not take a philosophy class, but learned quite a bit in reading different authors. It is quite interesting.

• Rockingham, Australia
25 Jan
I think you can learn about all sorts of deep topics without necessarily taking them on all board. Good luck with your studies.