Starting off the week with a positive note.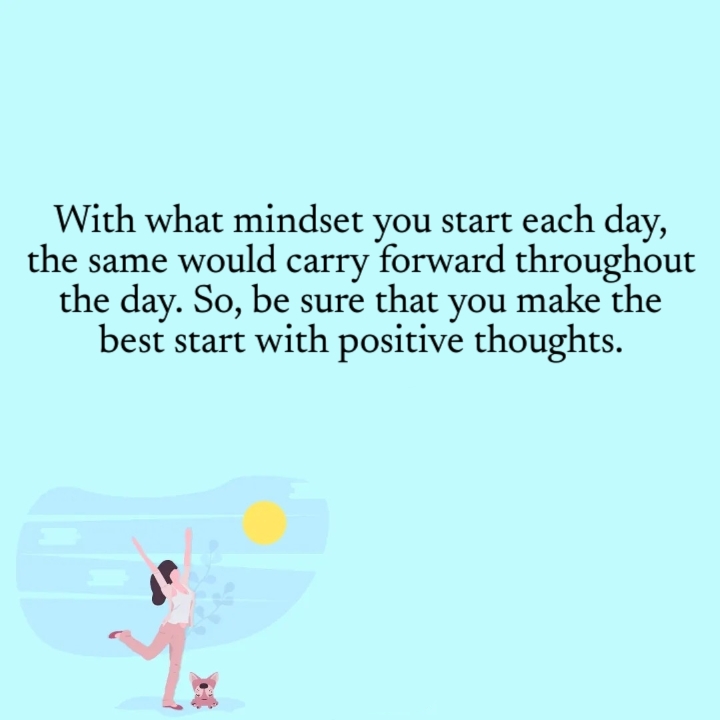 India
February 27, 2023 12:03am CST
Life is a wonderful journey & throughout the same, we do learn loads of lessons. We do gain a lot of experience in each stage, which moulds us into better person & prepare us to face the next phase of life with a little more confidence. We also go through a series of emotions & that's most crucial. Everyone prefers to be happy, but it's not as easy as it sounds. True right? If we try we can; but to know the importance & value of happiness, it's indeed vital to go through the other emotions as well. Emotions are like the six different flavours, though we always prefer the sweet one, we cannot resist the other flavours, as each one has its own purpose to serve. Having said that keep happiness & peace as a top priority & apart from that whatever comes, prepare yourself to face it optimistically. It's all about mindset. If you think you can, you definitely can. Keep things as simple as possible & enjoy your life. Be happy & stay blessed.

Have a happy & productive week ahead. Have a wonderful day too. Thank you.

The quote I have shared is mine. :)
9 responses

• United Kingdom
27 Feb
Thank you for the motivation! I am a bit lazy to come back to work tomorrow due to salary problems so I really needed to read this.


• United Kingdom
28 Feb

• India
28 Feb
Thanks a lot,
@yoghurtGal
. I'm glad that my words were of little helpful/ motivating.

Have a nice day


• Cuddalore, India
28 Feb
Hope your salary issues will be cleared soon.



• India
1 Mar
Quite positive and encouraging thoughts! At times, we need such thoughts in the busy lanes of our lives! Have a nice Wednesday and March !

• Cuddalore, India
27 Feb
Not a good start for me. Went to post office for Pan & Aadhar card update as per the new governmental order. Unfortunately the server has got issues and we couldn't complete the task either. I went with my father and mother to the post office and return home without completing the process.

• India
28 Feb
I'm so sorry to know about the server issues. It happens sometimes. We would plan to complete some work, but things would be in such a way that it makes us a little disappointed. Don't worry, those works will be accomplished. Have a great day

• India
28 Feb
@Lignitecityabishek96
hopefully, you will. All the best.


• Cuddalore, India
28 Feb
@Teekaaa
Hope it won't happen today. I need to complete this quickly.



•
28 Feb
What a nice and positive post this is. We do learn as we go through life. Sometimes, we find we have to work harder to be happy, as we have to accept what we cannot change and enjoy the things and the people that we love. My glass is always half full, so I truly did appreciate your post. Good job.

•
28 Feb
@Teekaaa
Good or bad, we cannot ever change what's already happened-we can only move forward. I choose to be positive, I see you choose that, as well. Sure, everyone gets down at times. Some do not seem to ever want to be positive, which is rather sad. There is already enough sad stuff out there. Even if we just pick one thing to be happy about each day, it's something.


• India
28 Feb
@MarieCoyle
My thoughts exactly.

Whatever you have said is just right. I like your positive way of approach. We have to see just the present & live each moment to the fullest. And, yes, we are blessed in so many ways & we must be grateful for all that we already possess.



• India
28 Feb
Nice piece of advice. Staying positive makes one face challenges with a smile.


• Kenya
1 Mar
I'm very positive about this new month. Have a great day ahead