Oh No! We Did it Again!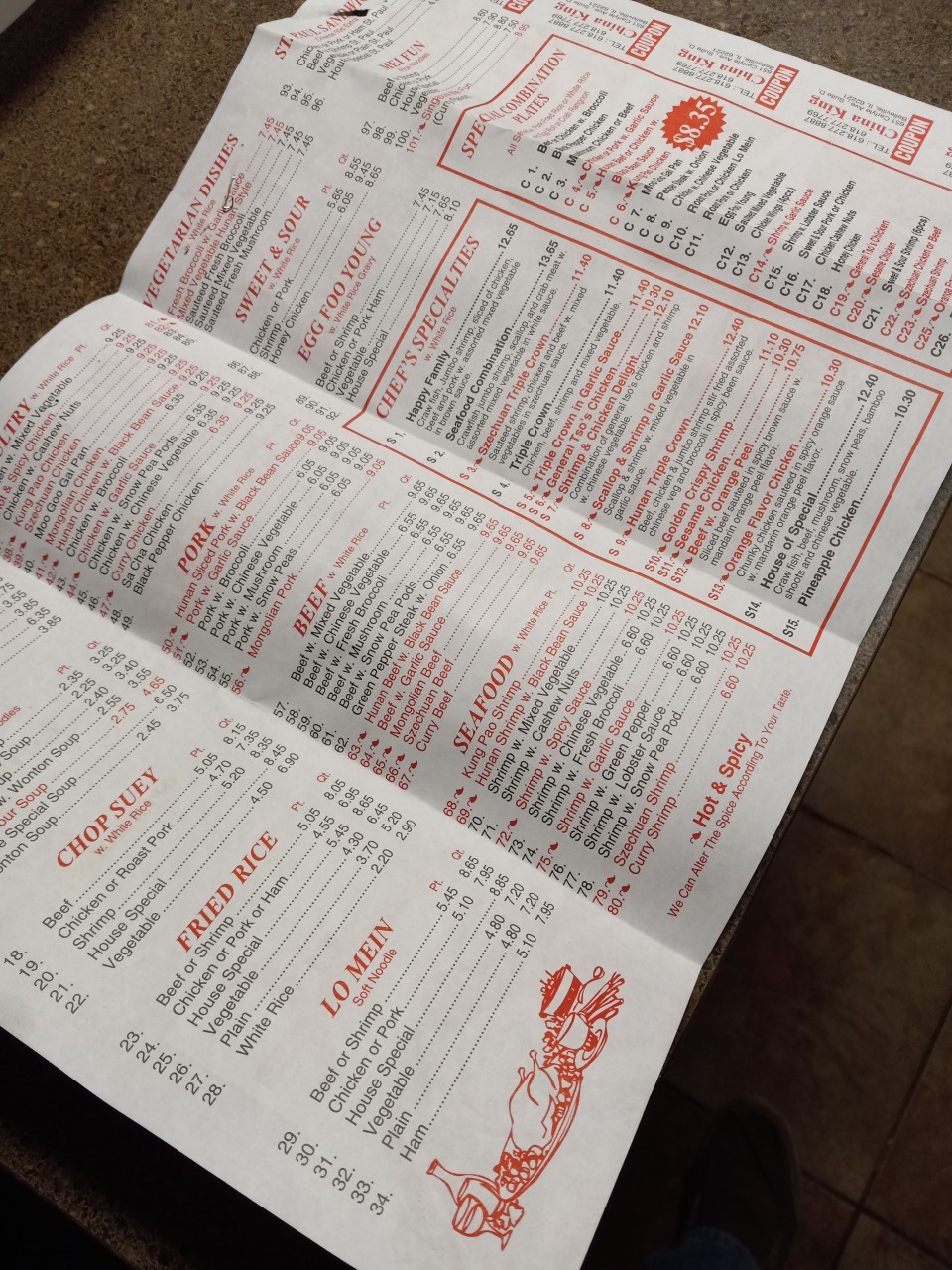 United States
November 17, 2023 6:43pm CST
Chinese food. I am just a sucker for it. But to be fair it has been quite a while since our last order. In fact, a couple of months, since I decided to retire. It was not because I retired. It was just that we were taking some cost conserving measures due to inflation. Save where you can. But tonight, we decided we were ready to place an order, and place an order we did. We went nuts as we usually do. Nothing new there. We will have plenty leftover as we usually do. Ordered: Fried wonton (10 pieces) 2 orders of spring rolls (4 pieces) 1 quart of shrimp Lo Mein An order of chicken Mei Fun 1 combination platter of beef with broccoli with pork fried rice and an egg roll. 1 combination platter of orange chicken with pork fried rice and an egg roll. We also got an order of 8 crab Rangoon free with a coupon. All said our order was a little over $57, but with tip and delivery it will be $71. We got most of our Christmas stuff done today, which I will post about tomorrow. And this dinner should be the bomb dot com from our favorite Chinese restaurant in the area, China King. What's going on your dinner table tonight?
10 responses

• Los Angeles, California
18 Nov
Those menu prices - sheesh! Here those items would be a few more dollars than that. We make our version of Chinese at home, but yah, nothing beats restaurant Chinese - sooooo good, right? I think we'll just do a simple lasagna tonight - with salad!

• United States
18 Nov
@porwest
I agree with both of those. I did not get all the details about your retiring. . . are you old enough to do that?

• United States
18 Nov
@GardenGerty
Without it sounding like bragging. I am 50 and well off enough to do that. lol


• United States
18 Nov
Oh my, that all sounds so yummy. For dinner today I made crab alfredo. Cooking for the four of us for an early Thanksgiving tomorrow.

• United States
18 Nov
Crab alfredo sounds delicious, and I have not made that in a while. On my list. Happy early Thanksgiving. We will be having ours on the actual day this year, which is almost a first. lol. Usually my sister, who hosts, has to work or something.




• Roseburg, Oregon
18 Nov
What you had sounds really good.. We had orange chicken with rice and French bread. It was really good.


• Roseburg, Oregon
18 Nov
@porwest
I make it my self. It was really good.

• United States
18 Nov
Yum. Orange chicken. My favorite. I had a PB&J sandwich. Have a great weekend.


• United States
18 Nov
@porwest
We ordered pot stickers the last couple of times. Those are good too.

• United States
18 Nov
@LindaOHio
Yeah, I actually do like pot stickers. Especially pork ones. Haven't had any of those in quite a while.

• United States
18 Nov
My wife will usually alternate between orange chicken and General Tso's, but I swear the last few orders she's taken the orange chicken. Shrimp Lo Mein and beef with broccoli or beef pepper steak are my favorites, and of course I always enjoy the fried rice too. Oh, and the crab Rangoons, and I really like the... Okay...I like it all. lol


• Hong Kong
18 Nov
All food you ordered are delicious. I'll have steamed chicken with mushroom rice for dinner.

• United States
20 Nov
@Beestring
I LOVE shiitake mushrooms. Hardly ever get them. But when I do? Around here they're just not much used. But they are delicious.

• Hong Kong
19 Nov
@porwest
It's a popular local dish. We use shiitake mushrooms.


• United States
18 Nov
Tonight it is feed ourselves sandwiches. I have stuff I want out of the fridge.

• India
18 Nov
Your dinner from bomb.com does seem like a bomb. I do not think you should mind if this is not a daily affair. I have always like Chinese dishes.

• Gainesville, Florida
18 Nov
I grilled chicken wings and tossed them in a delectable teriyaki sauce, plus baked beans and corn on the cob, with Red Lobster cheddar biscuits as well. Tonight I will be having barbecue baby back ribs, courtesy of a co-worker who has been promising me for a week that she would cook some for me.

• Rockingham, Australia
18 Nov
You've made me hungry now for Chinese.