Is Jesus Christ has a long hair?

Philippines
10 responses

• Thailand
13 Aug 07
At the time that Jesus is said to have lived Jewish men wore their hair short. The picture of a long haired, blue eyed fair skinned Jesus comes to us from Resonance pictures of him that pictured him as an northern Itialian.

• Kottayam, India
13 Aug 07
What bible says is to counted all other things are mere imaginations,he is a Jew since he born of Mary, a Jew.


• Philippines
13 Aug 07
Hi patgalca. There's already available tools for shaving even before Jesus sent to earth in his flesh. That's the time of Samson, when Delilah made Samson sleep upon her knees and she called for a man, and she caused him to shaved off the seven locks of his head; Judge 16:19


• Philippines
13 Aug 07
Hi Pose123. You know the Bible speaks of wisdom. The Apostles are sent by Jesus Christ to preach the gospel. In Mat. 28:20, Jesus spake unto them to teach all nations, teaching them to osbserve all things whatsoever Jesus Christ have commanded unto them.. And Saint Paul is one of the Apostle of Jesus Christ. In 1 Cor. 11:14 says; " Doth not even nature itself teach you, that, if man have long hair it is a shame unto him?" So Saint Paul - sent by Jesus Christ, teaches the church at Corinth that it is shameful unto man to have long hair. It only shows that Jesus Christ don't have long hair because He is the head of the church; Col. 1:18

• United States
13 Aug 07
It is impossible to answer yes or no to whether he had long hair. The only things we "know" about him are what have been passed down through generations. The bible itself was copied by hand many times over and those with the pens took liberties here and there and a lot of personal politics came into play. Did he have long hair? That doesn't seem to be a very important question when you stop and ask .. was he really the son of god?

• Philippines
13 Aug 07
Hi. Nice to hear you. Bible is a complete book like what is says in Isaiah 34:16;"Seek ye out the book of the Lord, and read: no one of these shall fail, none shall want her mate: for my mouth it hath commanded, and his spirit it hath gathered them."You may be right that because of some transcribers or machurettes have transcribes with their own interpretation and explanation that lead to be misguiding. But I believed in the original context of the Bible because the bible states something before it even happens as what is written in the book of Isaiah 42:9. Consider this statement made some three thousand years ago in the book of Daniel 12:4; " But thou, O Daniel, shut up the words, and seal the book, even to the time of the end: many shall run to and fro, and knowledge shall be increased." Tecnologies nowadays like cellular phones, computers, sattelites, transportaions and the like. This is just one of the many proofs ( knowledge increase) that the Bible is an authentic book. Also, when an arecheologist discovered a silver denary bearing the head of Tiberius Caesar, it was found out that the coin was put in circulation about 15 A.D. This is consistent with Tiberius period of rule as emperor, which began in 14 A.D. and it brings added support to the record stating that John the Baptist's ministry commenced in the 15th year of Tiberius or 29 A.D. We can read this in the writings of Luke in 3:1-2

• United States
13 Aug 07
I would like to think that He had long hair, but if He didn't it wouldn't change what happened or His message.

• Philippines
13 Aug 07
Hi sarahruthbeth22. You may be right, but this will lead you in wrong faith. Didn't you know that if a woman have long hair, it is a glory to her? Thas is in the writings of Paul to the Corinth, 1 Cor. 11:15. So in like manner, if you don't know about the teaching of Christ like having a long hair, then you are transgressing.

• United States
13 Aug 07
I guess I can kind of understand why you want to know. But he could have one purple hair on his head I would love him the same.

• Kottayam, India
13 Aug 07
His blood not hair is is question, do you believe in His teaching and not on the part of the body; Please believe on His vicarious sacrifice and be saved all other things are not valuable.

• Philippines
15 Aug 07
Yes I believed in His teachings, that is why we follow Christian's doctrines from head to foot. And this is part of His teachings 1 Cor. 11:14. Jesus said if you believe and keep my commandments you are truly my disciple. So not only believing but we have to keep His commandments

• Thailand
13 Aug 07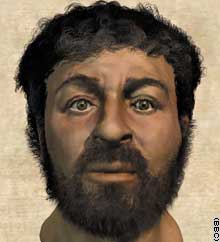 I have looked a little farther into this. Paul said; "If a man has long hair, it is a disgrace to him." I doubt very much that Paul would have said this if Jesus had long hair. The picture is a best guess of how Jesus would have looked.

• Canada
13 Aug 07
I do not think so, because he would have looked like any Israelite at that time, but being descended from David from his mother's side, he might have also had a ruddy complexion, but he definitely looked Jewish because of what was said about the people in Nazareth not believing HE was a prophet because he looked like an ordinary man. At that time, the Jewish people were shorter than now, and he would look like them. I know that the Roman men had short hair, but I do not know about the people in Palestine and Judea.

• Singapore
15 Aug 07
I personally visually viewed him through pictures as having long hair and i feel he does have long hair, but artist and historians can be wrong about it, unless they have witness how jesus looked like the the past. How you believe in jesus look is the same as how you see him as your faith and religion.