Why don't some people ever smile in photos?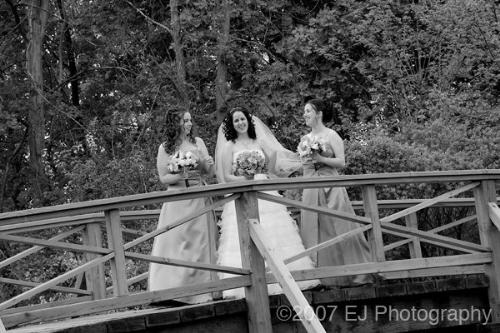 United States
December 23, 2007 11:40pm CST
As I was browing my friends recent photos, I noticed more and more that some of them never smiled in any of the pics. They post these as their pics, but don't smile at all. I can understand how a serious photo can be nice, but why do some people serious seem to refuse to smile in a picture? My favorite pictures of my friends and family are when everyone looks so happy and smily :) I wouldn't purposely not smile in a picture and even at my wedding I had a hard time with the serious pics. Sidetrack - at my sister's wedding, her photographer was trying to get me and her to take a serious photo. He wanted her to lean her head in real close to mine and both of us to just stare with no smile. We kept laughing b/c it was so silly and we didn't get why he wanted us to pose this way. Finally he just said we could smile and we did a close lipped kind of smile (compromise) but for me it's hard NOT to smile in a photo. Anyway, if you are one of those ppl that doesn't smile ever in photos, please tell me why? If you are with me and love your smiling photos, please share :) In the end, if you are flipping through your photo album, would you rather people see you as happy and having a good time... or as serious and not smiling?
10 responses

• United States
27 Dec 07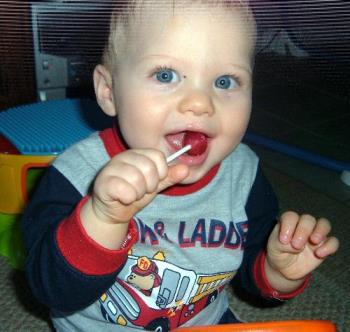 I would rather see smiles too in photos. It shows happiness and the subjects having fun. Sure, there are times for serious photos too and they are nice for every now and then but for the everyday norm--I would choose a smile over serious. Here's a picture to share with you of my grandson having his first lolipop!

• United States
24 Dec 07
I know a woman who refuses to smile in pictures because her nickname was "Snaggletooth" in school. She got her teeth corrected but having been picked on for her teeth all those years has just stuck with her. I always smile in my pictures. I have even learned how to make fake smiles reach my eyes. And really there are just some people who look terrible when they smile, like Julia Roberts for example. I look at it this way...if I'm flipping through my photo album and I see a woman who could be Mr. Ed's face double because she smiled then I think I could deal with a serious face instead.

• United States
27 Dec 07
I can see how someone who was insecure would have a hard time, but some of the people I'm thinking of have normal teeth. I think it's more of an image thing "i can't be caught with a smile!" I do think that even if a person has issues, they still look better smiling either with full teeth or a close-lipped smile then they do with no smile at all. My husband's license photo looks like he was arrested! He usually smiles, but didn't in that photo.

• United States
24 Dec 07
I don't know about others, but I know that if I know someone is taking I picture I get nervous. I will try to smile, but it ends up looking fake. The best pictures of me are usually ones people take when I don't realize they are taking them.


• United States
25 Dec 07
My facial emotions are always a frown. I rarely smile in photos, so my friends will attempt to make jokes since they help me smile, if they're funny of course. I don't know why I don't smile in pictures, probably because it takes a lot of effort to me to do a fake smile.

• United States
25 Dec 07
They don't like their teeth? or smile? I like giving big old cheesey smiles. But then I started giving lame half smiles until a few years ago. I got caps put on my pointy teeth and was all about smiling again! But if I can't do a big cheesey grin than I'd rather just not smile at all!

• Cebu City, Philippines
24 Dec 07
Its nice to look at smiling pictures than to see sad faces. I dont like to see the burial picture of my father coz it was a picture of sadness. We were all crying and our eyes were sore and we look awful. In pictures speically on special eents I try to smile at my best so that the result would be lovely. There are some that are not that smiling and truly its not a sight to see. Have a nice day and merry christmas.

• Philippines
24 Dec 07
i'm one of those people who don't smile in photos. why? because when i smile... i look uglier .. my chubby cheeks are being emphasized... i look better not smiling at all

• United States
24 Dec 07
I personally don't like the way my pictures look when I smile! I think it's my lips that I don't like because it certainly isn't my teeth. Everyone has something they don't like about themselves and for some it could have to do with a facial feature and smiling might not make them look the greatest in pictures. I don't think serious pictures look so bad.