What happened to my favorite yogurt????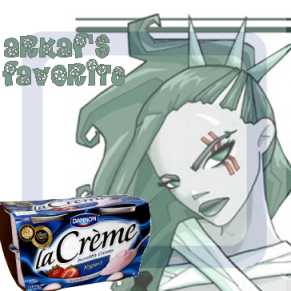 Canada
January 3, 2008 10:30pm CST
Yogurt is such a healthy choice, but I always had a problem with it. Not that I didn't like it, but I could only eat them after adding sugar. Lots of sugar! Something like " Do you want some more yogurt with your sugar" LOL So I gave up eating yogurt in favor of the drinkable kind like yop because I could drink that one straight without adding any sugar. Every once in a while I would try a new one. Often the ones I liked more had the huge problem of fruit at the bottom or mixed fruit which I don't like at all.The pieces of fruit in the yogurt alway feel and taste like limp ...I don't even know what LOL I Liked fruit yogurt but the ones without pieces of fruit just the taste. But still couldn't find one that I would eat without sugar. Some time ago, my daughter came home with a package of a new yogurt from dannon, called La creme. I tried and.... finally , I had found heaven :):) No need for sugar, wonderful taste and no fruit at the bottom or anywhere else. My favorite was the strawberry one. Oh it was great. I started taking it to work for lunch, and eating it at breakfast some times... life was beautiful :):): NO matter to what supermarket I went, I would always find my La creme and I was always stocked up. But for the last 2 or 3 months, I haven't been able to find it in any of the supermarkets I go to. There are lots of new ones, lots of the old ones, but no La creme. Is anyone else noticing this, or is it just my bad luck going to the supermarket when that one is out? And since we're talking about it, do you like yogurt? DO you think it's an healthy choice? Which one do you prefer? Do you like the ones with fruit?
9 responses

• United States
4 Jan 08
I like most kinds of yogurt and yes it is a good healthy thing to eat. What you may want to do is drop Dannon and e-mail and ask them where it is being sold in your area, explain your dilemma. I have never contacted Dannon but most places will tell you where you can purchase the item and often will ask if they can send you coupons for it in the mail. I get a lot of coupons and freebies this way.

• United States
15 Jan 08
I agree with Deb. Everytime we contact a manufacturer we are given free coupons, plus the infomation we wanted.

• India
5 Jan 08
I like plain yogurt...sometimes with salt and sometimes with sugar. I usually make my own yogurt at home and I need it daily (so does my son). We have it with rice too....so I make lots of it. I haven't tried the one with fruits...and I don't buy them in the stores unless I run out of yogurt at home.

• Canada
5 Jan 08
OH wow, you make your own! I think I remember my mom making it too. Long time ago. It was good :) I never tried it with salt, quite an interesting idea. It's understandable that you don't buy it in the stores unless you're out. I'm sure the one you make is much better plus doesn't have the things that they add to them. What a great idea. How does one make yogurt anyways?


• United States
6 Jan 08
I used to like La Creme until I tasted Brown Cow's Cream Top Yogurt. That stuff is so good, and now Trader Joe's makes a knock off that is almost as good at half the price. I love yogurt, but I don't like it as sweet as the store brands so I mix it half with the unsweetened, or buy unsweetened to start with and stir in a bit of Agave Syrup. For some reason I think that tastes better in yogurt than honey or sugar. I have to carefully read the labels now though, because they have started sneaking that horrid Neotame into stuff. Recently I read down a label until I saw "sugar" listed and almost bought it thinking it would not have any artificial sweeteners. Something made me look again and sure enough it had sugar AND Aspartame both. I'm sorry but to me that is just nuts.

• Canada
8 Jan 08
Oh yes, everything seems to come with some sort of artificial sweetener now. We do have to be careful reading the labels. ALthough the idea of having both is something that escapes me. I don't remember seing Brown Cow's yogurt I wonder if they have it here.

• United States
9 Jan 08
I used to suffer from horrible migrains and an aqcuaintance told me to limit or cut out artificial sweeteners and see if that would help. You guessed it, migraines are gone. I now watch labels carefully and I use a teaspoon of sugar inmy coffee or tea instead of sweetener.

• United States
4 Jan 08
I remember seeing the yogurt at our grocery stores all the time. I am not sure if they still carry it or not. I love yogurt, but in the past couple of years anything milk based has upset my stomach so I rarely eat it now. I like Dannon the best, but not the whipped...yuck. Strawberry-banana, peach and Pina Colada are my favorite flavors. Oh, I also like French Vanilla by Stonyfield Farm. It is an organic yogurt.

• United States
11 Jan 08
I just came back to search for this discussion. I was at our military comissary yesterday and they sell the yogurt you are looking for. They have not stopped making it!

•
8 Jan 08
I only like fruit ones. I love strewberry or corners. They're the nicest ones for me, I wished I could have some more often but when we do kate and jake steal them all and by time I get home you know... they're gone.. wipes his eyes. ~Joey

• Canada
9 Jan 08
I like the fruits ones best too. Strawberry is my favorite. I know what you mean about having the rest of the family stealing them. I just bough a pack of the yop drinkable yogurt - it has 12 bottles - it was supposed to be for me to take to work. Well. Today is only tuesday and there's only 2 left. Katt and Andre had the most, but hubby had a few too LOL

• United States
15 Jan 08
I like Dannon all natural, vanilla or plain. Then I add my own stuff. I can taste the thickeners in the ones that are not the All Natural type. I think I still see LaCreme, but am not sure. At Walmart. It has a very stiff competition right now. I will have to admit, I like the Yoplait whipped yogurts, they might do for the La Creme. I especially like the chocolate ones. Yum. Honey is wonderful mixed in to plain yogurt.

• United States
24 Jan 08
I'm new to myLot but here goes... all this yogurt discussion is excellent! I agree with drannhh and others who read the labels carefully and avoid artificial sweeteners and other "bad stuff"! My favorite (my wife's too!) is Redwood Hill Farm PLAIN Goat Milk Yogurt. Some folks who have an intolerance to cow dairy products (including my wife) have no problems with goat yogurt. I like "plain" for the same reason others have commented: I can then make it any flavor and/or any sweetness I want it. My second favorite is Brown Cow (also plain) because I don't have a "cow product" intolerance.