Is fair to jail a 14 year old in prison for 7 years for a juvenile crime?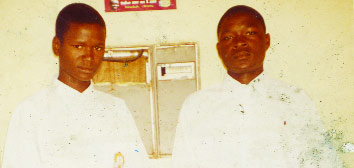 Uganda
January 15, 2008 7:42am CST
Kigenyi (left), punched Wakabi his best friend in the face to death. He was 14 years old and his friend was 15. He was jailed for 7 years in prison-he went straight to police and even in court he said he was guilty before the judge could start the trial. He still cries for his best friend and is full of guilt, now at 21 years and out of prisons. He killed his freind with one explosive blow because he had a rumour that his friend was in love with his girl friend. Is it fair to jail young people who commit juvenile crimes? .
4 responses

• United States
15 Jan 08
Yes, it is fair and necessary. When crimes such as this are treated with too much compassion it results in an increase of such acts of violence. Not sentencing this young man to prison would be a perfect example of the old saying," The road to hell is paved with good intentions.".

•
15 Jan 08
This is actually more difficult than i originally thought, i was going to striaght away say, yes yes yes! but then looking at it again...i do think he needed to be punished, after all even though he didn't mean to kill his friend, he did delibraly set out to commit a act of violence. I think each crime needs to be looked at idividually, just because he's a juvenile, doesn't mean he isn't accountable or capable of knowing what may result from his actions. Take the two 9 year old boys who killed Jamie Buldger, there is no one on this planet who could convince me that they didn't know what they were doing. Completly different crimes i know, but both had the same tragic outcome

• Uganda
15 Jan 08
Yeah the element of owning up to a crime is crucial-am glad he spent 7 yeas in prison!

• Canada
2 Feb 08
Yes I think that it is fair to put a child in jail for a crime that they commited because if they do the crime they should do the time and it also shows them that they cant get away with things just because of there age. If they get away with everything then what is stopping adults from paying a child to commit a crime for them since they wont get into any trouble.

• United States
16 Jan 08
That is awful. I thiunk that poor boy has learned his lesson by now. I think they should cut him a break somehow, but it still does not help the family that lost their son. I think counseling between both sides would be helpful.