Reflections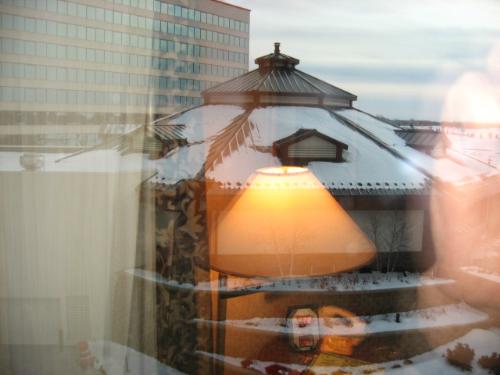 United States
January 22, 2008 4:02am CST
As the wife & I sat in our free hotel room at Mystic Lake Casino Sunday afternoon I was taking pictures of the outside sunshine etc. Now I was holding the camera against the glass most times. Once I didn't. Now this looks like a double exposure but it is just the reflection of the room in the window as I snapped the shot. I thinks it's awesome looking. So have you ever gotten a shot that appears a double exposure? Have you ever tried this type of shot intentionally? I tried a few more shots like this and none turned out this good looking. Thanks I just wanted to share this here. HAPPY POSTINGS FROM GRANDPA BOB !!~
10 responses

• United States
22 Jan 08
This picture is so cool - I've never done anything like this but now I want to run out and try it. I love taking photos but afraid I haven't taken it seriously enough to actually devote time to trying different things - I need to do that.

• United States
1 Feb 08
Well, you really got me going - nearly every day I've had my camera out trying to find some really cool shot it's just not happening oI I just don't have the eye you do. Oh well that's the great thing about digital - snap the shot and if it isn't any good just delete it and take more. We're getting fresh snow now so I'm hoping to get something from that - when I get around and get outside that is.

• China
22 Jan 08
Hello dear Grandpa Bob. I have enjoyed each of the photo that you have taken for us to share. You are really very good at taking photos. I also love to take photos to take some shots that attracts me. Happy responding to Grandpa Bob's discussion.

• United States
22 Jan 08
Thank you very much. I enjoy sharing them here as well. HAPPY POSTINGS FROM GRANDPA BOB !!~

• Singapore
22 Jan 08
that is an interestingn shot. i don't think it really appears as a double exposure since it's reflected from the sliding glass right? my friend did one of reflected rain drops. somehow his camera was able to capture the reflections of blocks of flats opposite in each individual rain drop on the window pane. it was very quirky and very beautiful. sometimes holding the camera against the glass without flash gives good pictures. i used to do that with my photos from the coach whilst on holiday. there was so much gorgeous scenary and the coach didn't always stop for us to snap away!

• United States
22 Jan 08
Yeah it is just the reflection of the room on the window. I got other shots from the smae area but at a different angle. it was the lamp shining that made it reflect like this. Thanks again. HAPPY POSTINGS FROM GRANDPA BOB !!~

• Australia
23 Jan 08
This is an unusual & effective shot. I don t usually get accidental photos like that. Any accidental photos I take usually turn out silly. I used to take good scenery photos.

• United States
22 Jan 08
That's a pretty neat looking picture. I don't think I've ever taken any pictures like that before that I can remember.

• Canada
22 Jan 08
Hi Grandpa Bob, This is a very interesting photo. I'm not much of a photographer myself, but my daughter loves it. She's going to be taking photography for the second year in a row, starting next week.


• United States
22 Jan 08
Thanks for sharing yet another unique picture that you have taken. I bet you are glad that it is a digital camera, so you can take as many shots of something until you can achieve the shot you like, without costing bundles to have them developed, and also know what you have as soon as you shoot it as opposed to waiting...


• Philippines
22 Jan 08
Hi GRANDPA BOB! Oh, I haven't tried that type of shot before and I think if I will, it will not look that good. haha.. I like how your shot turned out. I do agree that it is awesome looking. You really have the talent my friend! take care and have a nice day! :)