Do you remember Smokey Robertson?

United States
January 25, 2008 12:45pm CST
He was from Motown, It was Smokey robinson and the Miracles, I seen him on TV. today he isn't very active these days, but he is suppose to be in some program on TV, with a lot of other stars. This week-end be sure to watch it. It's going to be good.
6 responses


• United States
26 Jan 08
I remember smokey Robinson too. What television program will he be on? I only get basic channels is why I ask.

• United States
26 Jan 08
check out what #2 saids they tell you when the show comes on.

• United States
25 Jan 08
I remember Smokey Robinson, he sure wrote some good songs! His songs are now classic motown. I think it was pre-1965 his group was just called the miracles, then they switched it to Smokey Robinson and the Miracles. How could I ever forget 'tracks of my tears', 'Tears of a clown', 'You better shop around', or 'you really got a hold on me?' They had some awesome hits that are still good to this day! (Can you tell I still listen to oldies stations? hehehe) Haven't heard about the program on him, I'll have to check around and see what channel it's on this weekend. Thanks for the heads up on it:-)

• United States
26 Jan 08
He is not Active right now but he still sounds good.

• New York, New York
25 Jan 08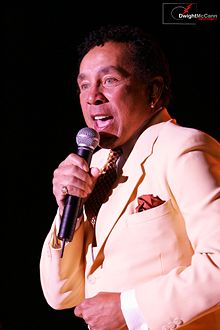 An Evening of Stars: Tribute to Smokey Robinson January 27, 2008 on WWOR channel 9 at 6:00 PM and also showing on January 27, 2008 channel BET at 10:00 PM. It's a tribute to him and he deserves it for all his great work. I am looking forward to this special.

• Canada
27 Jan 08
I am old enough to remember him. I did not listen to him much as I was mostly into country music at that time. Not going to watch him though because I will still be busy myLotting. I will be at church tomorrow and will take it easy though. Usually I watch a lot of TCM. I am into those old movies and next month they will be showing the Oscars.

• United States
26 Jan 08
Oh yes, Smokey is one of my heroes! He had so many good songs, that really came from the Heart! Even though I've played country music for over thirty years with my band, I still did some of Smokey 's songs onstage! And even to Country Audiences!