If You Could Rewrite The Ending Of.....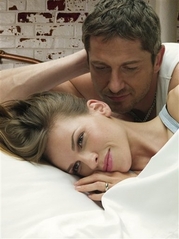 Australia
February 23, 2008 10:18am CST
Any book, Movie, TV Series Finale of exc...Which ones would they be and how would they go? You can list up to 4 that you would change the endings to and no more... If I had a chance to rewrite and ending to the follwing, they would go something like this... P.S. I Love You - It would turn out that it was all a dream and Holy would wake up and Jerry would be alive and well. She would have greater appreciation for Jerry and for their lives together, than she had at the very beginning of the movie. Titanic - Jack would swim around and quickly find another floating object that would protect him from the cold ocean and he and Rose would be saved. They would run away together and live happily ever after. OR...their saviors would get there just in the nick of time and Jack would be nursed back to good health. He and Rose would then run away together and live happily ever after... A Walk To Remember - Landon would use his father's influence and get the best doctors for Jamie. She would be cured of her cancer and they would live happily ever after... The Notebook - They would find out that what Allie had was not Alzeihmers(hope I spelled that right) or senality but something else, which they would then cure. Allie and Noah would live a few more years, to enjoy their children and grandchildren (hey, a girl can dream right LOL...). What about you, what endings would you rewrite and how would you end them?
5 responses

• United States
24 Feb 08
I'll pick a tv series. Maybe the worst ending for a tv series was Quantum Leap, which ended with the words - "Doctor Sam Becket never went home." It was depressing and went against the entire premise of the show. Just for info, it was a show about a guy who built a time machine and was trapped in past, and "leaped" into other people and fixed their lives and he only wanted to leap back home. I would have ended it with the words, "Doctor Sam Beckett is still leaping" so that there would be room for a movie or something that had him making it back home. Or just ended it by showing his final leap being one where he made it back home.

• Australia
24 Feb 08
YES,I used to love that show!!! I have never seen the last one however. Yeah, that ending does suck. I definitely like your endings much better for sure. Especially the last one!

• United States
3 Mar 08
I love Quantum Leap!!! Sometimes I get lucky and they run a quantum leap marathon on the sci fi channel, lol.

• United States
23 Feb 08
I've only seen A Walk to Remember and Titanic off of your list but you obviously would rather have a happy ending :) I actually like the way A Walk to Remember ended b/c it showed how this girl could touch his life even for a short time and that it would affect him for ever. I can only think of one I would change: Take The Lead (Antonio Banderas) - This movie is about turning trouble making kids into ballroom dancers. It ends with them going to a big competition and showing what they can do - yet then it JUST ENDS! They don't announce whether or not they won the contest, and they hardly show them actually dancing. The whole movie is about them mixing hip hop and ballroom, yet when it came to the biggest dance off of the movie, you hardly saw any dancing.

• Australia
23 Feb 08
I have never seen this movie but it does look like a good one. I will have to check it out...

• Canada
24 Feb 08
I'm not sure if you were a solid watcher of The Sopranos but when they ended the last season, I was very disappointed. They didn't kill off Tony which to my suprise I thought they were going to. Not that I would like that but it left too many questions hanging up in the air. One of my questions were are they going to continue this series? I hope so!

• Australia
24 Feb 08
No, I have never seen this but I know it was a pretty popular show....

•
23 Feb 08
Die Hard three - the current ending is so bad, caught because of some migraine tablets. I have always thought a better ending would actually be for them to get away with it - though I know that they can't from a moral point of view

• Australia
23 Feb 08
I have never seen Die Hard, Sadly, but my husband has. I will have to ask him his opinion on this one...

• United States
23 Feb 08
the one movie i couldn't stand to watch the end, I couldn't change without rewriting the entire star wars trilogy, lol... In the last "new" star wars movie, It was terrible watching anakin become darth vader...i kept wanting to yell no, no, don't do it...don't do it!!!

• Australia
23 Feb 08
Man, that is a great one! Yes, I would definitely rewrite that one...Excellent choice!!!