Dedicated cat room

March 11, 2008 5:08am CST
I was thinking of creating a dedicated cat room. Somewhere that they could go to that was arranged just for them. At the moment I have the following ideas. Floor covered wall to wall with short pile carpet (OK for scratching on) Walls also covered with short pile carpet up to about 3 feet from the floor, again OK for scratching on. Cat tree in each corner giving access to wall runways and cross room runways which in turn give access to padded platforms for sleeping or just looking out of the window. Each platform would have at least two runways giving access so that a cat could not get trapped on one by another cat. Food and water dispensers in different places and also litter trays situated so that cats can use them without feeling threatened. The floor would be clear of all obstructions so that cats can play and bat balls about without loosing them behind/under furniture. anybody got any other other ideas?
11 responses

• United States
12 Mar 08
I would go with floor to ceiling short pile carpet but just one wall so they can climb all the way to the ceiling. I saw that on a show on Animal Planet and the cats seemed to love running and jumping 3-4' b4 flying up the wall. I do have a cat room that is Tigger's room. It came about when I aquired him as a feral kitten just under a year ago. He stayed in this room for a few months while I worked on taming him. He has since considered this room as his and loves to come in here to nap and eat to this day. I actually had to get his permission to move my computer into his room. I made the mistake once already by letting my niece occupy his room for a few months. He retaliated by peeing all over her stuff and literally destroyed her pillows/blankets with his claws. I didn't ask him if it was ok to move a complete stranger into his room. lol So now I'm slowly decorating this room to his fancy. He allows his pal to eat/sleep/play in here so this is where they get fed and one of their litterboxes is placed. I've been keeping an eye out for carpet that ppl throw away to salvage into cat furniture that I will be making for them. Yes, I make my own cat furniture cause then I know it can stand up to their beatings and I really mean beatings. They play really hard. I'm also going to dedicate the wall the window is on for floor-ceiling carpet and create runways all the way around the room about a foot from the ceiling with wall steps leading up to it. I've got several of the ideas from various shows on Animal Planet. Just use your imagination really. :-)

•
12 Mar 08
Pretty good.

I was thinking of a runway close to ceiling height with access in at least two places and maybe one or two cross room runways as well. Making scratching posts and stuff is pretty easy, I'm planning on making two or three as soon as I can get hold of the materials - I'll use scrap timber and carpet offcuts. The size of the timber does not matter, I can always cut/laminate pieces to get the size of post that I want,


• United States
11 Mar 08
Great idea jw. We did that for our cats a while back. We started with a room that had indoor/outdoor carpet. Trust me. You don't want carpet. While it's good for doors, door facing and even the walls, carpet on the floor will end up holding on to odors you won't want lingering through the house. Even if the cats are super clean and/or you bath them every week, they still have odors and that odor will permiate the carpet. Not to mention the little mishaps every now and again. A solid floor is really the best with a few rugs here and there with rubber backing. Even if you have to 'glue' a couple to the floor for playtime. The glue will come up when you are ready to replace the small area, rather than having to clean the entire floor. My husband even built little 'ladders' and shelves covered with carpet for them to climb on that meander through the room, up the wall and along the top of the ceiling. Our cats really enjoy the privacy litter boxes too. We have four cats and have a litter box for each one. The new feeder bowls that sit up of the floor are good too. The vet says they are better for the animals to eat at a normal level rather than leaning down and forward. We put a little sign over the door that says, "Cat House'. Everyone comments on the kitty room and says it a great idea.

•
11 Mar 08
Thanks for your comments especially about the carpeting which other's have made. I'm interested in your comment about the height of feeding bowls as well. I've seen that when feeding, they'll usually crouch down or even (in the case of my lazy cats) eat lying down.

• United States
11 Mar 08
One of our cats lays beside his bowl sometimes, because he's so old, it's easier I guess. The vet is the one who told us about the bowls on little stands. They are secure enough that they won't topple over either. Think about it, would you like to eat out of a plate laying on the floor or sitting up level with your head? LOL It's something about helping them digest it better and not getting it stuck in their throat. My dogs and cats are my babies. Anything I can do to make their lives better - makes me a better mom.....lol

• United States
11 Mar 08
I suggest the floor to be some solid surface so you can mop it clean. Then you need lots of windows! The Other than that, I think you have a great idea. I have 2 dedicated cat spaces at my house, one houses the litter pans, but our freezer as well and a shelf with cleaning stuff on it. The other is a porch the cats can access thru a cat door. Its open on 2 sides to the outside, the other 2 are parts of the house, giving them some protection when the weather is bad but they still want to be outside. It has 2 layers of shelves on the outside part with an angled shelf on an even lower level so they have easy access to the first shelf. There is a cat tree for them to access the cat flat and a former coat tree (that had previously been a cedar tree) nailed in the corner of the shelves. Yeah, they sometimes get trapped by other cats, the brats

•
11 Mar 08
Your porch sounds like an ideal arrangement - not possible here unfortunately.

• United States
11 Mar 08
There is a wonderful book out by a couple who did a similar thing. It will get you started and help you avoid any pitfalls. I think it is a great idea if you have the space and can afford it. The only thing that crosses my mind on the subject is that I want my cats to live with me. I sense that you are having this room for them to go to when they want rather than to lock them in and exclude them from your lives. If that is the case I think it is fantastic. I always want my cats to be able to be with me. Good luck. I hope you can follow up and let us know how the plans are going and how it all turns out. I would love to see pictures.

•
11 Mar 08
Thanks for your response. Do you know what the title of that book is? You are right in thinking that I would have this room just for the cats to go in when they wanted to. They have free run of the house and two or three usually sleep with me every night.

•
11 Mar 08
If you really wanted to spoil them you could but something like this for the room. http://www.cozycatfurniture.com/catgyms_cattowers.html Though I find those kinds of cat toys expensive for what they are, It would be good if you knew someone who would make you one it would be much cheaper to just buy the materials. My cats are indoor cats now so I'm thinking about getting them some kind of fancy toys like that they can really get into. My only fear is I'll spend all that money and they'll just ignore them.

• United States
11 Mar 08
I like your idea, and have a room that one of my cats practically "owns." If I had to do it over again, I would definitely avoid any kind of rugs on floors. I would have a linoleum floor that is easy to keep clean. I would place the litter box in a place where the cat could use it conveniently and where I could clean it thoroughly. The problem with rugs is that they are extremely difficult to clean, and keep clean. If cat pee lands on them, its odor will linger and attract cats to do their business there, no matter what. This is especially true of pile rugs. Cats, especially my cats, just love to sink their claws into it and scratch a nice spot for that pee or doo-doo. Also remember that the cats will not stay in that room all of the time. They will tend to hang out where they want to hang out, regardless.

•
11 Mar 08
Thanks for your comments especially about the carpet. Of course, there's carpet in the rest of the house and they have access to all of it apart from the front room which is the "good" room.

• Canada
12 Mar 08
how about a cave, they like boxes and stuff, cat nip toys, sting hanging that they can play with but not strangle themselves with.

•
12 Mar 08
That's a good idea. But I don't want to create places that they could get trapped in by another cat. There is a certain amount of conflict between the older cats and the youngest and I don't want to create a situation in which a fight could develop because a cat can't escape.

• United States
12 Mar 08
Awww---I just looked at your profile and saw your two kitties..I would love to do something like that myself but I live in a glorified studio apartment...so actually the whole apartment is THEIRS!

I know one friend who also has one room as her cat room--she has quite a number of cats...She has "condos" plus even erected ramps all over in the room so they can walk up and down ...for some reason cats love "height" as you've guessed since it sounds like you have the same idea--when you're finished with decorating this room hope you show photos of it

•
12 Mar 08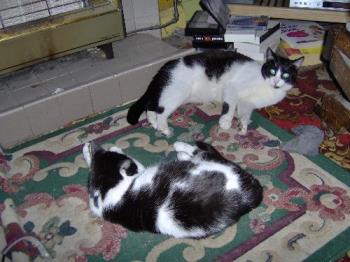 I have four now

I'll post photos of the other two on my profile as well but I'll post the photo here as well. Thanks for the friend request by the way. I see that your friend understands a cats needs just fine and actually, mine have the run of the entire house as well. I'm just interested in creating a room that they can play in safely and I can go in to play with them as well


• Philippines
12 Mar 08
Your idea is perfect. You know if i have much money I would like to do the same as what your idea is all about. I also want to have a house for my cat where they will stay at night, but i think i will just use one of our rooms and i will put them all there.

•
12 Mar 08
I don't think that it needs to be particularly expensive, the runways and window platforms could be made from cheap manufactured boarding which might be got as offcuts from somewhere and so cost nothing. Old clothing and towelling might be used for padding and lining, and a cat tree is easily made from scrap timber and board.

• United States
12 Mar 08
Wow! I've never heard of anyone doing something like that. I think it's kind of silly, but I rated you positively, because it's kind of cute. I'm not an animal person, but if you are, that's great. I never would have thought to give a room to the cat... But I guess when I'm in a one bedroom house I'm more concerned with getting a place where the baby can have her own room! I don't even have any pets. I don't need one. I have enough on my plate to keep up with. Maybe sometime in the future, but not anytime soon. One thing with your plan though, if you get the carpet that is okay for the to scratch on, they might get the idea that it's okay to scratch on any carpet and they might mess up all the carpet in the rest of you house. I don't know if they would, but it would make sense that they might think it's okay.

•
12 Mar 08
That's fine. Everyone has there priorities and and yours is quite rightly your baby. I live in a three bedroomed house on my own apart from the cats of course, so I do have room to spare. Thanks for the positive rating